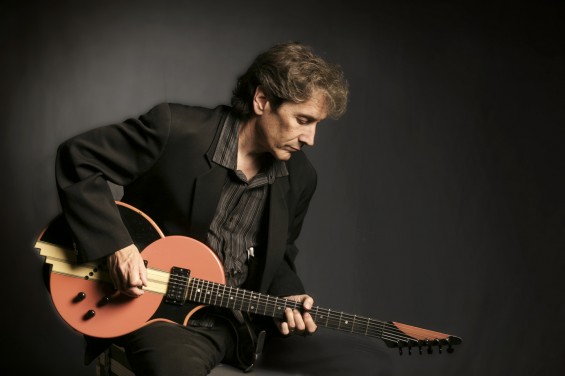 Jackaboutguitars is proud to present an interview with guitarist Rick Vito. Rick has played guitar with plenty of people that we've all heard, although I for one, and maybe you, may have not known it was his guitar playing that we were listening to.
Rick currently plays guitar in Rick Vito and The Lucky Devils, The Mick Fleetwood Blues Band and also in The Island Rumours Band with Mick Fleetwood.
By the time this story goes live, Rick Vito & The Lucky Devils will have just finished up at the Harvest Blues Festival in Monaghan, Ireland and will be headed to Bavaria, Austria, all kinds of places in Germany, of which the only one I can pronounce is Hamburg, and also to Denmark over the period of the next three weeks.
(An update from Rick):
"Sadly, bad weather in Washington D.C. on Sept. 6 grounded flights in or out and no other airline or connecting city could be found to bring me and the band to Dublin for the Harvest Time Blues Festival. We had no other choice but to go home and leave the next morning for Munich and the rest of our Euro-tour. Our deepest apologies go out to all those who worked so hard to have us there. We truly hope we can make it up to you in the future."
That says it all about just how gracious Rick is. Back to the story…
Rick, you certainly named this band as correctly as one could have ever dreamed. These guys are certainly a bunch of Lucky Devils! I could only dream of being in such a band…"Lynn (my wife), I'm going to work now. Oh, by the way, it's Europe for the next three weeks."…and as the story goes – then he (I) woke up. Dream on Jackson!!!
Anyway, wishing Rick and The Lucky Devils a fantastic tour in Europe and hoping that you guys make it up to Portland, Oregon some day. (Rick, dinner is on me when you get up this way).

Rick Vito and The Lucky Devils…'I Do Believe'
The Mick Fleetwood Blues Band…'Fleetwood Boogie'
After this interview wrapped up, Rick was going to be heading out to Shreveport, Lousiana to the James Burton International Guitar Festival, to play some tunes with his friend, the GREAT James Burton, and help celebrate James' 75th Birthday. Happy Belated Birthday James!
Rick was a member of Fleetwood Mac, has played with Bob Seger, and is known for his guitar work on 'Like A Rock'. He has also played on every Bob Seger album since 1986.
Fleetwood Mac…Stevie Nicks, Mick Fleetwood, Rick Vito, Christine McVie, John McVie, & Billy Burnette
Fleetwood Mac…'I Loved Another Woman' featuring Rick Vito
Rick Vito's Bio
Here's a little bit more info (from Rick's Bio pulled with permission from Rick) to give you an idea of what Rick has been up to over the years and with whom:
"Rick also worked with such artists as LITTLE RICHARD, BOBBY WHITLOCK, JOHN PRINE, and DOBIE GRAY among many others.
Late in 1974 Rick received an invitation to join a new band being formed by British Blues pioneer, JOHN MAYALL, with whom Rick worked with subsequently on four albums.
"…a master of the instrument, at last getting the attention he deserves as bandleader/bluesman that is long overdue." – JOHN MAYALL
In the following years, Rick was a member of ex-BYRD ROGER MCGUINN's group, THUNDERBYRD, and also a founding member of Los Angeles club favorites, the ANGEL CITY RHYTHM BAND. With the ACRB, Rick had a unique opportunity to back many of the Blues greats he had been influenced by. Performing regularly at the Topanga Canyon Corral club on Monday Blues nights, they regularly held court with ALBERT COLLINS, LOWELL FULSON, BIG JOE TURNER, and GEORGE 'HARMONICA' SMITH, among many others.
By 1980 Rick had recorded two albums worth of material and was starting to place more songs with other artists such as MCGUINN CLARK & HILLMAN, and DAVID SOUL. At the same time he began a long association with slide-guitar queen, BONNIE RAITT, appearing on her rocking LP, "GREEN LIGHT", and as a member of her touring band. Rick spent most of 1982-83 working with LA- based singer/songwriter, JACKSON BROWNE. He appears on Jackson's single' "SOMEBODY'S BABY", and on his albums, "LAWYERS IN LOVE", and "LIVES IN THE BALANCE".
In between solo recording and live shows in the LA area, Rick continued session dates with many artists including RITA COOLIDGE, MARIA MULDAUR, and DOLLY PARTON.
For more info on Rick's great career, do check out his website Rick Vito .com You can check out his music, artwork, CD's, DVD's as well as all kinds of cool photos, videos, and media about him.
Rick Vito and The Lucky Devils…'When The Big One Comes'
And now it's time for the interview with Rick Vito by Jackaboutguitars' one and only, "Prince of Primitive", Ed Huerta.
The works of world renowned artist and writer Ed Huerta, take up residence in the 'ART "N" SOUL section of the Jackaboutguitars Blog. AKA as "The Prince of Primitive", Ed Huerta was born in Los Angeles and currently resides in Long Beach, California.
A longtime musician, Ed has played in several L.A./O.C. bands, including Rockford, The Jack Brewer Band, The Lazy Cowgirls, The Final Tourguides, Moist and Meaty, Mind Over 4, The Silly Millions, Copper 7, & Eddie & The Trays. He has also toured the U.S. and Europe as a drummer.
Continue reading AN INTERVIEW WITH RICK VITO (THE GENTLEMAN SUPERSTAR) BY ED HUERTA