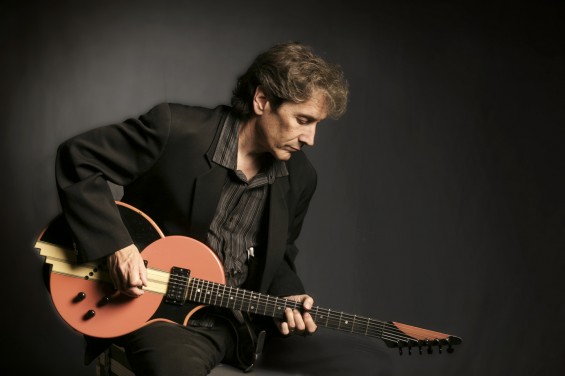 Jackaboutguitars is proud to present an interview with guitarist Rick Vito. Rick has played guitar with plenty of people that we've all heard, although I for one, and maybe you, may have not known it was his guitar playing that we were listening to.
Rick currently plays guitar in Rick Vito and The Lucky Devils, The Mick Fleetwood Blues Band and also in The Island Rumours Band with Mick Fleetwood.
By the time this story goes live, Rick Vito & The Lucky Devils will have just finished up at the Harvest Blues Festival in Monaghan, Ireland and will be headed to Bavaria, Austria, all kinds of places in Germany, of which the only one I can pronounce is Hamburg, and also to Denmark over the period of the next three weeks.
(An update from Rick):
"Sadly, bad weather in Washington D.C. on Sept. 6 grounded flights in or out and no other airline or connecting city could be found to bring me and the band to Dublin for the Harvest Time Blues Festival. We had no other choice but to go home and leave the next morning for Munich and the rest of our Euro-tour. Our deepest apologies go out to all those who worked so hard to have us there. We truly hope we can make it up to you in the future."
That says it all about just how gracious Rick is. Back to the story…
Rick, you certainly named this band as correctly as one could have ever dreamed. These guys are certainly a bunch of Lucky Devils! I could only dream of being in such a band…"Lynn (my wife), I'm going to work now. Oh, by the way, it's Europe for the next three weeks."…and as the story goes – then he (I) woke up. Dream on Jackson!!!
Anyway, wishing Rick and The Lucky Devils a fantastic tour in Europe and hoping that you guys make it up to Portland, Oregon some day. (Rick, dinner is on me when you get up this way).

Rick Vito and The Lucky Devils…'I Do Believe'
The Mick Fleetwood Blues Band…'Fleetwood Boogie'
After this interview wrapped up, Rick was going to be heading out to Shreveport, Lousiana to the James Burton International Guitar Festival, to play some tunes with his friend, the GREAT James Burton, and help celebrate James' 75th Birthday. Happy Belated Birthday James!
Rick was a member of Fleetwood Mac, has played with Bob Seger, and is known for his guitar work on 'Like A Rock'. He has also played on every Bob Seger album since 1986.
Fleetwood Mac…Stevie Nicks, Mick Fleetwood, Rick Vito, Christine McVie, John McVie, & Billy Burnette
Fleetwood Mac…'I Loved Another Woman' featuring Rick Vito
Rick Vito's Bio
Here's a little bit more info (from Rick's Bio pulled with permission from Rick) to give you an idea of what Rick has been up to over the years and with whom:
"Rick also worked with such artists as LITTLE RICHARD, BOBBY WHITLOCK, JOHN PRINE, and DOBIE GRAY among many others.
Late in 1974 Rick received an invitation to join a new band being formed by British Blues pioneer, JOHN MAYALL, with whom Rick worked with subsequently on four albums.
"…a master of the instrument, at last getting the attention he deserves as bandleader/bluesman that is long overdue." – JOHN MAYALL
In the following years, Rick was a member of ex-BYRD ROGER MCGUINN's group, THUNDERBYRD, and also a founding member of Los Angeles club favorites, the ANGEL CITY RHYTHM BAND. With the ACRB, Rick had a unique opportunity to back many of the Blues greats he had been influenced by. Performing regularly at the Topanga Canyon Corral club on Monday Blues nights, they regularly held court with ALBERT COLLINS, LOWELL FULSON, BIG JOE TURNER, and GEORGE 'HARMONICA' SMITH, among many others.
By 1980 Rick had recorded two albums worth of material and was starting to place more songs with other artists such as MCGUINN CLARK & HILLMAN, and DAVID SOUL. At the same time he began a long association with slide-guitar queen, BONNIE RAITT, appearing on her rocking LP, "GREEN LIGHT", and as a member of her touring band. Rick spent most of 1982-83 working with LA- based singer/songwriter, JACKSON BROWNE. He appears on Jackson's single' "SOMEBODY'S BABY", and on his albums, "LAWYERS IN LOVE", and "LIVES IN THE BALANCE".
In between solo recording and live shows in the LA area, Rick continued session dates with many artists including RITA COOLIDGE, MARIA MULDAUR, and DOLLY PARTON.
For more info on Rick's great career, do check out his website Rick Vito .com You can check out his music, artwork, CD's, DVD's as well as all kinds of cool photos, videos, and media about him.
Rick Vito and The Lucky Devils…'When The Big One Comes'
And now it's time for the interview with Rick Vito by Jackaboutguitars' one and only, "Prince of Primitive", Ed Huerta.
The works of world renowned artist and writer Ed Huerta, take up residence in the 'ART "N" SOUL section of the Jackaboutguitars Blog. AKA as "The Prince of Primitive", Ed Huerta was born in Los Angeles and currently resides in Long Beach, California.
A longtime musician, Ed has played in several L.A./O.C. bands, including Rockford, The Jack Brewer Band, The Lazy Cowgirls, The Final Tourguides, Moist and Meaty, Mind Over 4, The Silly Millions, Copper 7, & Eddie & The Trays. He has also toured the U.S. and Europe as a drummer.
AN INTERVIEW WITH RICK VITO (THE GENTLEMAN SUPERSTAR) BY ED HUERTA
I must say when my brother Jack called me and said he had an interview lined up with Rick Vito that he wanted me to do for Jackaboutguitars, well, I was a bit apprehensive to do it. I mean THIS IS RICK VITO, people! A W.C. Handy Award winner, a Grammy nominee…I mean this cat has played with everybody from James Burton, Bob Seger, Jackson Browne, Bonnie Raitt, John Mayall, Mick Fleetwood, Rita Coolidge, Dolly Parton, Steven Tyler, Deke Dickerson, even David Soul! I mean he has been on Oprah (the TV show – not the woman), David Letterman, Rosie O'Donnell, VH1 Storytellers…so sure, I'll just ring up Rick Vito…
Rick Vito with Jackson Browne and Bruce Springsteen…'Runnin' On Empty'
So I was expecting someone that was a little miffed, with attitude, for taking up his time. Folks, Rick Vito is a big time celebrity. He could have easily blown this off with single word answers and rehearsed, standard bullsh*t. I mean Rick did not know me from Adam (now that's a weird saying…"knowing me from Adam?" does that go back to the biblical Adam and not knowing who the person was??? I mean there weren't too many people to choose from back then) so I expected a little heaviness.
Well, for being such a living legend, this man could not have been more cordial or polite. He was even very gracious when my phone's battery went out during the interview and I had to call him back on the wife's cell phone. Maybe I am just too used to the Southern California way of rude people out here but Rick has a sort of Southern gentlemanly quality to his speech and storytelling. I was truly honored to have the opportunity to interview such a top-notch performer, artist and musician.
If you readers are not familiar with Rick's work than by all means hit his website (rickvito.com) and Spotify some of his music…and don't forget to support his music. I will surely go see him when he comes to town again…armed with my CD's for signing! So without much more ado, here is the interview with a true legend and a very nice, humble gentleman. I wish you all of the good fortune in the world Mr. Rick Vito. You made me feel at ease and it was truly appreciated. Respects, Ed Huerta.
EH: Hi Rick, let me get started here. My first question is, and according to your bio, you mentioned that the Everly Brothers was your first live show that you ever saw. Now can you give us a description on how it felt or how it affected you that it would make a little kid want to become a rock and roll star for the rest of his life?
RV: (chuckles) Now I don't know if I could put that together until a number of years later but I know at that point that this whole thing started off with Elvis, then this rock and roll mania started taking place, and my mother she had this old Hawaiian lap acoustic guitar that she used to take lessons with when she was a girl, for Hawaiian music, and me and my brother used to jump around the living room with that guitar pretending we were Elvis and we lived in Philadelphia so we had American Bandstand on every day after school, a rock and roll dance show, and he (Dick Clark) also had a night time show on Friday nights and he just showcased everybody…so you could turn on that show every day after school and turn on Eddie Cochran, Buddy Holly, The Big Bopper, just everybody was on that show…so just a lot of rock and roll and my Mom was pretty hip – she had a lot of cool records.
We used to get records from the jukebox, my grandmother had a jukebox, at my grandmother's tavern, so we had a huge collection, and back in those days they used to give you new records to replace the old ones and we had a lot of Everly Brothers and it was my mom that took me to the Steel Pier (Atlantic City) to see the Everly Brothers and the thing that I remember about it was that it was loud, now not loud by today's standards, but these guys were playing through amplifiers and the lead guitar player was jumping all over the stage and it was really cool. I could really relate to it…
EH: I read also you have a Seeburg jukebox…
RV: I have two of them right now…I've had a lot of them…I have a vintage 1950 and a 1959 model.
EH: Now you are/were a big fan of Elvis, Scotty Moore, Ricky Nelson and James Burton just to name a few…now did you ever get to meet any of these legends?
RV: Funny you should mention that. I got to meet Ricky Nelson quite a few times back in the 70's and also from doing sessions in L.A., I met James Burton and a few years ago we renewed our friendship here in Tennessee and as a matter of fact, today is James Burton's 75th birthday (August 21) and tomorrow I'm flying down to Shreveport because he invited me to play at his 75th birthday bash and International Guitar Show and that takes place Saturday night so it's really come full circle for me…
Rick with James Burton
EH: That's really, really cool…from you watching him play on Ricky Nelson (The Adventures of Ozzie and Harriet) to actually playing with him…
RV: Yeah, that's really, really cool…it's a real honor…
Rick Vito, James Burton, & Seymour Duncan…'Mystery Train'
EH: I bet..My next question is what attracted you to the blues? You could have easily gone country or easy listening but what is the big fascination of the blues for you?
RV: Well, I think there was a lot of blues in Elvis music and I think it was the kind of bluesy songs I liked most about him without realizing that it was the blues and then later after The Beatles came out, followed by the Rolling Stones, I loved The Beatles, but when The Stones came out I really related to that earthy music that they played even more. Back in those days there were LP's and you got to read the liner notes and find out who the songwriters were and who the original artists were like Muddy Waters, Elmore James, Jimmy Reed all those guys.
Then I started seeing guys like Freddie King on a television show on Saturdays in Philadelphia called "The Beat" it was broadcast out of Nashville and some were from Texas, it was the real deal, they had all r and b and blues artists on that show so I got to see them getting down…
EH: It's funny that it took a group of English kids to bring American blues back to America, I guess that's what The Stones did.
RV: The Germans first brought all those guys over there and recorded and they did the same tour over in England and all the jazz and the people in the know, the young Rolling Stones, the John Mayall's and all these people got to see all these American artists and it was really special to them and so when they did their own versions of that