DENNY'S GRAND SLAM OR THE WRECKING CREW INTERVIEW PART II? BY ED HUERTA
So much has transpired since we brought you our first interview with Denny Tedesco concerning The Wrecking Crew Film. The Kickstarter was just underway and there was that huge hope that the $250,000 benchmark would be reached.
Many thanks to our readers and so many others who believed in this project and supported it. The Kickstarter had 4,245 backers for a total sum of $313,157 pledged, way beyond the $250,000 goal.
This allowed Denny Tedesco to cut some more special footage back into the movie allowing some great additions since the time when many saw the screening for the first time.
As you probably have heard, the distributor, Magnolia Pictures opened the movie in Canada on February 20th and will be opening it in the U.S. this coming Friday, March 13th.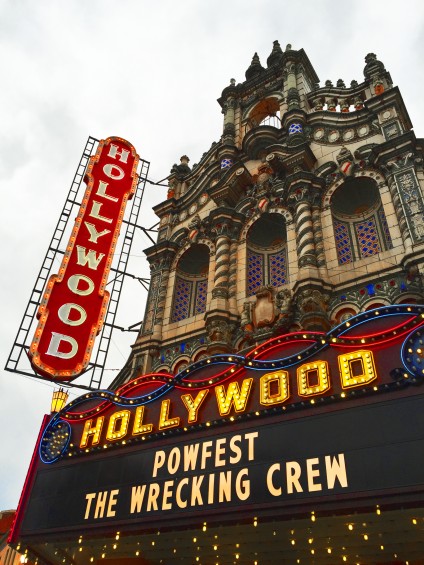 For updates and additions to this list, click here.
Here's a list of cities and dates so far:
February 20
Halifax, NS: Carbon Arc Cinema Co-op
Toronto, ON: Bloor Hot Docs Cinema
Vancouver, BC: VanCity
March 11
Hamilton, ON: Art Gallery Of Hamilton
123 King St W, Hamilton, ON L8P 4S8, Canada
+1 905-527-6610 – See more at: http://www.magpictures.com/thewreckingcrew/#sthash.d8klsv29.dpuf
Saint John, NB: TIFF Film Circuit
116 Tower Street, Saint John NB, E2M 1Z1
(506) 214-1174 – See more at: http://www.magpictures.com/thewreckingcrew/#sthash.d8klsv29.dpuf
March 13
Calgary, AB: Globe Theatre
617 8 Avenue Southwest, Calgary, AB T2P 1H1, Canada
+1 403-262-3309
Cambridge, MA: Kendall Square Cinema 9
One Kendall Square, at 355 Binney Street, Cambridge, MA, 02139
(617) 621-1202
Cincinnati, OH: Esquire Theatre
320 Ludlow Ave, Cincinnati, OH 45220
(513) 281-8750
Dallas TX: Magnolia
3699 McKinney Avenue in West Village
(214) 520-0394 Landmark Theaters
Denver, CO: Mayan Theatre
110 Broadway, Denver, CO 80203
(303) 744-6799
Fayetteville, NC: Cameo Theater
225 Hay St, Fayetteville, NC 28301
(910) 486-6633
New York, NY: IFC Center 5
323 Sixth Avenue, New York, NY 10014
(212) 924-7771
Portland, OR: Hollywood Theatre
4122 NE Sandy Blvd, Portland, OR 97212
(503) 493-1128
Santa Ana, CA: South Coast Village 3
1561 West Sunflower Avenue, Santa Ana, CA 92704
(714) 557-5701
Tucson, AZ: The Loft Cinema
West Los Angeles, CA: Nuart Theatre
11272 Santa Monica Boulevard, Los Angeles, CA 90067
(310) 473-8530
Join Wrecking Crew members Hal Blaine, Joe Osborn, Don Randi, Bill Pitman, and more of the cast of the movie, along with director Denny Tedesco. Tickets still available! Be a part of the LA Premiere.
March 17
Kitchener, ON: Apollo Cinema
141 Ontario St N, Kitchener, ON N2H 4Y5, Canada
+1 519-954-5634
March 20
Asbury Park, NJ: The ShowRoom
707 Cookman Ave, Asbury Park, NJ 07712
(732) 502-0472
Camas, WA: Liberty Theatre
315 NE 4th Ave, Camas, WA 98607
(360) 859-9555
Cleveland Heights, OH: Cedar Lee Theatres
2163 Lee Rd, Cleveland Heights, OH 44118
(216) 321-5411
Columbus OH, Gateway Film Center
South Campus Gateway, 1550 North High Street, Columbus, OH 43201
(614) 247-4433
Eugene, OR: Bijou Art Cinema
492 E 13th Ave, Eugene, OR 97401
(541) 686-2458
Jefferson City, MO: Capitol City Cinema
126 East High Street, Jefferson City, MO 65109
Kingston, ON: The Screening Room
120 Princess Street, Kingston, ON K7L 5M6, Canada
+1 613-542-6080
Lambertville, NJ: ACME
25 South Union Street, Lambertville, NJ 08530
(609) 483-5457
Philadelphia, PA: Ritz at the Bourse
400 Ranstead Street, Philadelphia, PA 19106
(215) 440-1181
San Diego, CA: Ken Cinema
4061 Adams Ave, San Diego, CA 92116
(619) 283-3227
San Luis Obispo, CA: Palm Cinema
817 Palm St, San Luis Obispo, CA 93401
(805) 541-5161
Santa Fe, NM: Jean Cocteau Cinema
418 Montezuma Ave, Santa Fe, NM 87501
(505) 466-5528
Saskatoon, SK: Broadway Theatre
715 Broadway Ave, Saskatoon, SK S7N 1B3, Canada
+1 306-652-6556
Tucson, AZ: The Loft Cinema
3233 East Speedway Boulevard, Tucson, AZ 85716
(520) 795-0844
Vancouver, WA: Kiggins
1011 Main St, Vancouver, WA 98660
(360) 816-0352
Gateway Film Center, Columbus OH (DCP)
South Campus Gateway, 1550 North High Street, Columbus, OH 43201
(614) 247-4433
March 27
Berkeley, CA: Shattuck Cinemas 10
Gainesville, FL: Hippodrome – Gainesville
Phoenix, AZ: The FilmBar
San Francisco, CA: Opera Plaza Cinemas 4
San Luis Obispo, CA: Palm Cinema
Seattle, WA: SIFF Cinema at the Uptown Railroad Square, Waterville ME (DCP)
17 Railroad Square, Waterville, Maine, 04901
207-873-6526
March 31
Aperture, Winston Salem NC (Blu-ray)
311 W 4th St, Winston-Salem, NC 27101
(336) 722-8148
April 3
PFC Limelight, Bellingham WA (DCP)
1416 Cornwall Ave, Bellingham, WA 98225
(360) 738-0735 – See more at: http://www.magpictures.com/thewreckingcrew/#sthash.d8klsv29.dpuf
Palm Desert, CA: Cinemas Palme D'Or 7
Spokane, WA: Magic Lantern Theatre
April 8
Baton Rouge, LA: Manship Theatre
April 9
Wichita, KS: Orpheum Theater
April 10
Fort Worth, TX: Modern Art Museum of Ft. Worth
April 13
Bethlehem, PA: ArtsQuest Center at SteelStacks
April 14
Springfield, MO: Moxie Cinema 2
April 20
Lafayette, LA: Acadiana Center for the Arts
April 23
Memphis, TN: Brooks Museum of Art
April 24
Albuquerque, NM: Guild Cinema
WATCH ON DEMAND MARCH 13th
Amazon: Coming Soon
AT&T UVerse: On Demand > Uverse Movies > Featured/Early Releases
Barnes & Noble: Coming Soon
Cablevision: On Demand > Movies > Advanced Screenings
Charter: Channel 1 (On Demand) – Movie > New Releases (Search Titles)
CinemaNow: Coming Soon
Comcast: Top Picks > New Movies
HD On Demand > Movies > Just In
HD On Demand > Movies > Indies & Foreign > Magnolia Pictures
Cox: Early Screening > In Theaters
DirectTV: Channel 1000 and 1100 (On Demand) > Movies > (Search Titles)
Dish: DVR Button > All Movies > Search Movies > Search by Film or Actor
FlixFling: Search Title
Google Play: Coming Soon
iTunes: Coming Soon
Playstation 3 Store: Video > Playstation Store > Studios > Magnolia Pictures (Search Titles)
SuddenLink: Movies & Events > New Releases
Time Warner Cable: HD Movies > Movies
Verizon FIOS: Movies > By Genre > All > Indies & Docs > Magnolia
VUDU: Coming Soon
Xbox360 / Zune:Video Market Place > Zune > Featured (Search Titles)
YouTube: Coming Soon
See more at: http://www.magpictures.com/thewreckingcrew/#sthash.d8klsv29.dpuf
Once again, for updates and additions to the list, click here.
DVD RELEASE
The DVD is scheduled to come out on June 16th…and because this was Wrecking Crew Round II, Ed decided to title this DENNY'S GRAND SLAM OR THE WRECKING CREW INTERVIEW PART II? BY ED HUERTA – Jack
Movie trailer, photos, and photo captions courtesy of Magnolia Pictures.
DENNY'S GRAND SLAM OR THE WRECKING CREW INTERVIEW PART II? BY ED HUERTA
I first interviewed Denny Tedesco in July of 2013. I had previously enjoyed a screening of The Wrecking Crew at Chapman College (thank you to Paula and Steve Soest) in Orange and was totally thrilled with the experience. It was a music fans' dream come true.
I actually had a one on one with Hal Blaine THE drummer man! He is the cat that played the skins on all of those historical songs. I grew up to learn to play drums like him. I thought it was Dennis Wilson for many years, oh well.
I also got to talk to Denny for a few seconds. He was a very nice man and greeted my wife and I like we were old pals. I will never forget that. I also got to see Exene from X. She sat right in front of us. The audience had many celebrities. It was quite a night.
Brian Wilson and Hal Blaine in THE WRECKING CREW, a Magnolia Pictures release. Photo courtesy of Magnolia Pictures.
2015 AND THE RELEASE OF THE WRECKING CREW FILM
Well, now it's 2015 and a lot has happened since then…to me and to Denny. Denny has gotten The Wrecking Crew Film backed by a distributor and it will be in nationwide distribution with the DVD soon to follow. If any of you have not seen this movie yet, well, why not??? Go see it in your local theater or purchase this from Denny's website.
A scene from THE WRECKING CREW, a Magnolia Pictures release. Photo courtesy of Magnolia Pictures.
This is truly a historical document that is just incredibly well and lovingly done. It is THE MUST SEE movie if you are a true music fan! The soundtrack alone is worth its weight in gold! Nothing but the hits!
Well, enough of my yakkin', here is the latest update with Denny and I truly wish him the best of luck and I know his pop, Tommy, is looking down from heaven and smiling and telling everyone, "Hey, that's my son! My son did that!!"
I also want to thank Denny for his concern about my well -being and his respects that he showed my wife and I. So read on people and a hearty thank you to Denny Tedesco and his family for letting me in and being a part of his life and sharing their time for a little bit. I tell ya, all of these folks that I have interviewed are all the nicest people in the world. They truly deserve the respect and platitudes. Thanks again for the read, enjoy…Peace, Ed H.
"The Wrecking Crew" – Painting by Ed Huerta
THE INTERVIEW
EH: First off Denny, let me thank you for the time you are giving us here at Jackaboutguitars.com. I know you are truly a busy man and we do appreciate you making time in your busy schedule.
DT: No problem. Thank you guys.
EH: I first interviewed you about a year and a half ago and since then you have totally been non-stop in promoting your movie. I see it first premiered in 2008, which is seven years ago, and I also read it was about 18 years in the making.
DT: Yep. I started in 1996 when my father was diagnosed with cancer, so that's when I jumped into it. They gave him a year and I thought that I'd better jump in on this because I don't want it to be my one regret in life as not doing this story about him and his friends. So I jumped into it completely and there's no way if you would have told me that in two decades and nineteen years that it would finally come out. I don't think anybody thought that it would take that long or even try to do it.
Director Denny Tedesco with him father Tommy Tedesco in THE WRECKING CREW, a Magnolia Pictures release. Photo courtesy of Magnolia Pictures.
EH: Right, right…now are you finally getting the feeling that you are seeing the light at the end of the tunnel?
DT: Yes, absolutely, absolutely you know. Magnolia Pictures picked it up after we paid out all the things that we needed to pay. Now Magnolia's releasing it in the states March 13th. It goes to Canada February 20th to Toronto and Vancouver and Halifax and then it opens March 13th in stages as well as iTunes and some VOD, (Video On Demand) platforms so finally people will be able to see it.
EH: I see locally here, we are going to have some screenings in West L.A. and Santa Ana. Now is this just one night only or will it run for a while?
DT: Now I don't know about Santa Ana, but it's scheduled to play for a week in West L.A. What happens is if people go to it then they will hold onto it. Right now tickets are going on sale at Nuart. I asked them to put them for sale early because people kept asking to buy tickets. So that's what they're doing.
EH: That's cool…Now I remember when I saw it at Chapman College in Orange, you were there and some musical celebrities were there also. Now have you, now I know you can't be in two places at once, like some sort of rock and roll Santa Claus, but have you stopped going to all of the screenings?
DT: No, I've been to every one of them since then. Now I'm in the situation where I can't, where I can go to the ones that are available to me where I can go and where I will go, but there are screenings that they are sending me like in Boulder, the Boulder Colorado Film Festival. They are using it as their opening film and that's one I will go and that's opening on March 5th. So that'll be cool. They will bring me out and hopefully there are a few others…Wichita and a few other places. It's fun to go. I love going. I'm able to talk about the film and there are a lot of questions at the end of the film that people want to know more.
George Harrison and Joe Osborn in THE WRECKING CREW, a Magnolia Pictures release. Photo courtesy of Magnolia Pictures.
EH: Man, like seriously, how long have you been home in the last two years?
DT: I'd say once or twice a month I'd be leaving for a few days and I'd just keep going around and around…sort of like a musician or comedian where you do those one night stands. It was hard but it paid off.
EH: You joined the Kickstarter program and the funding went higher than your anticipated goal. I know I contributed, my brother contributed and several of our friends also, I dig the gifts, I got the DVD coming and I got the pick necklace, which is cool and I couldn't wait to bring home the DVD. My wife and I saw you at Chapman College and I was teasing her about man, when I get the DVD home that you're going to get so sick of this!
DT: Imagine how my family feels!
EH: I bet, so hopefully my wife is up there with your dad watching it together in heaven. Unfortunately, I lost her a couple months ago.
DT: I'm so sorry.
EH: Yeah, thank you Denny. It has been tough, but hopefully they are both up there watching it…but with Kickstarter, how did the overwhelming public support make you feel?
DT: It's great. Here's the thing about the Kickstarter. We started