'ART "N" SOUL
A note from Author Ed Huerta : I would like to clarify one thing about this and future articles I will be doing for Jackaboutguitars. If you come to this column and expect to read about Eric Clapton, James Hetfield, or even John Mayer, then please, move on. In this column, I'll be writing about lesser known guitarists and musicians.
I am hoping to spread the word about and open your eyes to other genres or talented players that are out there entertaining nightly in bars and clubs. This doesn't mean that these people have lesser talent or abilities. As a past and current part-time musician, fame is basically a crapshoot, with the music industry churning out and chewing up artists, as they deem necessary, anointing certain people with "Starpower" while others spend years honing their craft on stages and barroom concrete floors.
I would like to use this column for people to get a glimpse behind the scenes of what these musicians' deal with and the spirit and influences that drive them forward. As Jack from jackaboutguitars shows on this website, the guitar and music are powerful tools that drive people to push limits, and if the spirit really gets inside of you, it's a lifelong commitment. Thank you Dear Readers for understanding my reasons and now please read on. I hope you enjoy these brief moments inside the world of guitar players and their journeys… – Ed Huerta
A LITTLE BIT ABOUT THE AUTHOR
World renowned artist and writer Ed Huerta, is making his 2nd appearance at Jackaboutguitars. "The Prince of Primitive" was born in Los Angeles and currently resides in Long Beach, California. A longtime musician, Ed has played in several L.A./O.C. bands, including The Jack Brewer Band, The Lazy Cowgirls, The Final Tourguides, Moist and Meaty, Mind Over 4, The Silly Millions, & Eddie & The Trays. He has also toured the U.S. and Europe as a drummer. Huerta started painting in 2007 as a way to relieve stress and to forget about everyday problems.
Many of his paintings involve fictional situations comprised of famous iconic people i.e. Elvis Presley, John F. Kennedy, Paul Lynde, Groucho Marx, Brian Wilson, & the likes of Charles Manson. Several musicians, from jazz and blues icons/legends, to hard-working local musicians, are highlighted in his paintings. Many of these paintings hang in the homes of famous artists and musicians and local Long Beach and Orange County establishments have Huerta's work hanging on their walls and garden areas.
"Someone once told me that it looks like I'm grasping at that line between bad taste and achieving utter genius. Many of my paintings reflect the battle of Good vs. Evil, or the battle within oneself. My upbringing seems to permeate a lot of my work…the heaven and the hell along with the humor that one has to have to deal with every day life, whether it's the fire one has to endure or brings upon himself, or the goodness one strives to accomplish."
"I started painting with acrylic on canvas, hardboard and wood surfaces. I like to recreate on round wood tabletops, old 78 rpm record labels. I like the look that old 78 labels had." Ed has more recently experimented with oils in a lot of his portrait of jazz icon series work. "The oils are warmer, breathe better…have a more life-like feel to them…but an obvious disadvantage for a left-hander!" Ed continues to play music (currently drumming in Lord Ransom and his Ranch Hands) and paint while his wife and two English Bulldogs and 3 cats lounge around and cheer him on.
HIRTH'S HEART FULL OF SOUL 1945-2015
Hirth's Heart Full of Soul 1945-2015 is about a very special interview with songwriter/guitarist Hirth Martinez. My brother Edward Huerta did the interview with Hirth a few months back. At the time none of us here were even aware that Hirth was ill. This was most likely the last interview that he did.
Hirth passed away a few weeks ago before we could even get this story together and the interview transcribed and put up.
Thank you for the interview Hirth. You and your wonderful songs will always be remembered and may you rest in peace.
HIRTH MARTINEZ Painting by ED HUERTA
1970's AND DINNER WITH THE FAMILY
I can remember many years ago as a teenager sitting at the dinner table and listening to the stories my Dad would tell us about his friend Sammy Martinez' son, Hirth. You see, Hirth wasn't just an ordinary guy.
Hirth was a guitar player. He was a song writer. He made records. My Dad even told us that Hirth was going to give Bob Dylan guitar lessons. Bob Dylan. Hirth knew thee Bob Dylan!
Dad even mentioned that Hirth was a friend of Robbie Robertson. Robbie Robertson of THE BAND! You see, Hirth wasn't just an ordinary guy.
Due to the length of the interview, Jackaboutguitars.com is putting it up as a two part story. Here's Part One beginning with Ed's Interview with Hirth. – Jack
HIRTH'S HEART FULL OF SOUL 1945-2015
I had the pleasure to interview Hirth a few months back. Hirth was a soft spoken, intelligent, friendly and very spiritual person. We seemed to hit it off instantly. I had recently embraced developing my spirit and beliefs in another plane or in another power somewhere else. We both felt there's another plane of existence that our energies go to when we are done with our work here on earth.
HIRTH MARTINEZPhotoBy VIGNETTE-NOELLE LAMMOTT
At the time of the interview, Hirth must have known he was ill but never let on. After we hung up the phone, I felt a certain peacefulness or calmness in where Hirth was at this point in time. I remarked to my brother that Hirth was a very spiritual man and it was a great thing that our paths happened to cross at this point in my life, that perhaps, there are no accidents in this life.
Some folks may consider these beliefs strange or weird but until you have seen firsthand the work of an outside force, then you will never understand. I was lucky to have been able to converse with Hirth Martinez. He was put in my path for a reason.
Imagine my sadness when I was informed that he had passed away just a couple of weeks ago. This may have been Hirth's last interview. I know it will never be forgotten for me. I grieve for our loss here on earth….but for Hirth, his journey is just beginning…will catch up with you brother in a few…thank you for all of the music you gave us..RIP Hirth Martinez..
YOU ARE A STAR
THE INTERVIEW: PART ONE BY ED HUERTA
EH: First off Hirth, Let me thank you for doing this interview…like I said, when I was a kid, my dad would come home from work and he'd talk about Sammy Martinez's son (Hirth) and I thought WOW! This guy is really doing it. He is making records! You were the first person that I was aware of that was making original recorded music. That was pretty cool…let me get started in the very beginning. What is your very first recollection of music?
HM: You know my parents played music too. My uncles all played. My Dad played piano and his youngest brother also played piano. The next brother played guitar, one of their cousins was a drummer, and another cousin was a bass player.
So when my Dad met my Mom, she was a singer. Her brothers, she had four brothers, they were musicians too. They were all horn players: trumpet, tenor sax, and not sure what the others were. They sort of merged and became a band with the two families.
So when I was growing up, I must have still been in a crib, and they would rehearse at the house. There was a courtyard and they would all gather at my Dad's house, a small duplex in East L.A., and rehearse almost every night in that courtyard.
They were always playing records and playing music all of the time. Because the house was so small and the crib was right there, I would be jumping up and down inside the crib digging the music and a couple of times the railing fell down and I'd land on my head. So that explains my personality from that.
Anyways, as I recall, my Mom used to listen to a lot of singing records. She was a singer. I remember hearing lots of Hank Williams and Count Basie, which is a weird combination. My Dad and his brothers were jazz guys and they all wanted to hear bebop so they would listen to Dizzy Gillespie. I was getting that and from my mom I was hearing all the songs with lyrics, so eventually in my lifetime, when I was about 10 years old, I started playing guitar. I had already taken piano and trumpet lessons.
My father being the piano player, he started getting me lessons when I was three. For a little kid to sit there and try to practice for an hour a day, that seemed like a longtime for a little kid. I would sit there and go by the books and play that classical music and think, ah, I hate music…then, no, I love music…back and forth, back and forth.
When I got into school I was 6 years old, in first grade, and took up trumpet. I had the opportunity to choose an instrument. I picked trombone but they ran out of trombones so I picked trumpet. I studied trumpet in school and got pretty good so they got me a private teacher and I hated that. I wanted to improvise. I had to read the dots, read the dots…I had trumpet lessons from 6-10 and at 10 I figured out what I wanted to do.
I found an old guitar that my Dad had laying around the house. He also played guitar. I got a couple of pointers from my uncle who also played jazz guitar and I went over to Montebello and there was a music store called Modern Music on Hollywood Boulevard and Whittier near a little club or Inn that I later played there many times, but I can't think of the name of it right now.
HIRTH MARTINEZ Photo by YOSHI NAGATO
Anyways, I signed up for lessons and I got a woman guitar teacher and I was 10 years old and I knew a little bit on my own and she got me to read and after that I devoted my whole life, my entire time, my whole soul to the guitar. At the same time I realized I could write songs…and at that time I was listening to songwriters like Hank Williams and Don Gibson, Johnny Cash…In those days on the pop radio station you would hear Johnny Cash then Jerry Lee Lewis then Dave Brubeck, very eclectic…I liked jazz a lot but I also liked country and pop music. My uncles couldn't understand this because they were die hard jazzers and they hated everything except jazz.
EH: You answered quite a few of my questions already. Now you said you liked Count Basie. Now I was wondering, was that with Jimmy Rushing on vocals?
JIMMY RUSHING Painting by ED HUERTA

HM: Yes, Jimmy Rushing and a lot of those acts came out in the '40's like Slim Gaillard and he was a scat beboperoonie type guy.
EH: He was humorous right?
HM: Yeah, humorous, very funny, he was a crazy type guy, almost insane. It was so out there. I loved his stuff, very spontaneous. So I thought there's got to be a way to do songs more spontaneous…like find a stream of consciousness type style and write the songs from that aspect. I just kept on writing and it took me to preteen and teen age and then I started to play a lot of gigs.
In those days, bands like Dick Dale, Duane Eddy…surf music and Johnny Otis was happening with the R and B stuff. He always had great guitar players and I was being influenced by Chet Atkins and Merle Travis, two virtuoso country guitar players, and when I told my uncles who I was listening to, I told them Les Paul and they got mad at me! One of them said, "isn't he like a country player? You should be listening to Barney Kessel or to Byrd!"
EH: That's pretty cool. You were very gifted to be writing songs at 10 years old…to know who Charlie Parker is and Wes Montgomery is…most people it takes them until 19 or 20 years old just to figure out jazz or give it a listen. It took me awhile, I'm rockabilly based or I'm rock and roll based and when I was in my 20's I explored jazz and thought, " Whoa, there's a whole other country out there!" For you to be doing this at 10 years old is pretty gifted.
HM: To me it was just astounding that there was a whole world of music out there. You gotta realize I didn't think of anything else. It was my life and I knew it was going to consume me more later on. I knew what I was getting into and I sort of surrendered to that feeling and became fascinated with songwriters like Johnny Mercer, Irving Berlin, Cole Porter…they were the same type of guys, only in country, it was Johnny Cash, Hank Williams…Woody Guthrie, Pete Seeger and he had a band called The Weavers. They were from the 40's. I was exposed to a very eclectic realm of music and art. I had my favorite artists and it wasn't beyond me to try to paint and write poems and songs. It's constantly what I did. I don't even know how I got through school.
EH: Now were your parents very supportive of your artistic bent?
HM: They were extremely supportive and looking back I was thinking they must have known or understood something of what I was about and they always encouraged me and bought me books of different artists and musicians, like biographies and autobiographies of music to support my weirdness…like I was a loner and wrote and played guitar constantly in my room.
Musicians would come over and that's how I met Thee Midnighters. I don't know how they knew who I was but Willy G. (Willie Garcia) came over and I wrote the flip side of Whittier Boulevard called "Evil Love" and became friends with those guys. They had a mystical quality about their look and the way they played and I never tried to keep any type or any style of music down, whatever came through me, I just accepted it and put it down.
This is why in my catalog is not only huge but it has every style of song you can think of in there. I'm going to do a show in August in New Hampshire and I have hundreds and hundreds of songs to choose from of my own and I will even throw in a Dylan tune because he helped me get my first record deal. I really like him and Carlos Jobim, virtuoso guitarist, is another one, and Johnny Mercer. I'm in awe of great musicians as well as great songwriters. In our world sometimes, jazz musicians, to them, nothing else existed but jazz music. Others feel the same way, whatever their style is, that is all that exists.
HIRTH MARTINEZ with VAN DYKE PARKS
My world is real wide and sometimes confusing to me but the more I live each moment, the more I realize I am learning in each moment, and it all makes sense. It all fits no matter what type of music I am listening to. I listen to every type of music you can think of. I like traditional Japanese music a lot. I go to Japan a lot and the music to me, it's the most fascinating world, it's a self-contained world. It is spiritual and has healing factors. I sort of feel like I live in the mystic a lot. Everything just fits in my world.
EH: You are amazing me right now because you are answering my questions before I can even ask you them. My next question was what are your influences, musical, the written word, philosophical or even spiritual influences?
HM: My influences, my philosophical influences are melded with my poetic influences. I read a lot and I have read a lot from the beat generation. Kenneth Patchen. I actually became friends with his wife, a few years after he passed. He wrote very stream of consciousness. Jack Kerouac, Allen Ginsberg and recently enjoy Charles Bukowski…his work and Emily Dickinson a lot…Carl Sandburg.
My spiritual, I'm not really religious but my spiritual is almost the same philosophy, but it is all Jesus. There was a guru in India, he has left the earth now, his name was Paramahansa Yogananda. I followed his teachings for many years. I still do. I am not a joiner so I don't really belong to any particular organizations. I just like to get a little bit from here a little bit from there and I see philosophies of Jesus and also of Dylan Thomas almost as one philosophy.
Albert Einstein is another. It's like music. They all meld for me .The people I got things from who I am came down from, people like Ray Charles, Jackson Pollack, Diego Rivera, Pablo Picasso. I like the abstract a lot and the stream of consciousness. If you listen to my songs there is a lot of stream of consciousness in my music that pours out of me. I don't even realize what I am writing about. The words come down and I don't even realize it.
There have been a couple of songs where I have used words and I didn't even know what they mean. One of them, I was recording in New York, and I had to look it up in a dictionary and no other word would have fit there…it just fell into place. I feel like if I can keep my focus on the universe that these things will come through, whether a painting or poem, that I don't have to decide these things, that the universe will take care of this.
EH: You know if I would have interviewed you a few years ago, I would have thought that you are way out there or even crazy but I understand 100 percent of where you are coming from. I just picked up painting about seven years ago when my parents passed away. My wife told me I needed a hobby to get my mind off of that, so I took up painting. I am very amateurish, never took a lesson, but these days I feel like someone is guiding me, setting up the canvas…I can even see where to go and what colors to use before I start working on it. I feel like someone is guiding me and sending me tips, hints, like a channel…like you seem like an instrument of some greater force it seems like.
HM: Yeah, yeah..I have or teach several writers that hang out with me that are informal students, and I try to teach them that the only thing they have to do is to learn how to open up and let these forces in because sometimes if you start messing with it, like if your mind gets involved, you can really screw it up…sometimes when you are doing a painting or poem or some songs and it's coming along perfectly and your mind, which is part of your ego, jumps in and starts messing with it, it becomes a patchwork and it's all messed up.
If they can only accept what comes through and you might not even like it but sometimes I have written songs like why did I write this but then later you look at it and say of course I like it because it's perfect, it is seamless and I didn't do it. I wasn't involved in it. I just wrote it down. Sometimes it's hard for artists to step aside from the ego and let the spirits or God do it for you.
EH: Yeah, I totally understand. It's mind boggling when you write a song and are taken over, I feel I am not that talented and sometimes I look at it and say "hey, that's not that bad that someone helped me out here."
HM: What kind of art do you do?
JACK RUBY'S GREATEST HIT or THE PATSY by ED HUERTA

EH: I do a lot of jazz and blues musicians…also a lot of situations..Like Jerry Lewis being shot by Jack Ruby..(laughs) but mostly musicians…Now I heard a rumor that you gave Bob Dylan guitar lessons? Is this true?
HM: Now that's a rumor but he asked me if I taught and I told him I don't have a teaching method but I can show you some stuff how I do things. I usually give lessons to people that play already. So he asked for my phone number but he never called me and it never came down. When you get to know him a little bit he is very spontaneous. For example, we were in the studio with one of my records one time and I was putting down a guitar and a vocal on a track from my Hirth from Earth record and I was playing like blues and I was performing it and I felt someone was hovering over me and it was Dylan….and he said "Wow, you're kinda like a combination of Dave Brubeck and Howlin' Wolf ," and he asked me if he could play harmonica and I said "Yes." So he said, "let me go get it" and he ran out of the studio and I didn't see him again for about six months.
He is different than we are. He was so famous. He can't even eat at a restaurant, now. I know or I heard he was taking lessons at McCabe's (music store in Santa Monica) over there…someone saw him on a Saturday…but I never gave him lessons.
HIRTH FROM EARTH
EH: Now Robbie Robertson from The Band produced your first LP, Hirth from Earth. How did you two meet?
NORMAN'S RARE GUITARS, & ROBBIE ROBERTSON
HM: I don't know if you are aware of a guitar store out here called Norman's Rare Guitars. I met Norman before he had the store and I was selling a Gibson dot neck 335 that I had and I put an ad in the paper. Norman saw it and called me, came over and looked at it, and said, "Oh yeah, I want to buy it."
My table was covered with songs and lyrics and he asked me about it. It turns out Norman doesn't play guitars, he plays keyboards, but he likes collecting. He had a warehouse in Florida full of guitars that he had bought from people that he was looking to sell and they all happened to be antique electrics, vintage electric guitars.
So he bought my dot neck 335 which even at that time it was already old. I think I got that guitar the first year that the dot neck 335's came out. That was about 10 years. My Dad found it. A friend had a music store and was selling it so he bought it for me for a hundred bucks. With a case.
So anyway Norman found out that I wrote songs. He said I have a band and he listened to a couple of my songs and he said, "Wow, why don't you come over on Saturday and bring a tape of your stuff. At that time I was writing 10 hours a day, every day.
To be continued…(You're gonna love what happened next.)
Stay tuned for Part Two…Coming Soon
BE EVERYTHING
HIRTH'S HEART FULL OF SOUL 1945-2015 (PART TWO)
Now for Hirth's Heart Full of Soul 1945-2015 (PART TWO). Hirth's Heart Full of Soul 1945-2015 is about a very special interview with songwriter/guitarist Hirth Martinez. My brother Edward Huerta did the interview with Hirth a few months back. At the time none of us here were even aware that Hirth was ill. I have since learned that Hirth didn't even know he was ill at the time of the interview.
This was most likely the last interview that he did. The interview was over an hour and sixteen minutes and so that's why we have it running as two parts. As the interview was done by recording over the phone, and probably Hirth's last interview, some nuances and exchanges were left in and not edited out.
Hirth passed away a short while ago before we could even get this story together and PART ONE of the interview transcribed and put up.
Thank you for the interview Hirth. You and your wonderful songs will always be remembered and may you rest in peace.
HIRTH MARTINEZ Painting by ED HUERTA
We'll bring you up to speed with the tail end of Part One:
NORMAN'S RARE GUITARS, & ROBBIE ROBERTSON
HM: I don't know if you are aware of a guitar store out here called Norman's Rare Guitars. I met Norman before he had the store and I was selling a Gibson dot neck 335 that I had and I put an ad in the paper. Norman saw it and called me, came over and looked at it, and said, "Oh yeah, I want to buy it."
My table was covered with songs and lyrics and he asked me about it. It turns out Norman doesn't play guitar, he plays keyboards, but he likes collecting. He had a warehouse in Florida full of guitars that he had bought from people that he was looking to sell and they all happened to be antique electrics, vintage electric guitars.
So he bought my dot neck 335 which even at that time it was already old. I think I got that guitar the first year that the dot neck 335's came out. That was about 10 years. My Dad found it. A friend had a music store and was selling it so he bought it for me for a hundred bucks. With a case.
So anyway Norman found out that I wrote songs. He said I have a band and he listened to a couple of my songs and he said, "Wow, why don't you come over on Saturday and bring a tape of your stuff." At that time I was writing 10 hours a day, every day.
AND NOW… PART TWO:
HIRTH'S HEART FULL OF SOUL 1945-2015 (PART TWO)
HM: So the following Saturday I went over to his house in the valley and brought the thing over and he showed me some of the new guitars he had acquired. We were talking and he fell in love with my songs.
He called me one day and he said,"What are you doing Saturday morning?" I said,"Well I'm gonna sleep late." I had a 5 nighter out at The Beverly Hilton Hotel. I was playing with a band over there 5 nights a week and on Saturdays I wanted to sleep late, but he said,"No, no. I want you to come over because Bob Dylan called me and he's coming over and he's gonna buy a guitar. The black Stratocaster." So I went over. He said bring me one of your tapes. So I brought a tape. I'm thinking I wonder why he wants me to bring a tape.
I brought it and he tells Dylan… as it turns out it was Saturday, but Dylan came over on Friday and found the guitar and wanted to buy it and tried to give Norman a check. And Norman told Bob Dylan that he doesn't take checks.
(Both Ed and Hirth are laughing).
Dylan said,"Well let me go see my accountant and I'll come back tomorrow morning. So Norman knew he was coming back with money to buy the guitar. When Bob came in he introduced me to him. Bob said," I gotta kinda get going so here's the money," and they did the transaction.
Norman said to him,"Yeah, yeah, we'll do it but I want you to hear some songs first," and I got embarrassed. I said,"Oh no, Norman, what are you doing?" I got really embarrassed because…he blackmailed him…basically. Dylan was salivating for that guitar so badly…and Norman insisted…and it was a 90 minute tape.
In those days I was writing about 40 songs a month. So I had all these 90 minute reel to reels. He started to play the tape and I sort of inched my way to the back of the apartment like I went into the bathroom and locked the door and went in there and I thought,"Aw man." This went on for 45 minutes and then when that side was over with, he flips it over. And Dylan was really impressed. He said,"Wow, I wish I could write that much." We talked and laughed about that. I said,"From what I understand, you do." He said,"I really don't. I don't have time. I'd love to but I don't have time to do that anymore. I'm constantly busy."
As it turns out, Norman says to me,"We're going to Robbie Robertson's house next because Robbie's wants to buy a guitar and I'm bringing 'em over and and I want you to come too because I want Robbie to meet you and hear your songs." This was all in one day.
It's gettin' to be one o'clock in the afternoon. I kept telling Norman,"Look, I've got to work tonight at the Hilton. And he says,"No, no, you've got to come along." So he took me to Robbie's house in Malibu. I got to Robbie's and "Ho, you must be Hirth." I looked at him,"Well how do you know that?" He said,"Bob already called me and told me that I should hear your songs."
The way it was planned out…I went in and we spent another two or three hours listening to my songs. At the end of the first tape Robbie said to me,"So what do you want to do with these songs? I said,"Well I guess make a record." He said,"Okay. Well let's work on that. I'll help you with it." He said,"How do you make a living right now?" I said,"I play guitar on sessions and society bands. Wherever they need a guitar player. I do okay. I do pretty well." He said,"Well why don't you quit playing and just write. We'll go through the songs you've got and see what we need and see how much, if you need to write new ones. We'll get you a record deal."
And so that's how I met Robbie and it just all started from there. Before that Saturday was over, Robbie had arranged to have me put on a retainer. He was going to pay me a weekly retainer to do nothing but sit home and write songs. Not playing or doing anything else. That's how it happened.
EH: That's cool.
HM: The American Dream.
EH: Yeah. That's pretty amazing. Wow, all in one day you meet Dylan and Robbie Robertson and get a record deal.
HM: And a record deal. Yep, yep.
EH: That's quite a day!
HM: Yeah, yeah. He told me,"When you go into work tonight, he said give 'em notice. Tell 'em that you'll give 'em two weeks. After that the checks will start coming like Monday." And that's exactly what I did. I just followed his advice. It took us from that day about a year and a half to two years to do. We started working the very next week on songs. I 'd come over to Robbie's house every Thursday morning at 10:00 o'clock and we'd sit there and go through song tapes that I had. I had written about 800 songs. So that was a lot of listening to do. We sat there and went through 'em with a fine tooth comb and Robbie would pick out the ones he liked. He made an A,B,C,D,E list of those than we broke them down to A,B,C then A, B, and then A.
Finally when we were about 2 years hence, we decided it was time to go into the studio. We hadn't found a producer yet that we liked. At that time there were a handful of producers that were producing everybody like from Richard Perry, Lindy Warker, for Warner Brothers, Henry Lewy who used to do Joni Mitchell, John Simon who used to do Leonard Cohen. We couldn't find one that we both agreed would be the guy to do it. So Robbie said,"We're doin' a project with Bob Dylan. We're doing the album called "Planet Waves". If you wait until we're done with that," he said,"It'll take about a month. I'll produce it for you." I said,"Whoa, sure. I told him I'll wait six years." You just keep getting the retainer so don't worry about anything. Just keep writing."
So I waited. The month flew by. Robbie called me one Sunday morning and he said,"I scheduled our studio for tomorrow morning. Just come in." In the meantime we had gotten an arranger and gone through the tunes we were going to do and we wound up with thirteen songs for that first album.
EH: That's just amazing.
HM: Yeah. We started that particular Monday. We went in the studio and started the sessions and almost exactly one month to the day we finished it…mixing and everything…we did the whole thing in a month. We worked everyday except Saturday & Sunday. Saturday and Sunday we were off. We worked Monday through Friday nine to five. Everyday. We had it catered. We had people come in and cater meals so that we wouldn't have to leave. We could just stay in there.
EH: That's pretty cool. That's pretty amazing man.
HM: It is pretty amazing. I know. It's kind of is a manifestation in theory of the American dream that things can still happen through some sort of magical mystical avenue because this totally as far as I knew, just went on its own because I was not very aggressive. I had gone to see many many publishers and producers before I met Robbie Robertson. They all liked my stuff but none of them knew what to do with it. I told Dylan that story. He said,"What do you mean they don't know what to do with it? Just tell 'em make a record."
EH: Dylan has all the answers for sure.
HM: "Don't worry about that. Make a record." Robbie asked me that. He said," So what do you want to do with these?" Make a record. So that's exactly what happened. It was like the starting bell just rang and boom we were off and running. It was through my association with Robbie Robertson and Dylan, people that I met, many other song writers like Paul Simon, James Taylor, Carly Simon, Maria Muldaur, Dr. John, Paul Butterfield. He used to record a lot of my songs and I got to know him pretty well. Phoebe Snow. She and I intended on writing a song. We always talked about writing this song but we never did. We'd always get on the phone and just talk about flying saucers. Then she passed on. I met all of my contemporary writers, I met Leonard Cohen and all these people, I met them all through this connection with Robbie and Dylan.
EH: That's pretty amazing…the cream of songwriters.
HM: In that era, that was between 1973 & 1978 probably when that was happening. I did "Hirth From Earth" and then I took a big break and then I did a 2nd album for Warner Brothers. That was about 1976. I don't really enjoy being in the studio so I don't record that much. I like recording live. I went to Japan and did a live album there and then I went back in the studio probably around the year 2000 to record a studio record in New York with John Simon as the producer.
SEAR SOUND, NEW YORK Photo By YOSHI NAGATO
I got to use anybody I wanted to use I could use on these records so I got a hold of the heaviest players there were. Steve Gadd, David Sanborne, Ron Carter. Anyone I'd name they'd get 'em. It was like doing a painting and I think we're running out of colors, needs this color over here they'd go okay let's get 'em and they'd call up and get 'em for me. I even did one recording with Joe Pass, who was a very famous jazz guitar player.
JOHN SIMON WITH HIRTH MARTINEZ Photo by YOSHI NAGATO
EH: Yes, yes.
HM: That one's never been released. That one I intend on releasing. It's a big band, a really gorgeous arrangement of a ballad that I wrote called "Me and My Shadow". The lyric is way out there and Joe Pass played on it. Anybody knows guitar players, all they have to do is here the first note and they know it's him.
EH: Being this is a guitar based website, are you a guitar collector?
HM: Well I collect them only because I use those guitars. I don't collect them just to collect them. I have a few collector type guitars. Every guitar has a story it seems. At least mine do.
Like right now I think I've got about 8 guitars and I use every one of them for things and I have a couple of ukuleles. Some ukulele company in Japan gave me, the last time I was there, they presented me with this beautiful ukulele. I have some very old: I have like a real old steel string acoustic, a big Epiphone, jumbo guitar that I use on certain sessions. Of course I have a Les Paul Custom. My working guitars…I still do gigs…I do jazz gigs. Every other Friday or so I play at a place called "The Olde Ship" and it's in Santa Ana.
EH: I see that on your website. So you still do that?
HM: Yeah.
EH: Ok cool! I live in Long Beach and I work out in Orange County so I'll stop in some night.
HM: On 17th Street near Santa Ana College. We're there this Friday in fact. There's two bands. It's the same band only we change leaders. The one I'm working with on Friday is a man who's about 89 years old or so, plays clarinet. He plays traditional kind of jazz music – a little bit Dixie, and some straight ahead…but it's a little older style. On the 29th (I think) we're playing with the same guys – only we get a sax player that sounds like Stan Getz – We play more bebop there.
EH: That date…that's on the 29th.
HM: I think. I can check for sure and let you know.
EH: Ok. Yeah. I'd love to see you and meet you. That would be really cool.
HM: That band I'm a side man. I just play guitar and I do some singing. I play gigs with a couple of the local bands here in East L.A. They get 2 or 3 gigs a week. There's a band called "The Latin Gents". It's made up of some of the best players in East. L.A. I'm also playing with them next week at a place called The American Legion Hall in Montebello. So for my working gigs, when I'm not doing concerts, I work as a side man.
I still do session work now and then. I use a 335 which right now I have an Epiphone 335 but it has Gibson innards and it's modified. I put Gibson Humbucking pickups and Gibson wiring in it as opposed to the Epiphone wiring. That's one of my most favorite of the working guitars. If I have a jazz gig and then a commercial gig later on the same day, I can take one guitar and that covers me.
And then I have a classical guitar that I got from Norman. Way back before I signed to do the first record, when I first met Norman I was looking for a classical guitar and he sold me this one for five bucks. I wrote most of my songs that are recorded… I've written them on this guitar. I use it on concerts. I have a Fishman pickup on that one.
HIRTH MARTINEZ Photo By VIGNETTE-NOELLE LAMMOTT
I have a Gibson 175. It's around a 1960. It's my favorite guitar. It records beautifully and it's a great live guitar. John Sebastian from "The Loving Spoonful" gave me a Heritage Guitar. It's an L5 and it was custom made for him and I had the Gibson I was telling you about, the dot neck 335 that Norman wanted to buy. He bought it for about three hundred bucks and then a few weeks later Norman sold it back to me for a dollar.
EH: Wow! Okay! That's nice!
HM: See that. Yes.
EH: I can't imagine what it's worth now.
HM: What happened was that he said to me,"I'll sell it to you for a dollar, but if you ever seriously want to sell it, let me know first before you let anybody else know." I said,"Sure." So I used it for years, maybe over 30 years after I had bought it back from Norman.
And then I was playing at an Indian Reservation. I think it was the Pachanga Reservation. When I got home, somebody stole my car, and the guitar was in it, and I had just had it appraised. The guitar was worth over ten grand. And I never got the guitar back. It was just gone.
Sebastian heard about it and he called me and he said,"Before you get anything, let me take this one guitar, this Heritage L5 that I have." I said,"Well, what's it like?" He said,"It's an arch top and it's solid maple." He said,"They made it for me. It says John Sebastian RS Model on the top." He said,"I think it would be perfect for your concerts you do." I said, "Why don't you send me a catalog?" He said, "Okay, I'll send you a picture of it." Well the next day a UPS truck shows up with the guitar. He sent it to me.
EH: How nice.
HM: That's my Heritage guitar. I love that one. I use it a lot on my concerts. Although this time in New Hampshire, I'm gonna take and use a Joe Pass Epiphone that I've been using because I hurt my back back around January and my 175 is too heavy to carry so I started using the Joe Pass because it's a little easier and it's an arch top as well. All my guitars I have special uses for them. I have a couple of Ibanez' that I like a lot.
EH: I have one more question for you Hirth. Do you have any messages or thoughts for would be promising young Hirth Martinez's that are out there? Any words of wisdom?
HM: I would tell my students to just welcome the songs in…just let 'em in cuz there there. They just want to come through. A lot of people just don't know how to open up. What I try to teach the writers that come around me is to…I let 'em see how I do things. I don't know how to explain it myself. There was a point in my life when I was very young, I was probably 10 years old when I realized those songs are there aching to come in. Do whatever you have to do to calm your mind and let them come in and then start playing 'em.
They don't have to be so perfect and you don't even have to understand them. Certain things about the writers will get in the way and block their view and your understanding of what the songs are about. I think the songs are very powerful entities because they've got music with them, and melody and poetic energy of the lyrics that heals people in situations and sometimes one word or two words connect to somebody.
Maybe somebody in the audience will come up later and say, "Wow, you know there were two words in that song that just made me think and took me to another place." I think what happens with a lot of artists is that their minds get in the way and they start trying too hard to make sense of out of something that already has got its own sense and then a lot of times you screw it up.
EH: Just over thinking something.
HM: Yeah. It's more of a soulful thing just to let those songs come through. To me I will listen to those songs. If I'm wondering about a lyric that comes through, sometimes I'll think what would Dylan even think of this line? and I go through it from that perspective and I'll think no he'd never say that. It's got too many holes in it.
I check all my songs as I do 'em cuz they are so free, they're so spontaneous. I write 'em down and then I check 'em to see if there's any contradictions or holes or oh you missed something. There aren't any and I look at them over and over again from all these angles and I don't see anything that's wrong with it and yet I don't understand the song and I start singing it, the lines are coming to me. Some of the songs I've been singing for over 30 years or 40 years before I even know what they're about.
EH: Wow…wow!
HM: Sometimes in a performance I'll do a song that I've been doing for 30 years I'll think, wow I just realized what that means and how heavy it is.
EH: You've truly been blessed.
HM: Kind of a condition I have. Something like a blessing or maybe a realization or knowledge on my parents I think they sensed that I knew what I was doing even though I really didn't. They said just go with it. That's what you're being guided to do. That's what you're trying to do. When I was very little I would get compliments from all kinds of people visiting musicians were coming through and they would tell my parents,"Ah, he's really good," and I think they took it to heart. They believed it and I didn't know whether to believe it or not.
It wasn't really until Bob Dylan told Robbie Robertson in a book, there's a book called "The Great Divide". I think it's about "The Band." In the book there's a section where Robbie says that Dylan told that Hirth Martinez was an extraordinary songwriter. That affected me a lot. Dylan. I know he doesn't hand out compliments and neither does Robbie. I've read things about myself in different books and stuff.
EH: I'm gonna look for that. I'm gonna have to buy that book. I've never read it.
HM: Oh yeah, it's a pretty interesting book. I believe I've read the whole thing. I don't even remember who wrote it now. Sort of a famous rock and roll writer.
EH: Are you doing writer's workshops still? Is it just friends getting together?
HM: Informal. Sometimes…how can I explain it…you pick people up on the way. Suddenly there will be somebody I'm talking to, and next time I see them we'll be talking about songs again. I realize oh I'm teaching this person. We have kind of a lesson every time they ask me questions about songs or they're working on a song and they have a problem with it and I help to try to sort it out.
I don't know how it would be if I actually had a formal class. I'm not kind of cut out that way, even with guitar stuff. I teach a few people but they already play. I show them how I would approach. They'll give me a song and I'll play for 'em and show how I approach and how I came to choose that way to do it. I apply the same rule to painting and playing guitar that I do to writing. If it comes through and it sounds good, then it's probably right.
EH: Now you never had any lessons as far as painting goes?
HM: No. I did paint when I was in high school in the art classes and I got a scholarship to Chouinards Art School and I got one to The L.A. Conservatory of Music as well. But I had always had private lessons as a musician. I always had music in school. The art classes. I took the regular classes. I don't even remember exactly how it was that I achieved this scholarship to Chouinards Art School. And I went.
I went to Chouinards for about a week. Right away we had to do this free painting and I did it, and it came out really well, only I used house paint because I thought it was brighter and I liked it. And he said,"No, no. You're not supposed to use house paint." I used what I wanted to use and I told him why. It lasts a long time. What's the difference. And he failed me. I thought oh boy am I gonna have trouble with this guy.
At the same time I went to The L.A. Conservatory for the first class. At that time The L.A. Conservatory and Chouinards were in the same area. You could walk from one to the other. They were by MacArthur Park.
The reason I wanted to go to The L.A. Conservatory was because it was a very popular and well known jazz school. But the day that I went to sign up for it, that very day Walt Disney bought The L.A. Conservatory of Music and it became a classical venue instead of a jazz venue and I was really disappointed. I thought oh shoot, I didn't want to learn classical music, I wanted to play jazz. I want to learn more about jazz. I had already taken some private lessons from some different musicians like McCoy Tyner, John Coltrane's piano player, and Art Pepper was another name.
EH: Yeah, I've got a picture of Art Pepper here in my office.
HM: Oh yeah. Took lessons from him. I had studied with some heavyweights and I thought the best thing to do was to go to the jazz school and learn that. Well this one day when I had the hassle with the art teacher and then I found out that Disney bought the Conservatory and they weren't going to do jazz anymore, and at the end of that day I was thinking…I was driving home and thinking what am I going to do now? They were drafting people at that time too for Viet Nam and I thought I'll probably get drafted or something. That'll be the next thing.
I get home and I have a call from a contractor who used to contract a lot of record dates…a lot of recording sessions. His name was Mike Eckapov and he told me to call him. So I called him and he says,"Do you wanna play with Ray Charles?" I said ,"What do you mean?" "He's having auditions tomorrow. He's going on the road. He's holding auditions at The Tangerine Studios over on Washington. If you want to do it, meet me at 3 o'clock."
So I thought about it…Wow! Man, if I get the gig with Ray Charles there's my Conservatory of Music right there. And the art school, I paint already. I know what I'm doing. I know what I want to do. I don't need to get lessons. I just want to paint. So forget about that one. I'm not going back there.
I went to the audition with Ray Charles. It was just me and him in the studio. He suggested that we play a couple of things and he put some music in front of me and I read it and we played for about 3 or 4 hours. He said,"You got the job young man, you got the job and we're leaving tomorrow. You just got to talk to my road manager and get all the rules." So I talked to the road manager and there were so many rules. It was so strict because Ray was a junkie and they had all these rules to protect him from the police and from publicity.
So I decided that it was too much. And also the same day I got a call about writing a show. So now my writing career pops up again, writing a show for Las Vegas. It would entail writing maybe for the whole year and being paid to write different 45 minute lounge acts with original music, songs and everything. I thought, Wow that's a milestone for me. I was still teetering on one day I would think of myself as a musician doing studio work and then on the other hand, I wanted to write songs and I was writing songs. I was writing for a lot of live acts and stuff. At that time they had a lot of lounges where they would have live acts where people would want special material so I would write it for them and I was getting pretty good money for it.
I went back the next day to see Ray and to give him my answer. He wanted me to sign a contract and said okay we're leaving Thursday for the road. I went in there and I told the manager that I'm not going to do it. I got a writing assignment and I really feel that I've gotta write now cuz I think that's what I'm meant to be doing.
Gosh, I was only 18 years old at the time, and the road manager was pissed. He said, "Well you're gonna have to tell Ray and he ain't gonna be happy about this." He got me all scared. They told me to wait in the lobby, so I'm sitting in there and then Ray called me in. I went in there and I said, "Mr. Charles, I've got this writing thing that I do and I just got a big offer to write for a whole year and make some pretty good bread and I think that I made a mental thought in my writing the other day and I think I wouldn't be giving you my full attention if I went and played with you because I'd be thinking about the songs."
He was real quiet and he said,"Well son, a man's gotta do what a man's gotta do. I wanna wish you all the best of luck," he said. "I really enjoyed playing with you and meetin' you." I said,"I really don't want to hang you up here ya know." He said," Hey, don't worry. You're not gonna hang me up. I'm Ray Charles. I can get anybody I want to play with me." I said,"Oh yeah." He said," Don't you worry. I wish you all the luck. Maybe I'll do one of your songs one day." I said, "Oh. Great. Okay," and we parted like that, friendly like.
There was a decision, so I figured at the time, well, I got to play with Ray Charles for four hours, and meet him and talk with him. I felt some sort of a mystical connection with him. He was out there, man. He was in another world. Totally. He was totally songs. He was all about songs. Playing. So I thought, man, I'm just gonna hone my writing and write ten hours. That's when I decided to hit it. I wrote for ten years, ten hours a day. Maybe even more than that. I would write from sunup 'til sundown. I honed it. I learned on my own. I never studied or anything. I just studied other songwriters.
EH: That's incredible. It really is.
HM: I've always just sort of followed the path. My head's in the clouds, my feet are on the ground. I never bumped into anything. I just kept going. Wherever I'm at today, there's paths that led me here. And now I do concerts. I write everyday. Mostly poetry, these days. Every now and then I get an opportunity to write a new song, but believe me, I have enough songs.
EH: Yeah, It sounds like it.
HM: I have so many songs that when I do a show, I have to really struggle to do the songs that I want to do and not leave any out. Later sometimes after the show I think, oh shoot, I should have done that one, I wanted to do it. I have like too many songs. I have to be pretty discerning. I don't really per say write a set list but I keep a certain amount of songs flowing around in my head that are in the inner circle at that time. When I go on stage I don't really know what I'm gonna play. I go out there and whatever one pops in my head, I start playing… play that. As I'm in the middle of that one, usually I hear the next one already lined up and ready to come through. I know what I'm gonna do. I can do two three hours.
25 SONGS BY HIRTH MARTINEZ
EH: You would be almost labeled a beat musician, like a beat poet, beat writer, beat musician.
HM: Yeah. Yeah.
EH: That's pretty cool, man. I just wanna say thank you. Boy, I could probably talk to you for another hour but I better wrap this up. I just thank you Hirth. You're gonna have probably some new people that aren't familiar with you and some other people wondering how you've been because they've heard your name.
I wanna make it a point to come meet you and come see you sometime at The Olde Ship(I see on your website) in Santa Ana after I'm done, maybe before I finish the painting, just to see you and say hi. I want to deliver the painting in person to you sometime. It's gonna be a while. I listen to this recording and I have to transcribe it on the computer…that takes awhile, plus I work my regular jobs and everything, so.
HM: Oh sure, sure.
EH: It's gonna be probably a month or so before this gets out there, at least …again I would like to see you, maybe in a couple weeks. Maybe I get a feel by seeing you in person for what I'm gonna put down on canvas.
HM: Hey, whatever moves you. Give me a call.
EH: I'm sure you'll understand. Of all people, I'm sure you'll understand what I'm trying to get at as you coming through the canvas.
HM: I totally understand.
EH: That's what I do when I do a painting of let's say Fatha Hines or Cab Calloway. I'll play their music the entire time it takes me to do their painting so hopefully I'm sort of channelling their spirit.
HM: Yeah, I completely understand.
FATHA HINES Painting By ED HUERTA
CAB CALLOWAY Painting By ED HUERTA
EH: Well thank you Hirth. I'm really excited. I didn't know a lot of the stuff that you were telling me. You're really a nice spiritual person. You're blessed from the moment you were born to be a musician…to create.
HM: It's my pleasure Edward. Just keep on doing' it man.
EH: Yeah, that keeps me goin'. Believe me. Even though maybe nobody might enjoy it, well hey, I do.
HM: Well, as long as you do the odds will. You'd be surprised. I mean a long time that I never met or thought about or anything, I mean people that I'd realize they'd been fans but for years.
EH: Like I say when I was a kid, I just remember looking at that album cover of yours and just goin' – Wow, that's out there. Cuz I was probably what? When was that, '74?
HM: Yeah.
EH: I was like thirteen. I was just goin' wow. This is wild. This is like nothin' I know of. So it took me later to really appreciate your talent because I was whatever, I was listening to maybe The Beach Boys or something…which is not belittling The Beach Boys, but I'm just saying you're a different artist.
HM: My show now, like when I'm playing in New Hampshire, I'm calling it "Hirth Martinez From The Land of The Big Song." When I do the show collectively those songs represent all kinds of different styles and I take liberties too. I'm doing a solo show, I don't work with a band most of the time now, I work solo and it gives me the freedom to do variations on the songs and I take off and I do solos and I weave into all kinds of places. It's really the most exciting gig that I've ever had doing these concerts during the last few years.
EH: It's really great also to hear you being open to influences from country to bebop to classical to Gershwin. It's just really cool that you're open like that. That's what I like. I'm sort of more closed. I'm not into the newer music right now at all or what's very popular. I really don't listen to that. It just doesn't do anything for me. I do delve into the past.
HM: There's so much music out there. It's just endless. Without it getting into the hip hop stuff…cuz I don't listen to that either, but I'm still fascinated by the fifties, including rockabilly, jazz, r&b. The fifties brought out all kinds of eclectic stuff. I'm still listening to songwriters from that era.
There's a buddy of mine who sort of became famous in the fifties and now he's ninety two years old and he's still playing. He's still doing concerts and stuff. He's a songwriter. His name is Bob Dorough. In fact he's kind of like my mentor of all the songwriters but he's a jazz and bebop guy. I call him the hippest man in the world.
EH: That's pretty cool. That's pretty cool. At ninety two he's the hippest man in the world.
HM: Ninety two years old. He embodies every kind of music there is. I'll just tell you a really short little musician story about Thelonius Monk. He was sent to have pawn for somebody about his own funeral and this was near the end of his life. He sensed he was going to be leaving. He was discussing the set up of the funeral. And a friend said,"Well do you want some music playing Monk? What do you want us to play, man?" And Monk says,"You know me. You can play anything you'd like. There's only two kinds of music I don't like." And the guy said,"Really? What are they?" He says," Country & Western."
THELONIUS MONK Painting By ED HUERTA
EH: Oh no. Oh man. That's pretty funny. That's pretty cool.
HM: Well then I'll say goodbye for now.
EH: Wow that's wild. Well, Hirth. Thank you again from the bottom of my heart.
HM: Thank you.
EH: It was really enjoyable talking to you. I really appreciate this.
HM: My pleasure Ed. Keep in touch.
EH: I will Hirth. Take care. Okay
HM: Have a beautiful evening.
EH: You too. Bye.
HM: Bye for now.
HIRTH MARTINEZ Photo By YOSHI NAGATO
And "Bye" it was for now as Hirth passed away shortly after this interview. Many of us have the hope our paths will cross again in the future, in a better place, and certainly in a better time. For those that don't have this hope, I can only say "Bummer" witha capital "B"… We'll see you sometime soon Hirth. – Jack
BRIAN WILSON STORY "LOVE AND MERCY" REVIEW BY ED HUERTA
Here's a cool piece that we are able to reprint with permission from our friend Iman Labadedi whose way cool site rocknycliveandrecorded.com is the place to go to for what's happening in music.
The article is written by Ed "The Big Huerta", aka "The Prince of Primative", who has done many interviews and articles here at Jackaboutguitars.com. Many thanks to Iman and Ed for this story. – Jack
BRIAN WILSON STORY "LOVE AND MERCY" REVIEW BY ED HUERTA
It takes a lot to get me out of the house to see a movie. The last movie I saw was "The Wrecking Crew" three years ago with my wife. Now that she is gone, it is even tougher to even think of going to the movies by myself, or with others. I am not the most social dude in the world nor enjoy being in crowds. If Misty were alive, I would surely have dragged her, albeit kicking and screaming to this, with the promise of buying her a nice lunch afterwards. When I first read that they were going to make a movie starring John Cusack as Brian, I told Misty and she rolled her eyes and said, "Great, I'm sure you'll drag me to that!" So it takes a mighty, mighty big event to get me out of the house and "Love and Mercy" was it.
"In five years no one will remember you or The Beach Boys!" "I'm a genius, you're a genius, we're all geniuses Brian!" No, Murry Wilson, your words should never have been spoken. No one will ever forget The Beach Boys or Brian Wilson and we are not all geniuses. Yes, Brian Wilson is a musical genius. If you don't think so, then what were you doing at 23 years of age? Did you write a pop masterpiece, a symphony to God, that all modern music is compared to? Did you make the greatest band in recorded music, The Beatles, jealous? Did you already have several gold records and million selling albums under your belt? I didn't think so…
This is a very emotional movie and I don't see how Brian got through watching this movie. It is far better than I thought it was going to be. I was thinking it was going to be a lame style fake-bearded made for TV style movie that Hollywood has graced us with previously. Bill Pohlad and all of the actors totally hit this one out of the park. It was a great idea to have two different actors portraying Wilson. It was also very strange and cool to see my pal Vince Meghrouni as one of the wind players in the Pet Sounds scene. Academy Awards consideration to all the main actors, especially Paul Giamatti (as Dr. Landy), who I now totally hate! There are many key scenes in this movie. One of the toughest scenes to watch is when Murry informs Brian that he sold the rights to The Beach Boys songs…out of love. The humiliation was just heartbreaking.
Most of you reading this know the history of Brian Wilson so I will not get into this but it is pretty cool to get visuals of how the Pet Sounds sessions developed and the interplay between the band, especially the hated Mike Love, and Brian and the hangers on. I would have dug a bit more Van Dyke Parks involvement, of course. Another touching scene is a broken Brian just curled up and an emotional wreck saying, "I just want to go home." That really hit me hard, man. I can truly relate to the emotions of just wanting to get out of a situation that life throws you in and wanting to be somewhere that was comforting in the past. The melding scene of the child Brian, the Smile era Brian and the 80's burned out Brian, is also touching and gut wrenching. But "Love and Mercy" is also a love story. I met Melinda Wilson once and got to speak briefly with her and she is a very kind woman. I have nothing but praise for her. She is a major part of his life and story and it is nice to see a positive influence triumph over bad will.
I recommend this movie to all fans of music even if you don't know about Brian Wilson, this is a perfect introduction to his genius. Parents should see this and learn that creativity is something special in all of us and unfortunately not all people are creatively gifted equally or artistically but try to find what a child excels in and do NOT stifle or try to mold them into something that you want them to be. I truly believe Brian was/is guided by a muse/spirit/God whatever you want to call it. Brian was used as an instrument and he brought us some angelic and otherworldly songs and sounds that maybe can be heard in a place much like heaven. He worked on a much, much higher plane than all of those people around him. They couldn't relate to that. They wanted Brian at their level when instead they should have been celebrating the genius that is truly Brian Wilson.
And just try holding back the tears when you see the real Brian Wilson singing "Love and Mercy" at the end of this film. Misty would have liked this and she would have made fun of me over lunch for being so emotional. God bless Brian Wilson.
My Meeting with Brian Wilson(or how I grew up to be a man and love "The Bomb")
Here's a piece that we are able to reprint with permission from our friend Iman Labadedi whose way cool site rocknycliveandrecorded.com is the place to go to for what's happening in music.
The article is written by Ed "The Big Huerta", aka "The Prince of Primative", who has done many interviews and articles here at Jackaboutguitars.com. Many thanks to Iman and Ed for this story. – Jack
My Meeting with Brian Wilson(or how I grew up to be a man and love "The Bomb")
My Meeting with Brian Wilson(or how I grew up to be a man and love "The Bomb")
Folks, I was born in Los Angeles, a stone's throw from Hawthorne, California (this is our Liverpool), and grew up in California, (and still live there and will probably die here), listening to my brother's copy of "The Beach Boy's Live In Concert" from 1964.
As I grew older and became increasingly uncomfortable in high school, I explored "Pet Sounds" and read as much as possible about The Beach Boys and Brian Wilson. Brian was painstakingly shy and introverted and escaped through music and seemed to wish his life away, just like myself.
We all know of Brian's troubles so I will not bore you even further, but Pet Sounds led me to harder stuff, like Friends, 20/20, Smiley Smile, Sunflower, Wild Honey, Surf's Up, Holland…folks, are you starting to see a pattern here?
The year 1976 brought us15 Big Ones and heralded the return of Brian to the creative fold. I bought it and wasn't super fond of it, but it had Brian, sure he was bigger and raspier but it was still BRIAN!
Fast forward many years, life goes by, one gets married, has mortgage, bills, fall breaks back to winter etc..Brian is now older, happier, solo and doing shows again. I went to as many of his gigs as possible, often dragging my wife with me, and also in the company of my pal and ex co-worker Allen Barker and his wife.
Allen saw The Beatles play in Seattle so he was A-ok in my book from the get go. He is also a great guy that supported me throughout my wife's illness and passing. He is a truly great dude.
Finally to our story…Allen emails me and says "I have a ticket for you to a Tribute to Brian Wilson at the Henry Fonda Theatre in March, YOU are going! Okay, sez I, well lo and behold, he breaks it to me gently that we are going to meet Brian and he is going to sign a few things for us at Capitol Records before the show.
In a bit of providence, we had dinner before meeting Brian and who walks in, but 4 members of his band, and they sat right next to us. Gracious guys they all were. We even got a picture of them and chatted a tad. So anyways, this is how I got into the famed Capitol Records building and it is so cool in there.
We were ushered into Studio A and there behind the glass was Brian and a few photographers. I felt like I was at the zoo and looking at some rare, nearly extinct wild animal. It was a strange feeling just being in that building knowing that Dean Martin, Frank Sinatra, The Beatles, Bobby Darin, Gene Vincent, The Beach Boys, Zooey Deschanel and a ton others have wandered around these hallowed halls and recorded musical history in these echo chambers.
There were about 30 or so people that got to meet Brian that evening. They all made a nice charitable contribution to Sweet Relief Musicians Fund so it was for a very worthy cause.
When I was ushered in, I showed Brian a pic on my phone of a painting I did of him that he signed in Long Beach. He said he dug it and that he remembered seeing it. Well, that was pretty bitchen' to say the least. Again, here was my musical hero and I hardly had much to say to him. What do you say to a modern day Mozart or Beethoven? What do you say to a musical genius?
We all want to be around greatness and peeps, it doesn't get any greater than that in my world. This man shaped my musical life and took me through some many painful years and events. What else can you say but "Thank you for all of the joy that you have given the world" and I did. The world and my life is greatly enriched with this treasure to mankind and to the naysayers that don't get it, well, listen a little closer to what's going on in his songs.
The instrumentation that was used in "Pet Sounds" alone was innovative, layered and complex, not to mention the symphonic, spiritual harmonies and throwing it all down on 4 tracks!
Folks, Brian was only 23 years old when he composed the greatest rock album of all-time and I am not even going to go on about the hits or tons of gems out there that are waiting for the non-believers to discover one day.
In conclusion, I just want to say "Thank you" to Allen Barker for giving me a very joyous day in a time in my life when joy was nowhere to be seen. Meeting Brian Wilson on his home turf will be a day that I will never forget and will treasure for the rest of my life.
Our thanks to Iman Labadedi, rocknycliveandrecorded.com, Ed Huerta, and Brian Wilson.
THE WRECKING CREW FILM: ONE OF THE COOLEST MUSIC FILMS TO COME ALONG…EVER
IT'S ALMOST TIME FOR THE GREAT THEATRICAL RELEASE OF THE WRECKING CREW FILM
As we're patiently waiting for this great film's theatrical release to the masses, Jackaboutguitars.com has decided to move the article and interview that we did with Filmmaker Denny Tedesco, just prior to The Wrecking Crew Film Kickstarter, to the top, front & center of the site for any of those out there who may have missed this cool story and interview the first time around.
Many thanks to EVERYONE who helped make Denny Tedesco's Dream a REALITY! And most of all, THANK YOU DENNY!
In the very near future we will be running a brand new interview with Denny Tedesco – just completed by "The Prince of Primitive", Jackaboutguitars.com's Ed Huerta, as the countdown to the major theatrical release of the movie is quickly approaching.
The film is opening in my neck of the woods on March 13th at The Hollywood Theater, here in Portland, Oregon, and I couldn't be more thrilled about that.
SOME MORE DATES AND PLACES FOR THE RELEASE OF THE FILM IN THEATERS
The movie will be opening on these dates in these cities so far…

2/20/2015
Halifax, NS: Carbon Arc Cinema Co-op
Toronto, ON: Bloor Hot Docs Cinema
Vancouver, BC: VanCity
3/11/2015
Hamilton, ON: Art Gallery Of Hamilton
Saint John, NB: TIFF Film Circuit
3/13/2015
Cambridge, MA: Kendall Square Cinema 9
Dallas, TX: Magnolia Theatre
Denver, CO: Mayan Theatre
New York, NY: IFC Center 5
Portland, OR: Hollywood Theatre
Santa Ana, CA: South Coast Village 3
Tucson, AZ: The Loft Cinema
West Los Angeles, CA: Nuart Theatre
3/20/2015
Columbus, OH: Gateway Film Center 8
Jefferson City, MO: Capitol City Cinema
San Diego, CA: Ken Cinema
Santa Fe, NM: Jean Cocteau Cinema
3/27/2015
Berkeley, CA: Shattuck Cinemas 10
Gainesville, FL: Hippodrome – Gainesville
Phoenix, AZ: FilmBar
San Francisco, CA: Opera Plaza Cinemas 4
San Luis Obispo, CA: Palm Cinema
Seattle, WA: SIFF Cinema at the Uptown
Waterville, ME: Railroad Square Cinema 3
3/31/2015
Winston-Salem, NC: Aperture Cinema
4/3/2015
Bellingham, WA: PFC's Limelight Cinema 3
Palm Desert, CA: Cinemas Palme D'Or 7
Spokane, WA: Magic Lantern Theatre
4/8/2015
Baton Rouge, LA: Manship Theatre
4/9/2015
Wichita, KS: Orpheum Theater
4/10/2015
Fort Worth, TX: Modern Art Museum of Forth Worth
4/13/2015
Bethlehem, PA: ArtsQuest Center at SteelStacks
4/14/2015
Springfield, MO: Moxie Cinema 2
4/20/2015
Lafayette, LA: Acadiana Center for the Arts
4/23/2015
Memphis, TN: Memphis Brooks Museum of Art
4/24/2015
Albuquerque, NM: Guild
…AND I'M SURE there will be more dates and places to follow as this picks up momentum!
OUR PREVIOUS INTERVIEW WITH DENNY TEDESCO
In the meantime, here's the first interview that Ed Huerta did with Filmmaker Denny Tedesco and the accompanying article.
Enjoy it and keep yourselves tuned in to Jackaboutguitars.com for the new interview with Denny Tedesco which will be here real soon.
MY DINNER WITH DENNY TEDESCO (WELL, NOT REALLY…JUST PICKING THE MIND OF THE MAN BEHIND ONE OF THE COOLEST MUSIC FILMS TO COME ALONG EVER…THE FILM "THE WRECKING CREW") by ED HUERTA

WELL, THE TIME IS AT HAND, AND THE WAY COOL MUCH ANTICIPATED WRECKING CREW FILM IS ALMOST HERE…
KICKSTARTER IS IN PLACE AND NOW IT'S TIME FOR EVERYONE OUT THERE TO DO WHAT EACH OF US CAN

That's right. It's finally almost here. Getting closer to the release of THE WRECKING CREW FILM. Many of you have heard the buzz. Filmmaker Denny Tedesco, son of the late, great guitarist, Tommy Tedesco, is getting very close to releasing his "labor of love", The Wrecking Crew Film. Talk about excitement building…
This is the story that has needed to be told and it's time for the final push for funds to get this amazing film up on the BIG SCREEN for all to see and enjoy, to be WOWED and AMAZED. And what a story it is…
Let's all help Denny Tedesco to get this story out to the masses. Kent Hartman, thank you so much for writing "The Wrecking Crew" Book ("The Inside Story of Rock and Roll's Best Kept Secret)! I just wish that I would have discovered it before writing this article as I would have certainly asked your permission to draw from it. What a GREAT read!
To date, many dollars have been raised as the film contains over a hundred songs of which the music rights and licensing had to be worked out and paid for. The process is almost complete which will allow the film to be released.
Read on and find out how you can become a part of all this through the Kickstarter Program. You can actually help in a very modest (or generous) way to get this fantastic film launched onto the big screen!!! There are so many ways to help out from attending screenings, giving a small or large donation, and even getting an actual dedication that will appear on the DVD. THE WRECKING CREW FILM: ONE OF THE COOLEST MUSIC FILMS TO COME ALONG…EVER!

You can even contribute to the effort by purchasing way cool Wrecking Crew merchandise like Bowling shirts, Tee-shirts and tank tops, baseball caps, coffee mugs, posters, and even special bottles of red wine, all with The Wrecking Crew Logo on them. Great memorabilia to own, wear, and display in your home or music room.
For those guitarists, musicians, and readers out there who aren't too familiar with or don't know much about all of this Wrecking Crew business in the air, relax. It's okay. Really.
These are just the guys & girl (studio musicians) who played on the soundtrack of just about every baby boomer's life, not to mention how it affected and what many of the other generations that followed might have taken from them.
Many of you guitarists, bass players, drummers, piano and keyboard players, as well as other musicians out there have been affected by these guys probably way more than you'll ever know. I know that once I finally came to the knowledge of all of this, I couldn't even begin to believe it. Songs that I have heard most of my life weren't even played by the musicians in the bands whose recordings they were supposed to be!
The name, "The Wrecking Crew", was given to this younger group of studio musicians in L.A. in the early 1960's by the older established studio musicians in the area (the suits so to speak) as they thought that these younger guys were going to wreck the music business with their rock and roll and blue jeans and tee shirts.
The Wrecking Crew Film is the untold "behind the scenes story" of these musicians who played on all of the biggest hits, hit after hit after hit, that came out of the west coast from Southern California. They were the "unsung heroes" that the public never knew back then and many are just finding out about now. Believe it or not, they were Phil Spector's famous "Wall of Sound"!
These are the musicians that played on so many of the hits by The Association, The Beach Boys, The Byrds, The Carpenters, The Crystals, Dean Martin, Elvis, The Fifth Dimension, Frank Sinatra, Herb Alpert & The Tijuana Brass, Jan & Dean, Nancy Sinatra, Neil Diamond, The Mamas & Papas, The Monkees, The Righteous Brothers, The Ronettes, Sam Cooke, Simon & Garfunkel, Sonny & Cher, and too many others to even mention right now (sorry others)! The list goes on and on and on….
They even played on T.V. theme songs like Bonanza, Batman, Green Acres, Hawaii Five-O, and Mission Impossible, as well as movie soundtracks.
For those of you who don't know much about all of this, here's a video trailer that will bring you up to speed a bit and give you an idea just what it's all about concerning this cool film.
HERE'S WHAT PEOPLE ARE SAYING ABOUT THE FILM
A wonderful, touching and hilarious film about the unsung stars of so many records that you carry in your heart. – Elvis Costello
It was incredible! I felt just like I was sitting there with them at that table. It had everything I wanted to see and more that I didn't expect. Tommy's humor drew you in and the lifelong respect for each other was so evident. Thank you for making this film because it shows that these legendary musicians, who we listen to everyday, are anything but invisible!!!!!! – Peter Frampton
"The Wrecking Crew" documentary is the first time that people will finally understand what it was like to be in the trenches of Rock and Roll… Its the closest thing to being there. It is a great pleasure to be a part of Denny Tedesco's Wrecking Crew. – Hal Blaine
Like the Funk Brothers being the backbone of the Motown Sound, the Wrecking Crew were the backbone of the L.A. Sound. This group of musicians played on and created hundreds of hits that became the soundtrack to our lives in the 60s and 70s and are still on radio today. I would recommend this DVD to anyone who likes music and who doesn't? It's an historical peek and inside look at the backbone of American hit parade music that rocked the world. – Randy Bachman Guess Who, Bachman Turner Overdrive
Denny Tedesco has given us an amazing look at a musical moment in history that everyone who loves rock and roll should see. – Christopher Guest
Much congratulations to you for undertaking the project and for delivering it in such a wonderful way. For me it was educational, entertaining and thoroughly engrossing… – Clive Davis
I loved the film, thank you for bringing to light the story behind one of the most important musical ensembles of the modern recording era… – Chad Smith, Red Hot Chili Peppers
It's about bloody time! – Micky Dolenz
Jackaboutguitars.com recently had the honor of being granted an interview with Filmmaker Denny Tedesco. Drummer and writer Ed Huerta of Jackaboutguitars 'Art "N" Soul column, aka "The Prince of Primitive", managed to be able to free up enough time from his overwhelming schedule to take on the special assignment for Jackaboutguitars of interviewing Mr. Denny Tedesco. Jackaboutguitars was also given permission to use The Wrecking Crew logo, photographs, and even some of the video clip outtakes from this fantastic film by Denny Tedesco.
Throughout the interview I have posted photos and some of these video clip outtakes from the making of the film which are at the least, quite interesting, and some of the stories are really very entertaining. They aren't in any special order and probably don't appear in spots that coincide with the interview.
Enjoy them for the great musical history that they are. I'm hoping this story and the interview with Denny will be enough to inform those who don't know much about The Wrecking Crew and temporarily satisfy your curiosity about The Wrecking Crew Film. If this in any way speaks to any of you musicians out there,
It's also my understanding that dinner and drinks for the interview were almost outstanding! They may seem to have even been non existent (just like the budget set aside for all of this by Jackaboutguitars). We do know that as and when the budgets gets a bit better, all else will follow accordingly. Enough said, here's the interview. Enjoy! – Jack
MY DINNER WITH DENNY (WELL, NOT REALLY…JUST PICKING THE MIND OF THE MAN BEHIND ONE OF THE COOLEST FILMS TO COME ALONG EVER…THE FILM "THE WRECKING CREW") by ED HUERTA
EH: I lied. I didn't have a face to face sit down with the man. I didn't do this interview mano a mano with him. We never even had dinner together, but in fact, I did do this interview via one of Thomas Edison's inventions, (look for the movie starring Don Ameche…like my late father used to say about me," He spends more time on the phone than Don Ameche!") (the phone, with the man).
The man, meaning Denny Tedesco, filmmaker and son of the late Tommy Tedesco, jazz guitarist and member of The Wrecking Crew group that was responsible for nearly every hit song and many non-hits through most of the 1960's and early 1970's that came out of the west coast.
Tommy Tedesco
Tommy's guitar playing can be heard in numerous television theme songs and many, many motion picture soundtracks. The man was sitting in the guitar chair for a good decade.
I first learned of The Wrecking Crew many years back when I started delving into music producers such as Phil Spector and Brian Wilson. These musicians helped usher in the Golden Age of Music. They were responsible for hundreds of songs that somehow transport us to a different time and exclusive, individual memories.
The Wrecking Crew – Phil Spector's Hero Date
For example, the magical sounds of the opening drum hits in The Ronettes "Be My Baby" or the wonderful space of music, just before the last vocal segue of Sonny and Cher's, "I Got You Babe". The pure pop that drove Gary Lewis' "This Diamond Ring" to the top of the charts. I still believe that song inspired a teen Bruce Springsteen to later record his Spectoresque production of the classic "Born to Run" album.
The Monkees, Jan and Dean, Ricky Nelson, The freaking Turtles, people, or anything on Pet Sounds. This stuff was thee stuff!!! If you ever picked up an instrument or played in a band, then you have The Wrecking Crew to thank because I know you must have played one of the songs they played on or ripped off a lick or two from one of those said songs.
The Wrecking Crew was music's version of the New York Yankees, especially the 1927 Yankees featuring The Murderer's Row. They are the Los Angeles Lakers, the Boston Celtics, the Green Bay Packers: the dynasty of music and musicians. So what I am trying to say in this introduction is, that they meant a lot of things to music lovers and musicians and it was quite an honor to get to meet Mr. Tedesco at the screening of the film in Orange County and to get to meet Mr. Hal Blaine, the "DRUM GOD". It was one of the most special evenings of my life and it was like being at Disneyland and getting to meet Walt Disney.
Brian Wilson & Hal Blaine
Case in point, we were seated in the cinema, my wife and I, perusing the brochure that we were handed upon entrance to the movie, when a nicely dressed gentleman introduced himself as Denny Tedesco, the maker of the film we were about to view. I recognized him immediately, only because I saw his picture in the program just seconds earlier. Denny didn't have to do this. It was truly a nice gesture that he went out of his way to greet people. I was thinking and mentioned it to my wife, that he probably recognized me from my many appearances on the old Steve Allen Show.
Yeah, she didn't think that was too funny either…but I do want to thank Paula and Steve Soest for reminding me of the screening and for arranging this wonderful event and the star treatment they gave my wife and I. I just want to add that Denny did not hesitate when Jack from Jackaboutguitars.com approached him about doing an interview for the Jackaboutguitars.com website.
Thanks again Denny Tedesco…and if you haven't seen this movie, go out and see it and help support the cause with a donation to Kickstarter. I, for one, cannot wait for the soundtrack and DVD of this film. You will see how this film touches the very core of the music lovers' existence. It is a fine tribute to the memory of Tommy Tedesco and to all of the people that rounded out this group of fine musicians. Denny did an incredible job on this and you can feel the love for his father in this work.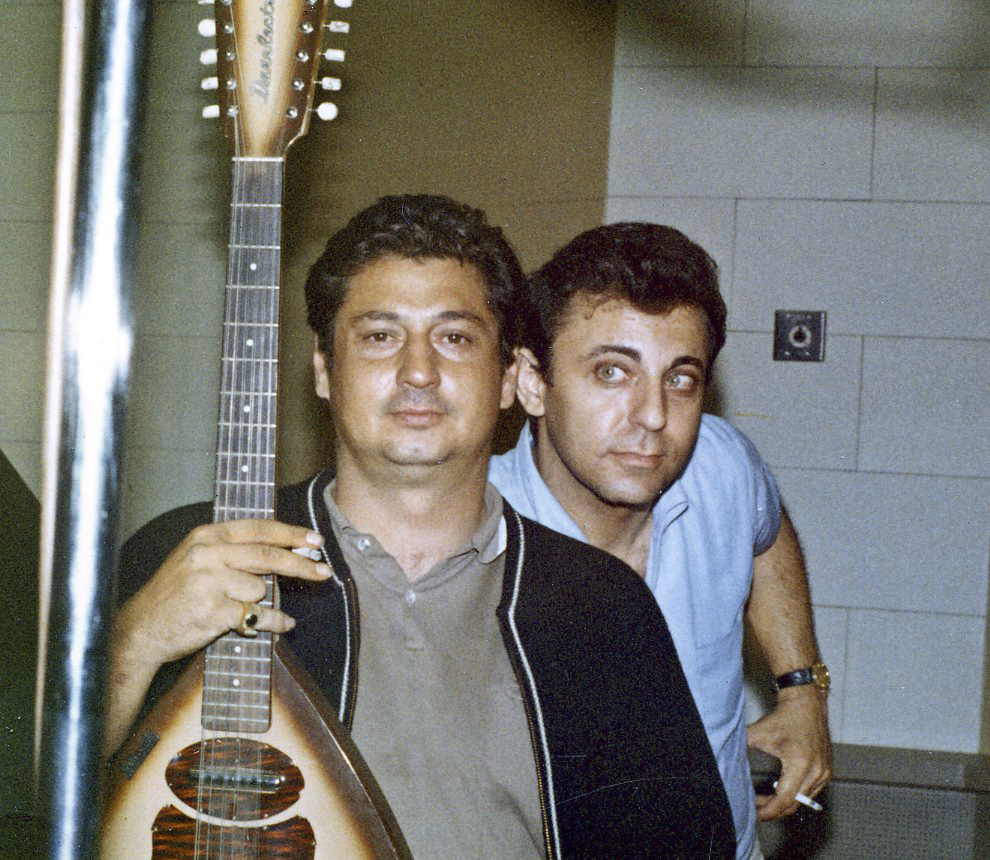 Tommy Tedesco and Hal Blaine
I'm starting to sound quite a bit like a PBS pledge drive here. Let me wrap it up by saying this… I never met Tommy Tedesco – but this film uncovers a persona that is larger than life and you truly get a feeling of who the man was and he seems like a very good man and father as well as a decent guitar player too.
Filmmaker Denny Tedesco & his Dad, Tommy Tedesco
I am sure Tommy is looking down at these screenings and proudly saying to all within earshot, "That's my son's work everybody, that's my son!". We thank you for your work too, Mr. Tedesco…both of you!
Similar to Tommy's Flying Tele
(Setting the scene: I did this interview over the phone on my trusty ZOOM H1 and Samsung III. Denny had just gotten back from an errand and it was late afternoon and his voice sounded scratchy and tired. I felt bad about asking so many questions, but how often do I get to meet Hollywood filmmakers especially the son of Tommy Tedesco…please ignore the sounds of Lakewood Boulevard in the background that didn't help me decipher some of Denny's answers…Hope you all enjoy and please do yourselves a great favor and check out his film. It is truly a great piece of historical work.)
EH: Hello, Denny. First thing, let me say I first met you at the screening of The Wrecking Crew Film in Orange, California at Chapman University (a heartfelt thank you to Paula and Steve Soest) and Hal Blaine was there, and it was a totally amazing, magical evening!
I play drums and it was such a thrill to talk and shake the man's hand that played on all of the hit songs that shaped my life and playing style. (He did want royalties from me but I only had a couple bucks in my pocket, which Hal took with pleasure. I am joking, of course, he took it begrudgingly… (Ed's note, just kidding), but Mr. Blaine was very funny and he signed a poster for me too!
Ed Huerta & Hal Blaine
So, as a kid I used to listen to all of these records and would pretend I was Dennis Wilson playing those drums. I guess I should have pretended to be Hal Blaine(I just didn't know at the time). Anyway, I just wanted to say for all of the musicians out there "Thank You" for making this long awaited and anticipated film.
It is the most amazing film and I beseech all those people who only have a shred of interest in music or the golden years of the 1960's to buy a ticket and see this. I am in my early 50's, so I was a tad too young when these songs originally came out. But I do have childhood memories of hearing and enjoying them. What I want to ask you, in a long-winded way is, do you get the same reactions from people after they view this film?
DT: The reaction is, yeah….That's why I keep going. The reaction to the film is always extremely positive. The concept of the film is what I'd like to take credit for.
It's amazing. We are peeling back the curtains and educating the people, like you just said, you thought it was Dennis Wilson playing, and it's nice to see that reaction all of the time, and it doesn't matter what demographic. I've seen it in Israel, in England, in Germany, Barcelona and New York…Brooklyn, you know, Seattle, and all across this country, the same thing. This is America's greatest export. It really was. It was an amazing time period.
EH: Oh yeah! It was the total golden age of music, and we'll get back to this in a bit, but my next question is…hope you don't mind me reading from my notes here..
DT: Go right ahead…
EH: You have had a little trouble getting the movie funded, I know it's extremely expensive, but it's a story and a topic that needed to be addressed or told, and I was wondering as The Wrecking Crew made millions of dollars for record companies and music people, artists, did these people attempt to give back at all to the funding of this project?
DT: Oh yeah, Like Jerry Moss gave fifty thousand and Herb Alpert (the brains behind A & M Records, but you people probably already know this so from here on in I will assume you are more knowledgeable than the average reader) is going to match that. They have come around but you know people, it's a weird thing.
You can't just go to people and well, Cher, for example. I'm doing an interview with Cher and I didn't want to ask her for money. It's a fine line. I'm not good at it! Some people are good at asking, I'm not good at asking but I'm learning how to ask and that could be a reason that it's taking so long. You know, we're getting there.
EH: Right. So you finished the movie, in like, 2008?
DT: I started in 1996, in 2006, we started to cut. I compared it to building a house. We had all the appliances, all the fixtures and the lumber to build the house, our dream house, but we had no idea if we could build it. So it's like a film. I had all the material and what we needed to do was hire a manager.
So we hired Claire Scanlon, an editor/producer and she helped me put it together and in 2008 we released it at festivals. The goal at festivals is to always get noticed.
EH: I see you've won a ton of awards.
DT: Right, well we were getting noticed but it wasn't really going anywhere and in 2008 no one wanted to pick up a musical documentary with a huge musical budget on the backend to pay. So that's when I had to basically go on our own and donations to the International Documentary Association, we were also able to pay off over $300,000, we have like $250,000 left, which is basically for the Musician's Union, so the last bit will be going towards the musicians, which is great.
EH: This leads to another question. There are an amazing number of songs in this film. Now, I have no idea what it would cost but is there a soundtrack in the making?
DT: Well, what we are trying to do, it's funny you said that, Yes! There has to be! That's what we are trying to do, get the soundtrack together, that's a whole 'nother animal. But there has to be a soundtrack that goes with it. We have over 100 songs throughout the film. I'd like to put 40 of them together for an LP or as well as like on a CD with 40 songs or maybe put 24 songs on a double album.
EH: I'm sure you could put together a whole boxed set with the 100 songs and you would get a lot of buyers, including myself. Now about The Wrecking Crew musicians, I imagine they showed up the day of the session but did they know whom they were playing for?
DT: Not necessarily. How it worked, you would get called and the leader of the session would see if you were around, what to bring, like a six stringed acoustic or a twelve string or they'd say you have to have a mandolin or a banjo or whatever you were doing and then you might not know who the artist was.
Sometimes they were just tracks or the artist was new. A great example, my father once got a charm, a little charm bracelet in the shape of a Grammy. It was a gift from Jimmy Webb for the work on "Up, Up and Away". My father asked Hal Blaine what the gift was for. He said it was for that song we did with The 5th Dimension, but yes, my father didn't know he was on it but if you listen to the song, you know it's him.
You know The 5th Dimension wasn't there and it was just a session with Bones Howe and they went with Bones all of the time, or whoever that was there producing. It's a craft. Like everyone thinks it must have been great working with a certain artist. Well, certain artists weren't stars. The only one that ever impressed them was Sinatra. Like now you knew who you were working for.
EH: Now the musicians were also given charts. Did they ever ad-lib off of the written charts?
DT: Absolutely. The leader of the session would give them rough ideas for songs or they would have to invent the part. Sometimes they'd get full written parts. They always made sure they gave more than what they asked for. If the leader was receptive to the idea, Hal would say "like what do you think of this?" Yeah, that sounds great! Then, my father would say "and what about this?" and if he likes it great.
My dad's motto was if the guy's smiling then I'm doing my job. If the guy's nervous walking then we're in trouble. So you gotta figure out what the guy needs, even if it's not right. Like if you're the player and you don't think it's the right direction, well, you know what, he's paying the bill and you go in the direction he wants you to go.
EH: When I was a kid, I would always look at the album covers and see pictures of The Beach Boys (or insert any 60's era band here – except Sopwith Camel! DO NOT GO there people!) playing in the studio so you would just assume that these guys were playing on the records. Now is there a reason the record companies kept it hushed up? That these guys weren't actually playing on their own records?
DT: Yeah. I mean The Beach Boys are supposed to be the band. In fact, they first started playing on the first couple albums that they did. Then it got a little more complicated. Brian wanted Hal and Ray Pohlman and started putting together a bigger band. Finally, it was all session players. It got more complex. The guys were on the road and didn't have time to get ready.
Everybody's different, like The Byrds, a great example. "Mr. Tambourine Man". I think that's the only song they are credited for as an A-side and as a B-side and they went in there and Terry Melcher ( of Bruce and Terry fame and the son of Doris Day, you all knew this though…) was the producer. Terry Melcher said, "If I'm going to do this, I want to have my session guys in there and Roger (McGuinn and or Jim) can play on it." The Byrds were upset.
It was Hal Blaine, Leon Russell, Larry Knechtel, Bill Pittman and Jerry Cole were on guitars. But it was a number one hit! Took them three hours to knock it out. Now when The Byrds went in it was like 77 takes for "Turn, Turn Turn".
Economically, Terry had a job to get in and get out. Any producer's job is that he thinks he's gotta get a hit. If you don't think that you are going to get a hit then don't do it. But you have to have that mindset. What's the best chance I have of getting a hit? Having this kind of group in there?
EH: In the 60's and early 70's, the Wrecking Crew basically ruled the roost. Now if you weren't a part of this group, were you basically out of luck, studio-cat wise? (Ed's note: checkout my hip lingo, eh?)
Carol Kaye – The Wrecking Crew's only female player. She's best known for her amazing bass work on Good Vibrations, California Girls, and The Beat Goes On.
DT: That's a good question.
EH: (as I nod smugly…)
DT: I think there was enough work to go around. In the earlier days it was harder to break in. For example, in the 70's, my dad used to say, he was working for the movies and TV. He would tell the guys, "You have a better chance of joining the L.A. Rams than being in one of the five chairs, the guitar chairs at the hot beach right now." And the reason he said that was, if you're good enough to go against the L.A. Rams (Ed's note: and this was the time of The Fearsome Foursome people!) and you could hit them and you got a chance to beat the guy up, no way!
You just don't call and happen to put a resume in. You have to have everything going for you. You gotta have talent and you gotta have luck, being in the right place at the right time. You have to have someone recognize you, let alone want to use you. No one's going to take a chance.
Well people say, what would your dad like to be remembered for? And you would think something with The Beach Boys, but no, he wanted to be remembered for pieces he did with John Williams, Jerry Goldsmith or Elmer Bernstein. They called him knowing it was Tommy in that seat. My father knew when he was working with John Williams. John Williams would tell my father two months before, to keep September open the first two weeks. I got this job on a movie and it's for a guitar. John Williams was calling two months ahead of time to make sure there was no conflict. That's when you know you've made it.
You're a hot seat with 80 musicians in the room and it's all solos all the way through. There are all kinds of scores and it's all that reading. That's when you know. You want to be remembered for that and his peers remember him for that. Green Acres, Bonanza, Batman, yeah, they're good for the public, that he's known for that, but cute, it's great, anybody can do that, in a sense. You learn them. You record them. It's not that big of a deal, but very few people could sit in that chair where he sat!
EH: I'm sure of that! Now this is sort of a funny question. Dick Clark claims that he never knew bands didn't play on their own records until The Monkees. So, can we blame The Monkees and their studio revolt for the demise of the studio musician?
DT: Not really. Naw…look at Milli Vanilli. (Ed's note, I did and I didn't like what I saw!) Mickey Dolenz said in the movie, I did an interview with him, and he said, "If they had put the credits on the album covers, it wouldn't have been a problem." It wasn't a big deal. It didn't really change anything.
The heyday was like 1967, late 60's. The only thing it seems maybe music went into a different direction like singer-songwriters. Carole King brought her people in and bands, you got Led Zeppelin, Chicago, Blood, Sweat and Tears, all great groups doing their own thing. They don't need these guys. It's not the thing anymore. It's a different direction kind of thing and new technology.
EH: Now is there like a current Wrecking Crew out there now for today's bands?
DT: It's much smaller and not for bands as much. There's Mike Landau, and Leland Sklar is still working. It's not like it used to be. It's not like "oh, they are better." The times have changed. You don't have to be number one. Nowadays you have ProTools and all that. You can take your time until you get the take you like.
EH: I grew up in a house where everyone played music. My brothers were in bands so music was everywhere. For some reason, I really fell for the big, dramatic sound, like Phil Spector or Brian Wilson and Pet Sounds and Shadow Morton and all that and I'll ask my friends that are contemporary musicians, that have high musical knowledge, and I'll tell them about The Wrecking Crew and they just look at me. A lot of people really don't know who they are and to me, that's like a baseball fan not knowing who Sandy Koufax is…
DT: Now that's one of the reasons I feel this story needs to be told. It's not going to change anything. It's not a world-shattering event. Well, why do we need to know? Well why does an artist need to know of a Picasso or a Monet? You need to know what came before them. A great example is (drummer) Kenny Aronoff. He said you could tell me that you hate everything Hal Blaine and Earl Palmer ever played but you can't tell me you weren't influenced by them. Somewhere down the line, you were influenced by someone that was influenced by the art. That's the difference. It helps you. The more knowledge you have of the past, helps you. It always helps us.
EH: I still steal stuff from Hal Blaine all of the time for Rockford's songs. Now was it strange in school, like would you tell your friends that your dad was responsible for what they heard on the radio?
DT: No, Not at all. I never saw my dad play an instrument in the house until the 70's when he was doing his own stuff. That's because he was working all of the time. I never saw him play. I knew he played guitar for a living, and on albums and rock and roll stuff. I didn't know exactly what he was doing. I heard he played for The Beach Boys but it didn't mean anything to me. I don't know why. When he started to do his jazz thing later on, I started to become more aware of what he did, like in the late 70's.
EH: Now, did your dad play the guitar part on The Twilight Zone television show?
DT: Naw, that's mixed up internet bull$#!+. In The Twilight Zone, the movie, he did. When they did the movie, the original music they found was from a French recording (Marius Constant) and that's what they used. It wasn't from any of the guys here…
EH: I know you have children, do they realize the scope of this project? What it means to you and the people out there?
DT: Oh yeah. One's fourteen and the other is eight and unfortunately Daddy works 24/7 and what's interesting is that it's affecting their lives. Like the musicians affected their kids' lives. You know when I'm traveling on the road for ten days doing the publicity stuff and trying to raise money, in the end, it's for them but they don't understand it. They're too young to understand what we are doing. So that's kind of a drag.
EH: I read that your dad was gone a lot from your house when you were growing up.
DT: Dad never left town, just gone in hours. He was never out of town.
EH: I have one more question about your father. This film, to me, could be like a love letter to your father (Denny: interjects: Yeah, it was ) and he passed away before viewing any of it. What do you think his reaction would be to this labor of love?
DT: He'd be blown away, you know, teary-eyed, everyday he'd be a basket case probably. It's interesting, when we started the project, it was going to be about a group of musicians. And when I cut thirty minutes, an editor friend, Gary Cooper, said this is fine, but you're doing something I could do and everyone else in this room could do. We could cut the same thing. It doesn't mean anything. You're not telling us why you are cutting it. Why you're making this film.
What he was saying was you have an opportunity to be a little more personal, a little more in-depth with the characters. And he was right. So once I let that relationship with my father into the group, it was easier. It made life a lot easier. Then I didn't have to worry about, well this person isn't in it or this person. You can't fall in love with anybody if everybody's in it. (Ed's note – Great quote!)
EH: I've seen the quote "Celebrity Reviews". Now you've been around famous people your entire life (Denny laughs…), but do the celebrity reviews make it more special? That, these guys that are now musicians, were influenced by The Wrecking Crew?
DT: Yeah, It's funny, because I realize this now, like my father was playing in a jazz club and if my mother was there or maybe I was there. It was like, why are you playing all that $#!+, ya know. Well, he was playing for guitar players.
I realized that he was playing for them. Meaning they are the ones that know what I'm doing. They are the ones enjoying what I'm playing. And for me, I realized all these musicians loved the film and were inspired by the film. It's their story. Even if you're not on that team, it's your story. If you played an instrument then you understand it. You play in a room together. You understand that camaraderie.
So that is the biggest thrill for me. Like I found out Elvis Costello was in the theatre and Peter Frampton was in the theater and I asked them for quotes.
EH: An aside here…any word out of the Phil Spector camp?
DT: No, not at all…
EH: I imagine he's got bigger things on his mind. Anyways, I can't wait for this to come out on DVD so I can blast this at my house at my leisure. Now, I understand your wife is also a producer?
DT: Yeah, in a nutshell. She's a commercial producer. So we're both in the business.
EH: Is it hard to have two creative forces in the family?
DT: Nah, nothing like that…We do have our separate opinions but I win in the end (laughs). We always joke because we have this one thing in the film and she says it doesn't work and I say it does. We always argue about it even though it's never going to come out.
EH: I can't wait for the DVD release because I want to see the extra footage. I know you said it was hard to cut.
DT: Yes, the DVD. Hopefully we will have a 3-DVD set. I have hours of footage of people and their energy that never made it onto the film. Richard Carpenter, Jackie DeShannon, Bill Medley, Petula Clark and all these other session musicians, James Burton, Billy Strange all these other guys. I just couldn't put everybody in. It was very difficult.
EH: I just want to say that it was quite an amazing movie going experience. I probably had my mouth open the entire time. It was the coolest thing seeing this stuff come to life, the back story, if you will, of these songs that influenced everyone's lives.
One last question for you, Denny. I know you are very busy and we all thank you for your time. Now, how can the readers of Jackaboutguitars help out and be a part of this historic venture? Can we help out with the funding?
DT: In October, we are having a Kickstarter program. You know, if you can't afford a couple of bucks, I totally understand. When we started Kickstarter, we got to go for the $250,000 that's left. The only difference between our Kickstarter and the others, is that the film is done. So we are taking pre-orders. If we can reach that goal of $250,000, and we know we'll have pre-orders, we can fill the pre-order with the DVD. So that's what we are trying to do.
EH: So the goal of raising the rest of the money is to get the film out on DVD?
DT: Yeah.
EH: Cool…so are we going to have more film showings at major theaters?
DT: Yeah, we'll do a theatrical run first, see how we do then, then go for the DVD.
EH: So we can expect another year or so before the DVD release?
DT: Yeah, Yeah…
EH: I bet you're tired, man. You have been working on this for a long, long time…
DT: Yeah, yeah.(chuckles)
EH: Well again, I want to thank you Denny for making this film and can't wait for the sequel! ( joking of course…) You did a great job. Thank you for your time.
DT: Thank you. My pleasure.
Many thanks to Denny Tedesco, The Wrecking Crew Musicians, Ed Huerta, all the producers and contributors, the movers and shakers, who are making the funding of this great film a reality, all of the artists involved, as well as anyone who had anything to do with The Wrecking Crew, then and now. Many a heart felt thanks!!!
Be sure to hit Facebook.com/WreckingCrewFilm and give a like! While you're at it, don't forget to support this effort however you feel that you can at Kickstarter to help get this great film up on the big screen and give back to these wonderful musicians and everyone involved for giving us this huge piece of the soundtrack of our lives.
Also check out The Wrecking Crew site for more cool information and if you liked the story and interview, be sure to get to Facebook/Jackaboutguitars and give us a like! Thanks! – Jack
Note: All photos, videos, and The Wrecking Crew Logo used with permission of Denny Tedesco.
THE NEW INTERVIEW ON THE WRECKING CREW FILM WITH FILMMAKER DENNY TEDESCO
Check back soon for the new interview and get out and see the movie when it comes to your town. You're gonna love it and won't regret it. – Jack
DENNY'S GRAND SLAM OR THE WRECKING CREW INTERVIEW PART II? BY ED HUERTA
So much has transpired since we brought you our first interview with Denny Tedesco concerning The Wrecking Crew Film. The Kickstarter was just underway and there was that huge hope that the $250,000 benchmark would be reached.
Many thanks to our readers and so many others who believed in this project and supported it. The Kickstarter had 4,245 backers for a total sum of $313,157 pledged, way beyond the $250,000 goal.
This allowed Denny Tedesco to cut some more special footage back into the movie allowing some great additions since the time when many saw the screening for the first time.
As you probably have heard, the distributor, Magnolia Pictures opened the movie in Canada on February 20th and will be opening it in the U.S. this coming Friday, March 13th.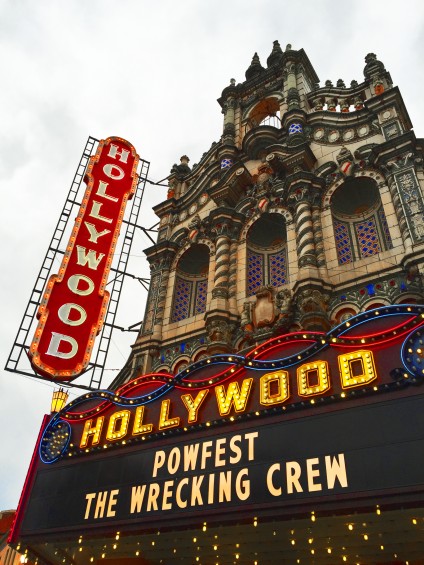 For updates and additions to this list, click here.
Here's a list of cities and dates so far:
February 20
Halifax, NS: Carbon Arc Cinema Co-op
Toronto, ON: Bloor Hot Docs Cinema
Vancouver, BC: VanCity
March 11
Hamilton, ON: Art Gallery Of Hamilton
123 King St W, Hamilton, ON L8P 4S8, Canada
+1 905-527-6610 – See more at: http://www.magpictures.com/thewreckingcrew/#sthash.d8klsv29.dpuf
Saint John, NB: TIFF Film Circuit
116 Tower Street, Saint John NB, E2M 1Z1
(506) 214-1174 – See more at: http://www.magpictures.com/thewreckingcrew/#sthash.d8klsv29.dpuf
March 13
Calgary, AB: Globe Theatre
617 8 Avenue Southwest, Calgary, AB T2P 1H1, Canada
+1 403-262-3309
Cambridge, MA: Kendall Square Cinema 9
One Kendall Square, at 355 Binney Street, Cambridge, MA, 02139
(617) 621-1202
Cincinnati, OH: Esquire Theatre
320 Ludlow Ave, Cincinnati, OH 45220
(513) 281-8750
Dallas TX: Magnolia
3699 McKinney Avenue in West Village
(214) 520-0394 Landmark Theaters
Denver, CO: Mayan Theatre
110 Broadway, Denver, CO 80203
(303) 744-6799
Fayetteville, NC: Cameo Theater
225 Hay St, Fayetteville, NC 28301
(910) 486-6633
New York, NY: IFC Center 5
323 Sixth Avenue, New York, NY 10014
(212) 924-7771
Portland, OR: Hollywood Theatre
4122 NE Sandy Blvd, Portland, OR 97212
(503) 493-1128
Santa Ana, CA: South Coast Village 3
1561 West Sunflower Avenue, Santa Ana, CA 92704
(714) 557-5701
Tucson, AZ: The Loft Cinema
West Los Angeles, CA: Nuart Theatre
11272 Santa Monica Boulevard, Los Angeles, CA 90067
(310) 473-8530
Join Wrecking Crew members Hal Blaine, Joe Osborn, Don Randi, Bill Pitman, and more of the cast of the movie, along with director Denny Tedesco. Tickets still available! Be a part of the LA Premiere.
March 17
Kitchener, ON: Apollo Cinema
141 Ontario St N, Kitchener, ON N2H 4Y5, Canada
+1 519-954-5634
March 20
Asbury Park, NJ: The ShowRoom
707 Cookman Ave, Asbury Park, NJ 07712
(732) 502-0472
Camas, WA: Liberty Theatre
315 NE 4th Ave, Camas, WA 98607
(360) 859-9555
Cleveland Heights, OH: Cedar Lee Theatres
2163 Lee Rd, Cleveland Heights, OH 44118
(216) 321-5411
Columbus OH, Gateway Film Center
South Campus Gateway, 1550 North High Street, Columbus, OH 43201
(614) 247-4433
Eugene, OR: Bijou Art Cinema
492 E 13th Ave, Eugene, OR 97401
(541) 686-2458
Jefferson City, MO: Capitol City Cinema
126 East High Street, Jefferson City, MO 65109
Kingston, ON: The Screening Room
120 Princess Street, Kingston, ON K7L 5M6, Canada
+1 613-542-6080
Lambertville, NJ: ACME
25 South Union Street, Lambertville, NJ 08530
(609) 483-5457
Philadelphia, PA: Ritz at the Bourse
400 Ranstead Street, Philadelphia, PA 19106
(215) 440-1181
San Diego, CA: Ken Cinema
4061 Adams Ave, San Diego, CA 92116
(619) 283-3227
San Luis Obispo, CA: Palm Cinema
817 Palm St, San Luis Obispo, CA 93401
(805) 541-5161
Santa Fe, NM: Jean Cocteau Cinema
418 Montezuma Ave, Santa Fe, NM 87501
(505) 466-5528
Saskatoon, SK: Broadway Theatre
715 Broadway Ave, Saskatoon, SK S7N 1B3, Canada
+1 306-652-6556
Tucson, AZ: The Loft Cinema
3233 East Speedway Boulevard, Tucson, AZ 85716
(520) 795-0844
Vancouver, WA: Kiggins
1011 Main St, Vancouver, WA 98660
(360) 816-0352
Gateway Film Center, Columbus OH (DCP)
South Campus Gateway, 1550 North High Street, Columbus, OH 43201
(614) 247-4433
March 27
Berkeley, CA: Shattuck Cinemas 10
Gainesville, FL: Hippodrome – Gainesville
Phoenix, AZ: The FilmBar
San Francisco, CA: Opera Plaza Cinemas 4
San Luis Obispo, CA: Palm Cinema
Seattle, WA: SIFF Cinema at the Uptown Railroad Square, Waterville ME (DCP)
17 Railroad Square, Waterville, Maine, 04901
207-873-6526
March 31
Aperture, Winston Salem NC (Blu-ray)
311 W 4th St, Winston-Salem, NC 27101
(336) 722-8148
April 3
PFC Limelight, Bellingham WA (DCP)
1416 Cornwall Ave, Bellingham, WA 98225
(360) 738-0735 – See more at: http://www.magpictures.com/thewreckingcrew/#sthash.d8klsv29.dpuf
Palm Desert, CA: Cinemas Palme D'Or 7
Spokane, WA: Magic Lantern Theatre
April 8
Baton Rouge, LA: Manship Theatre
April 9
Wichita, KS: Orpheum Theater
April 10
Fort Worth, TX: Modern Art Museum of Ft. Worth
April 13
Bethlehem, PA: ArtsQuest Center at SteelStacks
April 14
Springfield, MO: Moxie Cinema 2
April 20
Lafayette, LA: Acadiana Center for the Arts
April 23
Memphis, TN: Brooks Museum of Art
April 24
Albuquerque, NM: Guild Cinema
WATCH ON DEMAND MARCH 13th
Amazon: Coming Soon
AT&T UVerse: On Demand > Uverse Movies > Featured/Early Releases
Barnes & Noble: Coming Soon
Cablevision: On Demand > Movies > Advanced Screenings
Charter: Channel 1 (On Demand) – Movie > New Releases (Search Titles)
CinemaNow: Coming Soon
Comcast: Top Picks > New Movies
HD On Demand > Movies > Just In
HD On Demand > Movies > Indies & Foreign > Magnolia Pictures
Cox: Early Screening > In Theaters
DirectTV: Channel 1000 and 1100 (On Demand) > Movies > (Search Titles)
Dish: DVR Button > All Movies > Search Movies > Search by Film or Actor
FlixFling: Search Title
Google Play: Coming Soon
iTunes: Coming Soon
Playstation 3 Store: Video > Playstation Store > Studios > Magnolia Pictures (Search Titles)
SuddenLink: Movies & Events > New Releases
Time Warner Cable: HD Movies > Movies
Verizon FIOS: Movies > By Genre > All > Indies & Docs > Magnolia
VUDU: Coming Soon
Xbox360 / Zune:Video Market Place > Zune > Featured (Search Titles)
YouTube: Coming Soon
See more at: http://www.magpictures.com/thewreckingcrew/#sthash.d8klsv29.dpuf
Once again, for updates and additions to the list, click here.
DVD RELEASE
The DVD is scheduled to come out on June 16th…and because this was Wrecking Crew Round II, Ed decided to title this DENNY'S GRAND SLAM OR THE WRECKING CREW INTERVIEW PART II? BY ED HUERTA – Jack
Movie trailer, photos, and photo captions courtesy of Magnolia Pictures.
DENNY'S GRAND SLAM OR THE WRECKING CREW INTERVIEW PART II? BY ED HUERTA
I first interviewed Denny Tedesco in July of 2013. I had previously enjoyed a screening of The Wrecking Crew at Chapman College (thank you to Paula and Steve Soest) in Orange and was totally thrilled with the experience. It was a music fans' dream come true.
I actually had a one on one with Hal Blaine THE drummer man! He is the cat that played the skins on all of those historical songs. I grew up to learn to play drums like him. I thought it was Dennis Wilson for many years, oh well.
I also got to talk to Denny for a few seconds. He was a very nice man and greeted my wife and I like we were old pals. I will never forget that. I also got to see Exene from X. She sat right in front of us. The audience had many celebrities. It was quite a night.
Brian Wilson and Hal Blaine in THE WRECKING CREW, a Magnolia Pictures release. Photo courtesy of Magnolia Pictures.
2015 AND THE RELEASE OF THE WRECKING CREW FILM
Well, now it's 2015 and a lot has happened since then…to me and to Denny. Denny has gotten The Wrecking Crew Film backed by a distributor and it will be in nationwide distribution with the DVD soon to follow. If any of you have not seen this movie yet, well, why not??? Go see it in your local theater or purchase this from Denny's website.
A scene from THE WRECKING CREW, a Magnolia Pictures release. Photo courtesy of Magnolia Pictures.
This is truly a historical document that is just incredibly well and lovingly done. It is THE MUST SEE movie if you are a true music fan! The soundtrack alone is worth its weight in gold! Nothing but the hits!
Well, enough of my yakkin', here is the latest update with Denny and I truly wish him the best of luck and I know his pop, Tommy, is looking down from heaven and smiling and telling everyone, "Hey, that's my son! My son did that!!"
I also want to thank Denny for his concern about my well -being and his respects that he showed my wife and I. So read on people and a hearty thank you to Denny Tedesco and his family for letting me in and being a part of his life and sharing their time for a little bit. I tell ya, all of these folks that I have interviewed are all the nicest people in the world. They truly deserve the respect and platitudes. Thanks again for the read, enjoy…Peace, Ed H.
"The Wrecking Crew" – Painting by Ed Huerta
THE INTERVIEW
EH: First off Denny, let me thank you for the time you are giving us here at Jackaboutguitars.com. I know you are truly a busy man and we do appreciate you making time in your busy schedule.
DT: No problem. Thank you guys.
EH: I first interviewed you about a year and a half ago and since then you have totally been non-stop in promoting your movie. I see it first premiered in 2008, which is seven years ago, and I also read it was about 18 years in the making.
DT: Yep. I started in 1996 when my father was diagnosed with cancer, so that's when I jumped into it. They gave him a year and I thought that I'd better jump in on this because I don't want it to be my one regret in life as not doing this story about him and his friends. So I jumped into it completely and there's no way if you would have told me that in two decades and nineteen years that it would finally come out. I don't think anybody thought that it would take that long or even try to do it.
Director Denny Tedesco with him father Tommy Tedesco in THE WRECKING CREW, a Magnolia Pictures release. Photo courtesy of Magnolia Pictures.
EH: Right, right…now are you finally getting the feeling that you are seeing the light at the end of the tunnel?
DT: Yes, absolutely, absolutely you know. Magnolia Pictures picked it up after we paid out all the things that we needed to pay. Now Magnolia's releasing it in the states March 13th. It goes to Canada February 20th to Toronto and Vancouver and Halifax and then it opens March 13th in stages as well as iTunes and some VOD, (Video On Demand) platforms so finally people will be able to see it.
EH: I see locally here, we are going to have some screenings in West L.A. and Santa Ana. Now is this just one night only or will it run for a while?
DT: Now I don't know about Santa Ana, but it's scheduled to play for a week in West L.A. What happens is if people go to it then they will hold onto it. Right now tickets are going on sale at Nuart. I asked them to put them for sale early because people kept asking to buy tickets. So that's what they're doing.
EH: That's cool…Now I remember when I saw it at Chapman College in Orange, you were there and some musical celebrities were there also. Now have you, now I know you can't be in two places at once, like some sort of rock and roll Santa Claus, but have you stopped going to all of the screenings?
DT: No, I've been to every one of them since then. Now I'm in the situation where I can't, where I can go to the ones that are available to me where I can go and where I will go, but there are screenings that they are sending me like in Boulder, the Boulder Colorado Film Festival. They are using it as their opening film and that's one I will go and that's opening on March 5th. So that'll be cool. They will bring me out and hopefully there are a few others…Wichita and a few other places. It's fun to go. I love going. I'm able to talk about the film and there are a lot of questions at the end of the film that people want to know more.
George Harrison and Joe Osborn in THE WRECKING CREW, a Magnolia Pictures release. Photo courtesy of Magnolia Pictures.
EH: Man, like seriously, how long have you been home in the last two years?
DT: I'd say once or twice a month I'd be leaving for a few days and I'd just keep going around and around…sort of like a musician or comedian where you do those one night stands. It was hard but it paid off.
EH: You joined the Kickstarter program and the funding went higher than your anticipated goal. I know I contributed, my brother contributed and several of our friends also, I dig the gifts, I got the DVD coming and I got the pick necklace, which is cool and I couldn't wait to bring home the DVD. My wife and I saw you at Chapman College and I was teasing her about man, when I get the DVD home that you're going to get so sick of this!
DT: Imagine how my family feels!
EH: I bet, so hopefully my wife is up there with your dad watching it together in heaven. Unfortunately, I lost her a couple months ago.
DT: I'm so sorry.
EH: Yeah, thank you Denny. It has been tough, but hopefully they are both up there watching it…but with Kickstarter, how did the overwhelming public support make you feel?
DT: It's great. Here's the thing about the Kickstarter. We started doing donations in 2010 and we realized there was no way we were going to keep going because no one wanted to pick up the film because there was a huge back end payment of all the songs, all the unions, all this, all that. Basically we paid everything else, which is going to get the royalties paid, and the licensing paid, so until we started doing donations it looked like a lost cause.
Glen Campbell and Hal Blaine in THE WRECKING CREW, a Magnolia Pictures release. Photo courtesy of Magnolia Pictures.
Once we started doing donations, like the first donations came in whatever that was, then we started paying off all the publishing and the labels and that went on for a couple of years. Then I kept trying to get a number from the musicians union and that was the big one that we needed to find out. I knew what everything else was going to cost but I didn't know what that was.
So by the time it got to the point where we had almost the labels and publishers about 90 percent paid off, I finally got the number from the musicians union which meant that whatever money we raised for them was going to go to the musicians themselves, which was great, that's a payment I'd love to pay.
At that point it was $200,000 and as Kickstarter was concerned, and they said that only one percent of any project over $100,000 ever gets financed and I said that I understand but I don't have a choice because I can't keep going back. Because it gets harder and harder, because like you, you donated and donated, and I could tell you that I need a few more dollars, sooner or later people are going to get upset.
I knew I needed more than $200,000. I needed $250,000 just to cover the postage, the gifts and all that other stuff and I knew if I got that that I could cover that big bill, but I still needed more licensing. I still needed to reedit the film and there's a lot of deliverables that people don't understand, the mix and all that.
So when I got to the $300,000, that's when the extra money helped me to reedit in Leon Russell and found more stock footage of the guys in the studios so that was feasible and I knew that was feasible and because we've been building this fan base for three years, more that that, and I knew it was possible.
Carol Kaye and Bill Pitman in THE WRECKING CREW, a Magnolia Pictures release. Photo courtesy of Magnolia Pictures.
People didn't believe it was possible and you just have to work it, and we all worked it, friends, the family worked it. You do a couple of interviews and it worked. Like you guys doing your interviews works, it all works, but it just takes time.
EH: I would hope that all the fans of music would help you, would give back for all of the memories they have gotten…
DT: My biggest mistake on Facebook was my delivery of the DVD. I keep telling people that I don't know why I picked 6 months after I didn't get my money until after February of 2014, so my delivery of June wasn't even close. I could never have made that. I was still waiting for people to respond over these licenses. So that was my being naïve about it thinking I could do that.
But I knew also that I had to release the film theatrically first. If Magnolia never picked up on it we would have done that earlier but once Magnolia became interested it was like okay we have to hold off the DVD because if the DVD came out, they are not going to pick it up there would be no reason for them to. So to the few people that are upset for not delivering the DVD, it's like you know what, I realize the majority of people are cool and supportive, the 2 percent that are upset, I apologize.
EH: Well, you know, like Rick Nelson said "you can't please everybody".
DT: (laughs) Yeah, Garden Party, very funny. I think I'll use that on my next apology. Rick Nelson says like in Garden Party…
EH: I'm planning on seeing it again on the big screen in Santa Ana.
DT: And the great thing is that you haven't seen the new cut!
EH: There shouldn't be anyone pissed off about a late DVD, come on…
DT: I have to get over it, the nasty comments. I am sorry. It's a sensitive issue with me. It's a personal thing because I'm trying and try and try.
EH: Well, I wouldn't worry too much about it…it's just a small percentage of people. We are all totally behind you and back you up 100 percent.
Now can you see the excitement building in people as you move forward to the release of a DVD and soundtrack?
DT: That's another thing I have to tell you about. Richard Foos is helping us put together a soundtrack and we are putting together some pledge music and people can start to order a soundtrack starting next week and that's going to be cool because it's going to be 3 CD's filled with hits and outtakes of audio tracks and enhanced with some of the songs and a 4th CD, I am licensing the guys themselves, my fathers music, Don Randi's music other music, some jazz, some rockabilly and some of it's country. See: http://www.pledgemusic.com/projects/thewreckingcrew
Earl Palmer in THE WRECKING CREW, a Magnolia Pictures release. Photo courtesy of Magnolia Pictures.
EH: Being this is mostly older music and there is a vinyl resurgence going on, will this be available on vinyl too?
DT: It's going to be 4 cd's and also a double vinyl LP.
EH: You know these audiophiles and older guys like me dig the vinyl too…
DT: Yeah, I'm hoping they do, that's the thing that's why there's no interest in the soundtrack by Magnolia, they don't see that, it's not their world. They don't think there's a market for it.
My biggest problem is trying to convince them to do a DVD with multiple chapters. I am struggling with that because I have so much footage that I want to put out. You got different levels, you want to buy this one or do you want buy this one? Let people decide…some would get a DVD with a few extras or you can get the 50 dollar one with whatever it is like 4 DVD's or whatever it is.
EH: I think that's a damn good idea! I mean guys that are totally into music are going to buy the 4 DVD set. We thirst for this. I mean you have the Holy Grail, the front row center seat of the history of music in the 60's right there! Come on, the more info you get out there, there are a ton of musical historians out there, especially on Facebook. I thought I knew a lot about music. Oh my God, but I have met these people online that are just amazing musical historians, that know incredible minutiae of obscure stuff! It's totally amazing.
DT: Yeah there are some major people out there that are just a little nuts.
EH: That goes to my next question, will there be some added surprises that aren't on the movie screen that will be on the DVD release?
DT: Oh absolutely, absolutely…the hardest part is deciding what's going to make it. I mean there's like 15 minutes on the website, I have to bring that stuff down soon, but there is so much more we're cutting, but those were the pieces that kept coming out the last few years.
Hal Blaine, Brian Wilson and Ray Pohlman in THE WRECKING CREW, a Magnolia Pictures release. Photo courtesy of Magnolia Pictures.
EH: What about an idea of The Wrecking Crew part 2?
DT: (laughs) No, that's it buddy! No more.
EH: When and where can we purchase this DVD when it comes out?
DT: The DVD will be coming out June 16th and hopefully people will go on my website and I can give people an extra bumpersticker or something for it. I want to steer people to my website so that I know someday I will make some money somewhere, but June 16th is the day and what I will do, is get them out to the Kickstarter program folks first, so that they will get theirs first and we will go from there.
EH: The other day I put it out there on Facebook that I was going to be interviewing you soon because your name came out on some blog or something, and some guy asked me is this the same movie that is out there on bootleg on the internet?
DT: There probably is and they got to get rid of it..is it still there?
EH: I don't know, I haven't even checked it out. I told him I knew nothing about that and that I would ask you about that.
DT: It's such a drag, you know. This is what kills me. You know I have played by the rules. I could have released this and made hundreds of thousands of dollars really quickly but I played by the rules and paid everyone, everything, everything, everything… and still haven't broken the rules, and then you get someone that goes, "I couldn't wait I, had to download it."
Really?? Oh thanks a lot! It's okay for you to cheat and put it up there, it's sooo bad. It's horrible, like musicians. It's like guys, don't you realize what you're doing? They do it to themselves. It kills me because it's like extraordinarily offensive. It's one thing to do, hey, check this out, I got a screening of this, ok, whatever, we all share, share it with the other guy, then we start making dubs, but the worst is to put it out on the internet, that's just outright wrong. That's just disgusting. I'll have to look at it. It is a different film and if you get off on that then go ahead.
EH: Yeah, I didn't even look it up…
DT: No, no, no. Someone told me about that last year. I don't know if it's the same one, but it just kills you. But if Magnolia ever caught wind of that or if they though it was a big problem, that would have killed everything I've done for the last 18 years. Can you imagine 18 years of never having a chance to make my money back? The idea of not having that is just killer.
EH: It sickened me when I read that, like what kind of a**h**e would do that? And I have nothing vested in this movie!
DT: It's funny, but any fans that are following it, know the struggles. We are all vested in this with the Kickstarter program. To have someone do this, it's a kick in all these peoples faces…
Here's another example, the worst, we are at the NAMM show and a guy comes up to us, a couple of years ago, a Musicians Institute teacher, a guy about 40, says he loved the movie blah, blah, blah. This was a couple years ago. I said, "Where did you see it? What screening?" He said, "He couldn't wait, he downloaded it."
Now I'm thinking, my father, I don't know if you know MI? Musicians Institute, back in 1978, when there were 38 people, my father was one of those guys that was there in the beginning. In 1985, the school was going under and the guy that owned the school, Pat Hicks, couldn't make payroll. He couldn't get a loan from the bank, couldn't get a loan from anybody, he went to my father and told him.
He asked, "What do you need?" He said, "$60,000." My father thought about it, he said all right, and gave it to him. That school today is blocks on Hollywood Boulevard, but the owner finally sold it years later. So the guy that had the job as a teacher that couldn't wait and downloaded it, has a job because of my father that gave a loan to the school many years ago.
It's like it comes around, like oh my God. I told the guy, "Hey, make a donation," but the thing is, he should have been smarter and not have said that to me. I mean that's pure stupidity. Certain things you have to rack it up as it's part of publicity, people are going to spread the word, hey, that's great. Really I'm into that, but once it gets on the internet people just assume everything is free because it's up there. I really should check it. I mean, it really hurts everybody that's involved with the project, musicians etc…
EH: Yeah, I can imagine how pissed that would make you. It pisses me off and I didn't even spend 18 years of my life and months on the road away from home… so folks, don't be downloading, give back to the filmmaking community and the musicians involved, time to give back to them.
Well, Denny, I just wanted to check back in with you, like Part 2, just before it gets released widely. I want to thank you from the bottom of my heart for the time that you have given me in the last few years and the joy that you and your father gave all of us. It is really an honor to talk to you. I truly appreciate this.
DT: Well thank you so very much.
EH: Blessings to you and your family. The experience has really enriched my life. Take care.
DT: Thank you and your readers for me.
STRING ALONG WITH MITCH – CLASS IS NOW IN SESSION BY ED HUERTA
The "Prince of Primitive", Jackaboutguitars.com's Ed Huerta, has done a remarkably cool interview with Mitch Holder, Session Man Extraordinaire, that's full of all kinds of information about how studios once operated, a look into session work concerning movies, T.V., and records, and a glimpse into the unfolding of the future at the very beginning stages of digital…way before any of us had a clue about what any series of zeroes and ones and their arrangement meant and the huge impact it would have not just in the music business, but concerning every facet of our daily lives.
Many thanks to Mitch Holder. Enjoy STRING ALONG WITH MITCH – CLASS IS NOW IN SESSION BY ED HUERTA. – Jack
THIS ARTICLE IS DEDICATED TO MISTY MARIE HUERTA 1974-2014 REST IN PEACE
Misty Marie Huerta with Boris and Edie
STRING ALONG WITH MITCH (CLASS IS NOW IN SESSION) BY ED HUERTA
What can you say about Mitch Holder that hasn't already been said? Sure, the man can rest on his hardy laurels. Sure, he can just be sitting back on some farm tinkering around in his garden just whilin' away the time. Dig, you think you know Mitch Holder?? Think again!
This man has played on sessions with Frank Sinatra, Barbra Streisand, Stevie Nicks, Seals and Crofts, Woody Herman, Brian Wilson, Dean Martin, Cher, just to name a few…
His soundtracks include Space Cowboys, City Slickers 2, On Golden Pond, E.T., Grease, Tootsie, Pretty in Pink, Indiana Jones and the Temple of Doom…
Tons of TV shows including The Simpsons, King of the Hill, Family Guy, Moonlighting, Sledge Hammer, Chips, Quincy, General Hospital, Cheers…
Is this enough? But wait, there's more…Commercials include Pepsi Cola, Coke, Toyota, McDonald's, Pizza Hut, Taco Bell, Coors, Honda, Disneyland, Disney World, Pabst, Sea World…Can your heart stand any more???
Dig, this is THE guy, people! If it's out there, Mitch has probably played on it. Okay, a couple notes before we get started. I just want to add that Mitch Holder is truly a genuinely great person. We did this interview in the beginning of October.
Unfortunately, my wife Misty took ill towards the end of that month and battled illness past the middle of November. I usually do a portrait of the person that I interview and Mitch's portrait was about halfway sketched out when life took an unexpected turn for me. Needless to say, I took care of the home front before continuing on with the interview and portrait (thanks to my brother Jack for transcribing this for me and the readers).
I wanted to apologize to Mitch for the delay and I kept receiving word from my brother Jack that Mitch was sending thoughts and prayers to me and Misty all during this time. Mitch Holder, a guitar legend, whom I have never met in person, constantly sent well wishes to my family.
I just want to send a heartfelt "THANK YOU" to Mitch for his patience and the love he sent out our way. It was a very kind and gracious gesture…all my respects to Mitch and his family..and for helping me have the courage to finish his portrait.
Peace to all of you…I hope you enjoy the article and I hope Mitch enjoys his painting…This article is dedicated to Misty Marie Huerta 1974-2014…RIP my lovely wife. – Ed Huerta
MITCH HOLDER: ONE OF THE GREAT L.A. SESSION MEN
MITCH ON DOING THIS COOL JINGLE FOR HONDA
MITCH: Here's a bit of the scenario on the Honda spot:
"This Honda Motorcycle TV ad was done by Matthews-Griffith Music, who I worked with for many years. Mark Matthews, himself a very good guitarist, did the arrangement and it was engineered by his partner, Jim Griffith. For these kind of jingles, the calls were for one hour as opposed to three hours, which was the minimal call for records, TV and movie calls.
The first hour call was for rhythm tracking and the players were Peter Erskine/drums, Nathan East/bass, Randy Waldman/B3 and myself. I played a rhythm guitar track for that and we got that basic track done in a couple of takes.
Next, the three of them were released and I had the solo to overdub. The singer, Bill Champlin (From The Sons Of Champlin and Chicago) wouldn't arrive until the next hour's session, so I wouldn't have any vocal reference to play from. Well aware of this, Mark indicated on the guitar part where specifically He wanted me to play. Mark was always very specific with what he wanted, even with something like this spot that sounded more like a record.
Having worked with Bill Champlin before and knowing his style and sound, I dialed up a sound with the neck pickup on a Strat with what I called a 1/2 Crunch sound on my rig for the solo overdub. It was basically the Strat through an Egnater ie4 preamp and a VHT 250 power amp (which was one of the first ones Steve Freyette had built and I had to have him tame down, it was so LOUD!!). So, I played the solo part making sure to play everything exactly indicated and, as I recall, did it in a couple of passes and I don't remember which take was the one they picked. Bottom line is that the whole track with solo was done in that first hour. When I was getting ready to leave, Bill walked in for his hour to do the vocal and the rest is history.
Jingles were done pretty quick. Sometimes a radio spot could be on the air later the same day. TV took a few days. Needless to say, this one was a very fun session and a nice opportunity for me to open it up a bit." – Mitch Holder
MITCH HOLDER…THE INTERVIEW
Mitch and prototype ES-357, the "ES-Mitch". Photo by Robb Lawrence
EH: What's your first known recollection or memory of music from your childhood?
MH: Oh Boy, my first recollection. I'd have to say nursery rhymes. My mother used to sing nursery rhymes to me and I distinctly remember that. So whether or not I had probably heard some music before that but that's what I recollect.
EH: Your mother singing…It must have been sort of a calming type of influence the first times you really heard music.
MH: Yeah, absolutely.
EH: As a youngster growing up, who were some of your favorite recording artists?
MH: Well, going back what got me into the guitar was actually two artists, Duane Eddy was one when he recorded "Rebel Rouser" and several other hit tunes he had, "Because They're Young" was one and Link Wray – Rumble. Those two artists, when I heard the electric guitar, it just picked my ears up. And I just liked the sound.
EH: Yeah, those are two great guitarists. Link Wray definitely. He was great and he had the menacing look too.
MH: That's right…the menace came from the speakers listening to that record.
EH: At what age did you decide that maybe music might be a career option for you?
MH: Well, probably by the time I was 12 I knew that's what I wanted to do.
EH: Wow. Very early on.
MH: Very early. I had been playing 4 years at that point.
EH: Who are some of your major influences in music?
MH: Initially it was the two that I mentioned. But going forward and actually when I started to play, I was between 8 & 9 when I started, and the first teacher that my parents got for me, turns out that he was a jazz player.
At the time I was listening to Link Wray and Duane Eddy like I said, and pop music. Can you imagine my teacher leaving an 8 year old two of his own 10″ records that he wanted me to listen to? One was Barney Kessel and the other was Johnny Smith. I don't know if you're familiar with those two.
EH: Yeah. I know of Barney Kessel.
MH: And Johnny Smith was great, actually almost a melodist. He really put guitar chord melody on the map and was the smoothest technician probably of anybody before, since or thereafter. But it was Barney, when I listened to Barney, he had a more bluesy sound that attracted me & just a cutting edge kind of sound that I really liked.
Johnny Smith's sound was so smooth that as a child that young it didn't hit me as hard. It hit me more later when I got to be a bit older. But Barney Kessel hit me right away and I started at 8, 9, 10 years old, listening to Barney Kessel records and that perked my interest in jazz.
I continued listening to pop music. I always liked all kinds of music. As a child I liked country music, rock and pop, and some of the r&b that was going on back then. It was really more blues than r&b but r&b evolved out of that, and classical music. I listened to that too. I more or less liked all of those different types of music as how they affected my moods, whatever mood I was in.
Sometimes I'd be in a mood to listen to classical and I didn't want to hear rock and roll. Kind of like that. It was kind of a benefit I think 'cause I kind of went with how I was feeling.
EH: So being that well rounded in music really helped you a lot to be a studio musician with all the variety of people that you've played with. It sure didn't hurt you being versed in all that type of music.
MH: No, it didn't back then, but when I was going forward, I really focused on jazz. I wanted to be a jazz player and I focused on jazz and I really didn't know. I didn't have any inkling as to what studio work really was until I was probably 16. At that point I started taking lessons with Howard Roberts who was not only one of the most in demand session players at that time, but he was also one of the foremost west coast jazz guitarists.
So I knew him primarily as a jazz guitarist but here I was 16 and my father set it up. Howard, he told my father to have me meet him, I think it was on a Tuesday, he said just be waiting outside Universal Studios at 1:30, just be by the gate, and I said okay (laughing) I don't know what this is all about, but, okay.
And so I had seen Howard's picture so I knew what he looked like and a little car drives up and the door flies open, and I recognize it's Howard and he says,"hop in". So I get in the car, this is my first meeting with him, and we drive on the lot at Universal and I'm kind of looking out the window and going, "Wow, how did I get here?"
So, that was my introduction to what studio work was. He was doing a T.V. show. We went on what was Stage 10. It doesn't exist anymore… well it exists but it's a post production. They closed the music studio down quite a number of years ago. We went to Stage 10 and I watched a session that Howard was on and it fascinated me. I said,"Wow this is something." This is before I even had taken any lessons from him.
So from there he took me, and he would say, "I think you should come to this." He would call me up, "I think you should come see this session." So that was a T.V. session. I went on some record dates with him, some jingles, commercials that he did, a couple of movie soundtracks, and subsequently we were talking about it at the lessons and the thing that attracted me was the fact that you could actually stay in one place and make a living without having to go on the road.
I had never been on a plane even at that point. I didn't get on a plane until I was 20 or 21. So I didn't do any traveling. My father was a doctor and he had to stay put and we didn't travel.
So when I started traveling, I left college. I got a call to go with a group called Sergio Mendes. He was a Brazillian artist. So I left college and went on the road with Sergio. I worked with Sergio for about three quarters of a year and then after that I got recommended to Peggy Lee and I was in her rhythm section for a year doing that. That was the opposite.
With Sergio I learned about Brazillian music and that was fascinating…cause I liked the whole Bossanova movement and all of that. And then with Peggy it was the opposite, it wasn't what you played, it was what you left out. There was so much space in her music that you really wanted to make sure that you had something that was worthwhile to fill in empty space. You know what I mean? So through that I started to really learn what was needed in the area of recording.
Then after that I left Peggy, and almost immediately I got called by Ed Shaughnessey the drummer with the Tonight Show and they were looking for a guitar player to go on the road with the leader Doc Severinsen. So I did that and the deal was Bob Bain was the regular guitar player and he did 3 days a week and I did 2 days a week, and then I went on the road with Doc on the weekends. So now I was in the T.V. business. I was seeing how live T.V. is done. I was the youngest guy in the band, so that was an education.
Sergio's Band had been an education. In fact I said somewhere in an interview in some magazine or something that I learned more in those months that I was with Sergio than I probably learned in all of my grade school, you know just traveling with those guys. When we started to do the Tonight Show that was the first strides towards the studios which I had learned about from Howard. Howard had introduced me to that world and I was attracted to it and I also liked the fact that you were doing something different all the time.
I liked playing jazz but I'd get tired of it after awhile. When The Beatles came out I got into that and The Stones and all that, and I loved all that music. So in one way I was a typical teenage kid growing up and in another way I was learning jazz which I feel had a lot to do with being able to handle the different styles of music that you need to do. Cause really what you're doing if you're not just flat out reading, you're going to come up with something to improvise, and you have to improvise within the style of whatever it is that's called for. But, it's improvising and I loved it and I loved playing live with rhythm sections and all that…Maybe I over answered the question?
EH: No. You know what, the funny thing is you answered my next question also because I was going to ask you how did you get your big break because studio musicians to me seem like a tightly knit community and you answered that with "Howard Roberts got your foot in the door" and you just took it from there.
MH: You're absolutely right and the other thing about it is…yes it is a tight knit community, but the other thing is if you ask 5 players how they get in the studios, you get 5 totally different answers to the question. It's never one thing..you do this and you do…and it's not that…you have to be at the right place at the right time and be able to do what's called for. It's kind of a series of fortunate events. Put it like that… and then there's some luck involved too…
EH: I bet. Yeah. I bet there is.
MH: There's always luck involved.
EH: I've read your bio and the legends you've worked with, Sinatra, Dean Martin, Barbra Streisand, Tom Jones, Smokey Robinson. The list goes on…You've worked with one of my all time heroes – Brian Wilson. I just love the man and his work. To me he's amazing. If I can ask you a personal question…How was it working with Brian Wilson? Is he totally in charge or does he let you guys do…?
MH: Well, I'll clarify that whole thing by saying that I literally worked with him on probably 3 sessions…the first 2 were in the period when he was involved with that psychiatrist (Dr. Landy). It was not a good period for him. Those 2 sessions were extremely difficult with him and it wasn't totally his fault, it wasn't his doing, it was just a result of what was going on at that time. We had a hard time getting through those.
However later, 1997 I think or six, six or seven, I got a call to work with the Wilson Sisters. And Brian was there. Brian was working with them. We were recording a tune that Brian wrote. And it was like the difference between those two epochs was night and day.
Brian in that nineties session, it was Brian. Brian was back. Okay! And yes he did take charge! And he knew what he wanted, and he knew what he wanted to get out of the musicians. It was back to the kind of Phil Spector kind of scenario in which I think there were four guitar players on that session, but he had the big rhythm section. There were strings and horns. Everything was live. He was very explicit in what everybody should play. It was Brian.
So in that light, I guess I got to see two different sides of his life. I didn't get to see when he was primarily in The Beach Boys. Howard worked with him back then. But I worked with Brian first in that not good period and then actually I felt fortunate I got to see him how he wound up being. Fortunately he got his life back. That was a pretty positive thing and I was happy to see that boy he's back and full of life and it was a good experience for me in that light.
EH: That's cool. Just reading the names of the people you worked with is just a virtual Who"s Who of Hall of Fame Recording Artists basically.
You've worked on many T.V. shows and many movie soundtracks. I saw you worked on one of my favorite T.V. shows and I'm not joking – named Sledge Hammer. That was one of my favorite shows. That was a great comedy.
With soundtracks and such, is there a certain vibe that you as musicians come up with or does the producer have notes written down, or the composer have notes written down? Do you guys have a vibe?
MH: Most of the movies, not all of them, but primarily the bulk of them were orchestral sessions. I've worked with composers Hans Zimmer, John Williams and Alan Silvestri, Dave Grusin, and Lalo Schifrin – a lot of different orchestral composers. Mostly on those kind of sessions they're reading dates. There's no coming up with anything.
It could be a multitude of instruments. It could be electric guitar, acoustic guitar and acoustic could be 6 string steel, 12 string, nylon string, high strung, you name it, Dobro…and then you get to mandolins and bouzoukis, balalaikas, and all these what we call miscellaneous instruments that are called for…maybe the story's taking place in Russia or there's some inflection of that and they need a balalaika or bouzouki or some sound like that. Well you have to be able to have those instruments and play them.
But mostly those sessions were reading, just reading…following a conductor. It's all written out.
EH: Not too many people have a guitar named after them, Les Paul of course comes to mind…But you have a Gibson ES-357 that's known as an "ES-Mitch"?
(Editor's note: For more info on the ES-357, check out Vintage Guitar's article right here.)
MH: Well, yeah, to the intimates that know that instrument…that's from one of the owners of one of them – he came up with that subtitle. That was kind of an interesting