"WE ARE OUR BROTHERS KEEPERS" – A BENEFIT CONCERT FOR BLUES GUITARIST DAVID "KID" RAMOS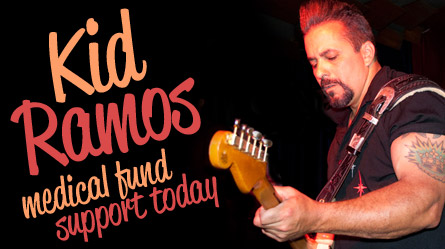 Photo courtesy Rand Chortkoff & Delta Groove Productions.com
A CALL TO HELP A GREAT FELLOW GUITARIST – KID RAMOS
When you think of all the great guitar playing that Kid Ramos has given us over the years, it's just mind boggling. It's time for us to give back to Kid as we all can, whether it be by donations to his medical fund or even just some kind encouraging words to Kid, his wife Linda, and their family.
Without getting too deeply into any specifics, Kid is in a fight with cancer which he's going to battle right out of his body. It would be great if we all rally around him and cheer him and his family on through this tough ordeal. TOGETHER WE WILL WIN!!! This is a call to help a great fellow guitarist – KID RAMOS.
I've got some great memories of Kid's music that go back some 30 plus years ago, before he was even "Kid". I still remember the night that I met him – 32 years ago. I had the opportunity to accompany good friend and GUITAR MAN Steve Soest, Orange County, California's (and I quote) "Guitar Guru" as I have seen it in print more than once, and Dave Ramos to see The James Harman Band. I can remember Steve telling me about this guy (Dave Ramos) who would come into his shop. He was a blues guy and boy could he play.
Steve Soest is one of those guys that always had and always will have great ideas. Life changing ideas. Trust me. I saw it many, many times. I used to have the opportunity to hang with him a whole bunch in my younger days as I was lucky enough to play in his band for several years. You see, the way Steve flies, I'm sure he knew that a trip out that one fateful evening, would, (and I truly believe this), actually change music history. And it did.
That's the way Steve Soest flies. (I'm happy to announce right here that JAG will have an interview very soon with Steve Soest, "The Guitar Guru". I didn't make up that name, and Steve is so modest, I hope that he isn't offended because I brought that term back to reintroduce him here to the few that don't know about him.) I'm also honored to announce that Steve will be fielding your guitar questions in his "Keepin' It Real" Section of the site which will finally be seeing it's launch in the very near future. He's THEE GUITAR GUY and it will be a great honor to have him writing for Jackaboutguitars. Back to Kid and his story.

Steve knew it would be a great idea to hook up Dave Ramos with that oh so "Dangerous Gentleman of the Blues", Mr. James Harman. Thoughts of James Harman conjure up stories that deal with cheap beer, inexpensive, great hot dogs, crawling, and miles of broken glass and the like, but that's something altogether different that we'll try not to think about for now.
We saw the James Harman Band perform that night and it was great as usual. When the time came, both Steve and I headed home and Dave Ramos stayed on. The story goes that