THE WRECKING CREW FILM: ONE OF THE COOLEST MUSIC FILMS TO COME ALONG…EVER
IT'S ALMOST TIME FOR THE GREAT THEATRICAL RELEASE OF THE WRECKING CREW FILM
As we're patiently waiting for this great film's theatrical release to the masses, Jackaboutguitars.com has decided to move the article and interview that we did with Filmmaker Denny Tedesco,  just prior to The Wrecking Crew Film Kickstarter, to the top, front & center of the site for any of those out there who may have missed this cool story and interview the first time around.
Many thanks to EVERYONE who helped make Denny Tedesco's Dream a REALITY! And most of all, THANK YOU DENNY!
In the very near future we will be running a brand new interview with Denny Tedesco – just completed by "The Prince of Primitive", Jackaboutguitars.com's Ed Huerta, as the countdown to the major theatrical release of the movie is quickly approaching.
The film is opening in my neck of the woods on March 13th at The Hollywood Theater, here in Portland, Oregon, and I couldn't be more thrilled about that.
SOME MORE DATES AND PLACES FOR THE RELEASE OF THE FILM IN THEATERS
The movie will be opening on these dates in these cities so far…

2/20/2015
Halifax, NS: Carbon Arc Cinema Co-op
Toronto, ON: Bloor Hot Docs Cinema
Vancouver, BC: VanCity
3/11/2015
Hamilton, ON: Art Gallery Of Hamilton
Saint John, NB: TIFF Film Circuit
3/13/2015
Cambridge, MA: Kendall Square Cinema 9
Dallas, TX: Magnolia Theatre
Denver, CO: Mayan Theatre
New York, NY: IFC Center 5
Portland, OR: Hollywood Theatre
Santa Ana, CA: South Coast Village 3
Tucson, AZ: The Loft Cinema
West Los Angeles, CA: Nuart Theatre
3/20/2015
Columbus, OH: Gateway Film Center 8
Jefferson City, MO: Capitol City Cinema
San Diego, CA: Ken Cinema
Santa Fe, NM: Jean Cocteau Cinema
3/27/2015
Berkeley, CA: Shattuck Cinemas 10
Gainesville, FL: Hippodrome – Gainesville
Phoenix, AZ: FilmBar
San Francisco, CA: Opera Plaza Cinemas 4
San Luis Obispo, CA: Palm Cinema
Seattle, WA: SIFF Cinema at the Uptown
Waterville, ME: Railroad Square Cinema 3
3/31/2015
Winston-Salem, NC: Aperture Cinema
4/3/2015
Bellingham, WA: PFC's Limelight Cinema 3
Palm Desert, CA: Cinemas Palme D'Or 7
Spokane, WA: Magic Lantern Theatre
4/8/2015
Baton Rouge, LA: Manship Theatre
4/9/2015
Wichita, KS: Orpheum Theater
4/10/2015
Fort Worth, TX: Modern Art Museum of Forth Worth
4/13/2015
Bethlehem, PA: ArtsQuest Center at SteelStacks
4/14/2015
Springfield, MO: Moxie Cinema 2
4/20/2015
Lafayette, LA: Acadiana Center for the Arts
4/23/2015
Memphis, TN: Memphis Brooks Museum of Art
4/24/2015
Albuquerque, NM: Guild
…AND I'M SURE there will be more dates and places to follow as this picks up momentum!
OUR  PREVIOUS  INTERVIEW WITH DENNY TEDESCO
In the meantime, here's the first interview that Ed Huerta did with Filmmaker Denny Tedesco and the accompanying article.
Enjoy it and keep yourselves tuned in to Jackaboutguitars.com for the new interview with Denny Tedesco which will be here real soon.
MY DINNER WITH DENNY TEDESCO (WELL, NOT REALLY…JUST PICKING THE MIND OF THE MAN BEHIND ONE OF THE COOLEST MUSIC FILMS TO COME ALONG EVER…THE FILM "THE WRECKING CREW") by ED HUERTA

WELL, THE TIME IS AT HAND, AND THE WAY COOL MUCH ANTICIPATED WRECKING CREW FILM IS ALMOST HERE…
KICKSTARTER IS IN PLACE AND NOW IT'S TIME FOR EVERYONE OUT THERE TO DO WHAT EACH OF US CAN

That's right. It's finally almost here. Getting closer to the release of THE WRECKING CREW FILM. Many of you have heard the buzz. Filmmaker Denny Tedesco, son of the late, great guitarist, Tommy Tedesco, is getting very close to releasing his "labor of love", The Wrecking Crew Film. Talk about excitement building…
This is the story that has needed to be told and it's time for the final push for funds to get this amazing film up on the BIG SCREEN for all to see and enjoy, to be WOWED and AMAZED. And what a story it is…
Let's all help Denny Tedesco to get this story out to the masses. Kent Hartman, thank you so much for writing "The Wrecking Crew" Book ("The Inside Story of Rock and Roll's Best Kept Secret)! I just wish that I would have discovered it before writing this article as I would have certainly asked your permission to draw from it. What a GREAT read!
To date, many dollars have been raised as the film contains over a hundred songs of which the music rights and licensing had to be worked out and paid for. The process is almost complete which will allow the film to be released.
Read on and find out how you can become a part of all this through the Kickstarter Program. You can actually help in a very modest (or generous) way to get this fantastic film launched onto the big screen!!! There are so many ways to help out from attending screenings, giving a small or large donation, and even getting an actual dedication that will appear on the DVD. THE WRECKING CREW FILM: ONE OF THE COOLEST MUSIC FILMS TO COME ALONG…EVER!

You can even contribute to the effort by purchasing way cool Wrecking Crew merchandise like Bowling shirts, Tee-shirts and tank tops, baseball caps, coffee mugs, posters, and even special bottles of red wine, all with The Wrecking Crew Logo on them. Great memorabilia to own, wear, and display in your home or music room.
For those guitarists, musicians, and readers out there who aren't too familiar with or don't know much about all of this Wrecking Crew business in the air, relax. It's okay. Really.
These are just the guys & girl (studio musicians) who played on the soundtrack of just about every baby boomer's life, not to mention how it affected and what many of the other generations that followed might have taken from them.
Many of you guitarists, bass players, drummers, piano and keyboard players, as well as other musicians out there have been affected by these guys probably way more than you'll ever know. I know that once I finally came to the knowledge of all of this, I couldn't even begin to believe it. Songs that I have heard most of my life weren't even played by the musicians in the bands whose recordings they were supposed to be!
The name, "The Wrecking Crew", was given to this younger group of studio musicians in L.A. in the early 1960's by the older established studio musicians in the area (the suits so to speak) as they thought that these younger guys were going to wreck the music business with their rock and roll and blue jeans and tee shirts.
The Wrecking Crew Film is the untold "behind the scenes story" of these musicians who played on all of the biggest hits, hit after hit after hit, that came out of the west coast from Southern California. They were the "unsung heroes" that the public never knew back then and many are just finding out about now. Believe it or not, they were Phil Spector's famous "Wall of Sound"!
These are the musicians that played on so many of the hits by The Association, The Beach Boys, The Byrds, The Carpenters, The Crystals, Dean Martin, Elvis, The Fifth Dimension, Frank Sinatra, Herb Alpert & The Tijuana Brass, Jan & Dean, Nancy Sinatra, Neil Diamond, The Mamas & Papas, The Monkees, The Righteous Brothers, The Ronettes, Sam Cooke, Simon & Garfunkel, Sonny & Cher, and too many others to even mention right now (sorry others)! The list goes on and on and on….
They even played on T.V. theme songs like Bonanza, Batman, Green Acres, Hawaii Five-O, and Mission Impossible, as well as movie soundtracks.
For those of you who don't know much about all of this, here's a video trailer that will bring you up to speed a bit and give you an idea just what it's all about concerning this cool film.
HERE'S WHAT PEOPLE ARE SAYING ABOUT THE FILM
A wonderful, touching and hilarious film about the unsung stars of so many records that you carry in your heart. – Elvis Costello
It was incredible! I felt just like I was sitting there with them at that table. It had everything I wanted to see and more that I didn't expect. Tommy's humor drew you in and the lifelong respect for each other was so evident. Thank you for making this film because it shows that these legendary musicians, who we listen to everyday, are anything but invisible!!!!!! – Peter Frampton
"The Wrecking Crew" documentary is the first time that people will finally understand what it was like to be in the trenches of Rock and Roll… Its the closest thing to being there. It is a great pleasure to be a part of Denny Tedesco's Wrecking Crew. – Hal Blaine
Like the Funk Brothers being the backbone of the Motown Sound, the Wrecking Crew were the backbone of the L.A. Sound. This group of musicians played on and created hundreds of hits that became the soundtrack to our lives in the 60s and 70s and are still on radio today. I would recommend this DVD to anyone who likes music and who doesn't? It's an historical peek and inside look at the backbone of American hit parade music that rocked the world. – Randy Bachman Guess Who, Bachman Turner Overdrive
Denny Tedesco has given us an amazing look at a musical moment in history that everyone who loves rock and roll should see. – Christopher Guest
Much congratulations to you for undertaking the project and for delivering it in such a wonderful way. For me it was educational, entertaining and thoroughly engrossing… – Clive Davis
I loved the film, thank you for bringing to light the story behind one of the most important musical ensembles of the modern recording era… – Chad Smith, Red Hot Chili Peppers
It's about bloody time! – Micky Dolenz
Jackaboutguitars.com recently had the honor of being granted an interview with Filmmaker Denny Tedesco. Drummer and writer Ed Huerta of Jackaboutguitars 'Art "N" Soul column, aka "The Prince of Primitive", managed to be able to free up enough time from his overwhelming schedule to take on the special assignment for Jackaboutguitars of interviewing Mr. Denny Tedesco. Jackaboutguitars was also given permission to use The Wrecking Crew logo, photographs, and even some of the video clip outtakes from this fantastic film by Denny Tedesco.
Throughout the interview I have posted photos and some of these video clip outtakes from the making of the film which are at the least, quite interesting, and some of the stories are really very entertaining. They aren't in any special order and probably don't appear in spots that coincide with the interview.
Enjoy them for the great musical history that they are. I'm hoping this story and the interview with Denny will be enough to inform those who don't know much about The Wrecking Crew and temporarily satisfy your curiosity about The Wrecking Crew Film. If this in any way speaks to any of you musicians out there,
It's also my understanding that dinner and drinks for the interview were almost outstanding! They may seem to have even been non existent (just like the budget set aside for all of this by Jackaboutguitars). We do know that as and when the budgets gets a bit better, all else will follow accordingly. Enough said, here's the interview. Enjoy! – Jack
MY DINNER WITH DENNY (WELL, NOT REALLY…JUST PICKING THE MIND OF THE MAN BEHIND ONE OF THE COOLEST FILMS TO COME ALONG EVER…THE FILM "THE WRECKING CREW") by ED HUERTA
EH: I lied. I didn't have a face to face sit down with the man. I didn't do this interview mano a mano with him. We never even had dinner together, but in fact, I did do this interview via one of Thomas Edison's inventions, (look for the movie starring Don Ameche…like my late father used to say about me," He spends more time on the phone than Don Ameche!") (the phone, with the man).
The man, meaning Denny Tedesco, filmmaker and son of the late Tommy Tedesco, jazz guitarist and member of The Wrecking Crew group that was responsible for nearly every hit song and many non-hits through most of the 1960's and early 1970's that came out of the west coast.
Tommy Tedesco
Tommy's guitar playing can be heard in numerous television theme songs and many, many motion picture soundtracks. The man was sitting in the guitar chair for a good decade.
I first learned of The Wrecking Crew many years back when I started delving into music producers such as Phil Spector and Brian Wilson. These musicians helped usher in the Golden Age of Music. They were responsible for hundreds of songs that somehow transport us to a different time and exclusive, individual memories.
The Wrecking Crew – Phil Spector's Hero Date
For example, the magical sounds of the opening drum hits in The Ronettes "Be My Baby" or the wonderful space of music, just before the last vocal segue of Sonny and Cher's, "I Got You Babe". The pure pop that drove Gary Lewis' "This Diamond Ring" to the top of the charts. I still believe that song inspired a teen Bruce Springsteen to later record his Spectoresque production of the classic "Born to Run" album.
The Monkees, Jan and Dean, Ricky Nelson, The freaking Turtles, people, or anything on Pet Sounds. This stuff was thee stuff!!! If you ever picked up an instrument or played in a band, then you have The Wrecking Crew to thank because I know you must have played one of the songs they played on or ripped off a lick or two from one of those said songs.
The Wrecking Crew was music's version of the New York Yankees, especially the 1927 Yankees featuring The Murderer's Row. They are the Los Angeles Lakers, the Boston Celtics, the Green Bay Packers: the dynasty of music and musicians. So what I am trying to say in this introduction is, that they meant a lot of things to music lovers and musicians and it was quite an honor to get to meet Mr. Tedesco at the screening of the film in Orange County and to get to meet Mr. Hal Blaine, the "DRUM GOD". It was one of the most special evenings of my life and it was like being at Disneyland and getting to meet Walt Disney.
Brian Wilson & Hal Blaine
Case in point, we were seated in the cinema, my wife and I, perusing the brochure that we were handed upon entrance to the movie, when a nicely dressed gentleman introduced himself as Denny Tedesco, the maker of the film we were about to view. I recognized him immediately, only because I saw his picture in the program just seconds earlier. Denny didn't have to do this. It was truly a nice gesture that he went out of his way to greet people. I was thinking and mentioned it to my wife, that he probably recognized me from my many appearances on the old Steve Allen Show.
Yeah, she didn't think that was too funny either…but I do want to thank Paula and Steve Soest for reminding me of the screening and for arranging this wonderful event and the star treatment they gave my wife and I. I just want to add that Denny did not hesitate when Jack from Jackaboutguitars.com approached him about doing an interview for the Jackaboutguitars.com website.
Thanks again Denny Tedesco…and if you haven't seen this movie, go out and see it and help support the cause with a donation to Kickstarter. I, for one, cannot wait for the soundtrack and DVD of this film. You will see how this film touches the very core of the music lovers' existence. It is a fine tribute to the memory of Tommy Tedesco and to all of the people that rounded out this group of fine musicians. Denny did an incredible job on this and you can feel the love for his father in this work.
Tommy Tedesco and Hal Blaine
I'm starting to sound quite a bit like a PBS pledge drive here. Let me wrap it up by saying this… I never met Tommy Tedesco – but this film uncovers a persona that is larger than life and you truly get a feeling of who the man was and he seems like a very good man and father as well as a decent guitar player too.
Filmmaker Denny Tedesco & his Dad, Tommy Tedesco
I am sure Tommy is looking down at these screenings and proudly saying to all within earshot, "That's my son's work everybody, that's my son!". We thank you for your work too, Mr. Tedesco…both of you!
Similar to Tommy's Flying Tele
(Setting the scene: I did this interview over the phone on my trusty ZOOM H1 and Samsung III. Denny had just gotten back from an errand and it was late afternoon and his voice sounded scratchy and tired. I felt bad about asking so many questions, but how often do I get to meet Hollywood filmmakers especially the son of Tommy Tedesco…please ignore the sounds of Lakewood Boulevard in the background that didn't help me decipher some of Denny's answers…Hope you all enjoy and please do yourselves a great favor and check out his film. It is truly a great piece of historical work.)
EH: Hello, Denny. First thing, let me say I first met you at the screening of The Wrecking Crew Film in Orange, California at Chapman University (a heartfelt thank you to Paula and Steve Soest) and Hal Blaine was there, and it was a totally amazing, magical evening!
I play drums and it was such a thrill to talk and shake the man's hand that played on all of the hit songs that shaped my life and playing style. (He did want royalties from me but I only had a couple bucks in my pocket, which Hal took with pleasure. I am joking, of course, he took it begrudgingly… (Ed's note, just kidding), but Mr. Blaine was very funny and he signed a poster for me too!
Ed Huerta & Hal Blaine
So, as a kid I used to listen to all of these records and would pretend I was Dennis Wilson playing those drums. I guess I should have pretended to be Hal Blaine(I just didn't know at the time). Anyway, I just wanted to say for all of the musicians out there "Thank You" for making this long awaited and anticipated film.
It is the most amazing film and I beseech all those people who only have a shred of interest in music or the golden years of the 1960's to buy a ticket and see this. I am in my early 50's, so I was a tad too young when these songs originally came out. But I do have childhood memories of hearing and enjoying them. What I want to ask you, in a long-winded way is, do you get the same reactions from people after they view this film?
DT: The reaction is, yeah….That's why I keep going. The reaction to the film is always extremely positive. The concept of the film is what I'd like to take credit for.
It's amazing. We are peeling back the curtains and educating the people, like you just said, you thought it was Dennis Wilson playing, and it's nice to see that reaction all of the time, and it doesn't matter what demographic. I've seen it in Israel, in England, in Germany, Barcelona and New York…Brooklyn, you know, Seattle, and all across this country, the same thing. This is America's greatest export. It really was. It was an amazing time period.
EH: Oh yeah! It was the total golden age of music, and we'll get back to this in a bit, but my next question is…hope you don't mind me reading from my notes here..
DT: Go right ahead…
EH: You have had a little trouble getting the movie funded, I know it's extremely expensive, but it's a story and a topic that needed to be addressed or told, and I was wondering as The Wrecking Crew made millions of dollars for record companies and music people, artists, did these people attempt to give back at all to the funding of this project?
DT: Oh yeah, Like Jerry Moss gave fifty thousand and Herb Alpert (the brains behind A & M Records, but you people probably already know this so from here on in I will assume you are more knowledgeable than the average reader) is going to match that. They have come around but you know people, it's a weird thing.
You can't just go to people and well, Cher, for example. I'm doing an interview with Cher and I didn't want to ask her for money. It's a fine line. I'm not good at it! Some people are good at asking, I'm not good at asking but I'm learning how to ask and that could be a reason that it's taking so long. You know, we're getting there.
EH: Right. So you finished the movie, in like, 2008?
DT: I started in 1996, in 2006, we started to cut. I compared it to building a house. We had all the appliances, all the fixtures and the lumber to build the house, our dream house, but we had no idea if we could build it. So it's like a film. I had all the material and what we needed to do was hire a manager.
So we hired Claire Scanlon, an editor/producer and she helped me put it together and in 2008 we released it at festivals. The goal at festivals is to always get noticed.
EH: I see you've won a ton of awards.
DT: Right, well we were getting noticed but it wasn't really going anywhere and in 2008 no one wanted to pick up a musical documentary with a huge musical budget on the backend to pay. So that's when I had to basically go on our own and donations to the International Documentary Association, we were also able to pay off over $300,000, we have like $250,000 left, which is basically for the Musician's Union, so the last bit will be going towards the musicians, which is great.
EH: This leads to another question. There are an amazing number of songs in this film. Now, I have no idea what it would cost but is there a soundtrack in the making?
DT: Well, what we are trying to do, it's funny you said that, Yes! There has to be! That's what we are trying to do, get the soundtrack together, that's a whole 'nother animal. But there has to be a soundtrack that goes with it. We have over 100 songs throughout the film. I'd like to put 40 of them together for an LP or as well as like on a CD with 40 songs or maybe put 24 songs on a double album.
EH: I'm sure you could put together a whole boxed set with the 100 songs and you would get a lot of buyers, including myself. Now about The Wrecking Crew musicians, I imagine they showed up the day of the session but did they know whom they were playing for?
DT: Not necessarily. How it worked, you would get called and the leader of the session would see if you were around, what to bring, like a six stringed acoustic or a twelve string or they'd say you have to have a mandolin or a banjo or whatever you were doing and then you might not know who the artist was.
Sometimes they were just tracks or the artist was new. A great example, my father once got a charm, a little charm bracelet in the shape of a Grammy. It was a gift from Jimmy Webb for the work on "Up, Up and Away". My father asked Hal Blaine what the gift was for. He said it was for that song we did with The 5th Dimension, but yes, my father didn't know he was on it but if you listen to the song, you know it's him.
You know The 5th Dimension wasn't there and it was just a session with Bones Howe and they went with Bones all of the time, or whoever that was there producing. It's a craft. Like everyone thinks it must have been great working with a certain artist. Well, certain artists weren't stars. The only one that ever impressed them was Sinatra. Like now you knew who you were working for.
EH: Now the musicians were also given charts. Did they ever ad-lib off of the written charts?
DT: Absolutely. The leader of the session would give them rough ideas for songs or they would have to invent the part. Sometimes they'd get full written parts. They always made sure they gave more than what they asked for. If the leader was receptive to the idea, Hal would say "like what do you think of this?" Yeah, that sounds great! Then, my father would say "and what about this?" and if he likes it great.
My dad's motto was if the guy's smiling then I'm doing my job. If the guy's nervous walking then we're in trouble. So you gotta figure out what the guy needs, even if it's not right. Like if you're the player and you don't think it's the right direction, well, you know what, he's paying the bill and you go in the direction he wants you to go.
EH: When I was a kid, I would always look at the album covers and see pictures of The Beach Boys (or insert any 60's era band here – except Sopwith Camel! DO NOT GO there people!) playing in the studio so you would just assume that these guys were playing on the records. Now is there a reason the record companies kept it hushed up? That these guys weren't actually playing on their own records?
DT: Yeah. I mean The Beach Boys are supposed to be the band. In fact, they first started playing on the first couple albums that they did. Then it got a little more complicated. Brian wanted Hal and Ray Pohlman and started putting together a bigger band. Finally, it was all session players. It got more complex. The guys were on the road and didn't have time to get ready.
Everybody's different, like The Byrds, a great example. "Mr. Tambourine Man". I think that's the only song they are credited for as an A-side and as a B-side and they went in there and Terry Melcher ( of Bruce and Terry fame and the son of Doris Day, you all knew this though…) was the producer. Terry Melcher said, "If I'm going to do this, I want to have my session guys in there and Roger (McGuinn and or Jim) can play on it." The Byrds were upset.
It was Hal Blaine, Leon Russell, Larry Knechtel, Bill Pittman and Jerry Cole were on guitars. But it was a number one hit! Took them three hours to knock it out. Now when The Byrds went in it was like 77 takes for "Turn, Turn Turn".
Economically, Terry had a job to get in and get out. Any producer's job is that he thinks he's gotta get a hit. If you don't think that you are going to get a hit then don't do it. But you have to have that mindset. What's the best chance I have of getting a hit? Having this kind of group in there?
EH: In the 60's and early 70's, the Wrecking Crew basically ruled the roost. Now if you weren't a part of this group, were you basically out of luck, studio-cat wise? (Ed's note: checkout my hip lingo, eh?)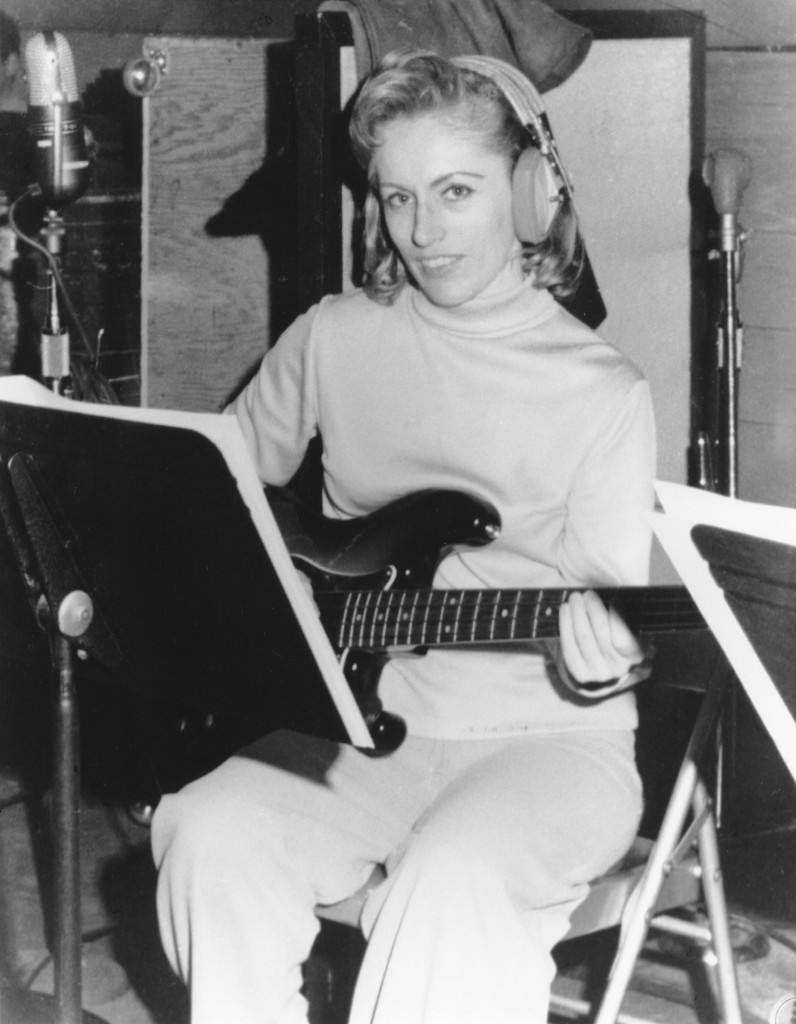 Carol Kaye – The Wrecking Crew's only female player. She's best known for her amazing bass work on Good Vibrations, California Girls, and The Beat Goes On.
DT: That's a good question.
EH: (as I nod smugly…)
DT: I think there was enough work to go around. In the earlier days it was harder to break in. For example, in the 70's, my dad used to say, he was working for the movies and TV. He would tell the guys, "You have a better chance of joining the L.A. Rams than being in one of the five chairs, the guitar chairs at the hot beach right now." And the reason he said that was, if you're good enough to go against the L.A. Rams (Ed's note: and this was the time of The Fearsome Foursome people!) and you could hit them and you got a chance to beat the guy up, no way!
You just don't call and happen to put a resume in. You have to have everything going for you. You gotta have talent and you gotta have luck, being in the right place at the right time. You have to have someone recognize you, let alone want to use you. No one's going to take a chance.
Well people say, what would your dad like to be remembered for? And you would think something with The Beach Boys, but no, he wanted to be remembered for pieces he did with John Williams, Jerry Goldsmith or Elmer Bernstein. They called him knowing it was Tommy in that seat. My father knew when he was working with John Williams. John Williams would tell my father two months before, to keep September open the first two weeks. I got this job on a movie and it's for a guitar. John Williams was calling two months ahead of time to make sure there was no conflict. That's when you know you've made it.
You're a hot seat with 80 musicians in the room and it's all solos all the way through. There are all kinds of scores and it's all that reading. That's when you know. You want to be remembered for that and his peers remember him for that. Green Acres, Bonanza, Batman, yeah, they're good for the public, that he's known for that, but cute, it's great, anybody can do that, in a sense. You learn them. You record them. It's not that big of a deal, but very few people could sit in that chair where he sat!
EH: I'm sure of that! Now this is sort of a funny question. Dick Clark claims that he never knew bands didn't play on their own records until The Monkees. So, can we blame The Monkees and their studio revolt for the demise of the studio musician?
DT: Not really. Naw…look at Milli Vanilli. (Ed's note, I did and I didn't like what I saw!) Mickey Dolenz said in the movie, I did an interview with him, and he said, "If they had put the credits on the album covers, it wouldn't have been a problem." It wasn't a big deal. It didn't really change anything.
The heyday was like 1967, late 60's. The only thing it seems maybe music went into a different direction like singer-songwriters. Carole King brought her people in and bands, you got Led Zeppelin, Chicago, Blood, Sweat and Tears, all great groups doing their own thing. They don't need these guys. It's not the thing anymore. It's a different direction kind of thing and new technology.
EH: Now is there like a current Wrecking Crew out there now for today's bands?
DT: It's much smaller and not for bands as much. There's Mike Landau, and Leland Sklar is still working. It's not like it used to be. It's not like "oh, they are better." The times have changed. You don't have to be number one. Nowadays you have ProTools and all that. You can take your time until you get the take you like.
EH: I grew up in a house where everyone played music. My brothers were in bands so music was everywhere. For some reason, I really fell for the big, dramatic sound, like Phil Spector or Brian Wilson and Pet Sounds and Shadow Morton and all that and I'll ask my friends that are contemporary musicians, that have high musical knowledge, and I'll tell them about The Wrecking Crew and they just look at me. A lot of people really don't know who they are and to me, that's like a baseball fan not knowing who Sandy Koufax is…
DT: Now that's one of the reasons I feel this story needs to be told. It's not going to change anything. It's not a world-shattering event. Well, why do we need to know? Well why does an artist need to know of a Picasso or a Monet? You need to know what came before them. A great example is (drummer) Kenny Aronoff. He said you could tell me that you hate everything Hal Blaine and Earl Palmer ever played but you can't tell me you weren't influenced by them. Somewhere down the line, you were influenced by someone that was influenced by the art. That's the difference. It helps you. The more knowledge you have of the past, helps you. It always helps us.
EH: I still steal stuff from Hal Blaine all of the time for Rockford's songs. Now was it strange in school, like would you tell your friends that your dad was responsible for what they heard on the radio?
DT: No, Not at all. I never saw my dad play an instrument in the house until the 70's when he was doing his own stuff. That's because he was working all of the time. I never saw him play. I knew he played guitar for a living, and on albums and rock and roll stuff. I didn't know exactly what he was doing. I heard he played for The Beach Boys but it didn't mean anything to me. I don't know why. When he started to do his jazz thing later on, I started to become more aware of what he did, like in the late 70's.
EH: Now, did your dad play the guitar part on The Twilight Zone television show?
DT: Naw, that's mixed up internet bull$#!+. In The Twilight Zone, the movie, he did. When they did the movie, the original music they found was from a French recording (Marius Constant) and that's what they used. It wasn't from any of the guys here…
EH: I know you have children, do they realize the scope of this project? What it means to you and the people out there?
DT: Oh yeah. One's fourteen and the other is eight and unfortunately Daddy works 24/7 and what's interesting is that it's affecting their lives. Like the musicians affected their kids' lives. You know when I'm traveling on the road for ten days doing the publicity stuff and trying to raise money, in the end, it's for them but they don't understand it. They're too young to understand what we are doing. So that's kind of a drag.
EH: I read that your dad was gone a lot from your house when you were growing up.
DT: Dad never left town, just gone in hours. He was never out of town.
EH: I have one more question about your father. This film, to me, could be like a love letter to your father (Denny: interjects: Yeah, it was ) and he passed away before viewing any of it. What do you think his reaction would be to this labor of love?
DT: He'd be blown away, you know, teary-eyed, everyday he'd be a basket case probably. It's interesting, when we started the project, it was going to be about a group of musicians. And when I cut thirty minutes, an editor friend, Gary Cooper, said this is fine, but you're doing something I could do and everyone else in this room could do. We could cut the same thing. It doesn't mean anything. You're not telling us why you are cutting it. Why you're making this film.
What he was saying was you have an opportunity to be a little more personal, a little more in-depth with the characters. And he was right. So once I let that relationship with my father into the group, it was easier. It made life a lot easier. Then I didn't have to worry about, well this person isn't in it or this person. You can't fall in love with anybody if everybody's in it. (Ed's note – Great quote!)
EH: I've seen the quote "Celebrity Reviews". Now you've been around famous people your entire life (Denny laughs…), but do the celebrity reviews make it more special? That, these guys that are now musicians, were influenced by The Wrecking Crew?
DT: Yeah, It's funny, because I realize this now, like my father was playing in a jazz club and if my mother was there or maybe I was there. It was like, why are you playing all that $#!+, ya know. Well, he was playing for guitar players.
I realized that he was playing for them. Meaning they are the ones that know what I'm doing. They are the ones enjoying what I'm playing. And for me, I realized all these musicians loved the film and were inspired by the film. It's their story. Even if you're not on that team, it's your story. If you played an instrument then you understand it. You play in a room together. You understand that camaraderie.
So that is the biggest thrill for me. Like I found out Elvis Costello was in the theatre and Peter Frampton was in the theater and I asked them for quotes.
EH: An aside here…any word out of the Phil Spector camp?
DT: No, not at all…
EH: I imagine he's got bigger things on his mind. Anyways, I can't wait for this to come out on DVD so I can blast this at my house at my leisure. Now, I understand your wife is also a producer?
DT: Yeah, in a nutshell. She's a commercial producer. So we're both in the business.
EH: Is it hard to have two creative forces in the family?
DT: Nah, nothing like that…We do have our separate opinions but I win in the end (laughs). We always joke because we have this one thing in the film and she says it doesn't work and I say it does. We always argue about it even though it's never going to come out.
EH: I can't wait for the DVD release because I want to see the extra footage. I know you said it was hard to cut.
DT: Yes, the DVD. Hopefully we will have a 3-DVD set. I have hours of footage of people and their energy that never made it onto the film. Richard Carpenter, Jackie DeShannon, Bill Medley, Petula Clark and all these other session musicians, James Burton, Billy Strange all these other guys. I just couldn't put everybody in. It was very difficult.
EH: I just want to say that it was quite an amazing movie going experience. I probably had my mouth open the entire time. It was the coolest thing seeing this stuff come to life, the back story, if you will, of these songs that influenced everyone's lives.
One last question for you, Denny. I know you are very busy and we all thank you for your time. Now, how can the readers of Jackaboutguitars help out and be a part of this historic venture? Can we help out with the funding?
DT: In October, we are having a Kickstarter program. You know, if you can't afford a couple of bucks, I totally understand. When we started Kickstarter, we got to go for the $250,000 that's left. The only difference between our Kickstarter and the others, is that the film is done. So we are taking pre-orders. If we can reach that goal of $250,000, and we know we'll have pre-orders, we can fill the pre-order with the DVD. So that's what we are trying to do.
EH: So the goal of raising the rest of the money is to get the film out on DVD?
DT: Yeah.
EH: Cool…so are we going to have more film showings at major theaters?
DT: Yeah, we'll do a theatrical run first, see how we do then, then go for the DVD.
EH: So we can expect another year or so before the DVD release?
DT: Yeah, Yeah…
EH: I bet you're tired, man. You have been working on this for a long, long time…
DT: Yeah, yeah.(chuckles)
EH: Well again, I want to thank you Denny for making this film and can't wait for the sequel! ( joking of course…) You did a great job. Thank you for your time.
DT: Thank you. My pleasure.
Many thanks to Denny Tedesco, The Wrecking Crew Musicians, Ed Huerta, all the producers and contributors, the movers and shakers, who are making the funding of this great film a reality, all of the artists involved, as well as anyone who had anything to do with The Wrecking Crew, then and now. Many a heart felt thanks!!!
Be sure to hit Facebook.com/WreckingCrewFilm and give a like! While you're at it, don't forget to support this effort however you feel that you can at Kickstarter to help get this great film up on the big screen and give back to these wonderful musicians and everyone involved for giving us this huge piece of the soundtrack of our lives.
Also check out The Wrecking Crew site for more cool information and if you liked the story and interview, be sure to get to Facebook/Jackaboutguitars and give us a like! Thanks! – Jack
Note: All photos, videos, and The Wrecking Crew Logo used with permission of Denny Tedesco.
THE NEW INTERVIEW ON THE WRECKING CREW FILM WITH FILMMAKER DENNY TEDESCO
Check back soon for the new interview and get out and see the movie when it comes to your town. You're gonna love it and won't regret it.   –  Jack