AGE QUOD AGIS
That's right.  'Age quod agis'.  Do what you are doing.  I just had to get that out.  Even in Latin, Larry Hanson is a remarkable guitarist and musician – just doing what he's always been doing.
LARRY HANSON: A GUITARIST AND MUSICIAN NOTABILIS (MOST REMARKABLE)
I've been fortunate enough to know Larry Hanson for many years and was aware of him and his guitar playing for even longer than that.  Larry is one of the few whose reputation precedes him.
There's good reason to suspect that if you know Larry personally, you probably did hear of him way before you met him. I was in high school when I had first heard of what a remarkable guitar player he is.  It was several years later that I finally had the opportunity to hear him play and finally meet him.  He is one amazing talent.
On top of all this, Larry is very modest about his abilities.  I do believe that Larry Hanson is probably the most humble guitarist that I have ever met and I would even step out as far as to say he's the most humble guitar player on the planet concerning his abilities.
Here's a some bio information that Larry was kind enough to send which will help to give you a better idea what he's all about:
LARRY HANSON – Nashville, Tennesee

Education: Santa Ana College
California State University Fullerton
Music Major/Trumpet
Professional Experience:
Alabama:  Guitar, Keyboards and Sax–20 years
Righteous Brothers:  Keys, Bass, Trumpet and Guitar–6 years
Bill Medley:  Musical Director, Guitar, Keys and Sax–4 years
Other artists:  Jennifer Hanson, McKenna Medley, Kenny Chesney, Gretchen Wilson, Little Anthony, Darlene Love, Dick Dale, Mark Nesler, Tim Briggs, Michelle Mangione, The Marcy Brothers
Currently:  Bill Medley, Jeff Cook and the AGB, Texas Tenors
Following college and several years of playing nightclubs, recording and backing different artists in the LA/Orange Country area, I became a member of a 13 piece group called Bim Bam.  I played guitar and keyboards for the group as well as arranged music for the horn section.
In the group were former members of Redbone, Butch Rillera and Tony Bellamy, as well as former Righteous Brother musicians Jose Silva, Bill Baker, and Dave Garland.
While performing at Bill Medley's club in Orange County, I met Bill and partner, Bobby Hatfield, which led to my gig playing for the Righteous Brothers.  Along with touring as a musician for the Righteous Brothers, I became Bill Medley's musical director/band leader while he promoted two RCA country albums.
In 1985 Bill opened 96 dates with RCA label mates Alabama.  At the beginning of Alabama's 'Just Us' tour in January 1987 I was hired to play guitar, horns and keyboards.  From that date on I played every single performance with Alabama until their last farewell date on October 16, 2004.
Currently I am back touring with Bill Medley playing guitars, Hammond B3, mandolin and sax.  I also do shows with The Texas Tenors (of America's Got Talent fame) and am still playing with Alabama's Jeff Cook and his solo project band, The AGB.
I am a staff writer with Crew 22, a music production company that writes music for film, television and computer games.
I am founder and owner of Fatback Studio in Nashville, specializing in music production, demo sessions and master recordings.  My studio offers a Yamaha C5 Grand Piano, a Hammond B3 and Leslie 145 as well as an assortment of vintage keyboards, amplifiers and guitars.
Discography:
Southern Star – Alabama
Pass It On Down – Alabama
American Pride – Alabama
Cheap Seats – Alabama
Dancing On The Boulevard – Alabama
When It All Goes South – Alabama
The American Farewell Tour – Alabama
Livin', Lovin', Rockin', Rollin' – Alabama
Alabama Greatest Hits II – Alabama
For The Record 41 Number One Hits – Alabama
Alabama The Last Stand – Alabama
2 Rock 4 Country – Jeff Cook and the AGB
On Fire – Jeff Cook and the AGB
Tim Briggs – Tim Briggs
First Degree – Dino Pastino
When He Spoke – Jim Nabors
You Can't Get Out of Here Alive – Darryl LaRocque
Man Enough To Cry – Richie Fields
The Human Zoo – The Human Zoo
Love Songs – Dan Carlin
Tradewinds – Dan Carlin
Prowlin' – Dan Carlin
There Is A Way – Chuck Pitts
Making Me Whole – G Paul Martin
People And Places – Jim Seal
Great Plains – Great Plains
Texas Tenors – Texas Tenors
Texas Tenors – What Am I Gonna Dream About
McKenna Medley – Silk Flowers
McKenna Medley – You Ought To Be Here Tonight
Michelle Mangione – What Is A Saint
Michelle Mangione – The Edge of Madness
If you have never heard Larry Hanson play, you simply have no idea what you have been missing.  Jackaboutguitars was fortunate enough to snag some time with Larry as he is one busy, busy guy as you can well imagine.
Here's what Larry had to share with me:
JAG:  Larry, how did you get interested in playing guitar?
HANSON:  My first interest in guitar came from hearing my Uncle Buster play.  He had a black two pickup solid body electric Silvertone and a small Silvertone amp.  I just couldn't resist the sound he got playing the electric guitar.  Anyway, Uncle Buster gave me his old Stella acoustic, showed me a couple of chords, and from then on I was hooked.  That little Stella has taken me on quite a journey–Thank you Uncle Buster!
JAG:  What year was that and how old were you at the time?
HANSON:  I was 12 – it was the beginning of 8th grade at Warner Junior High in Westminster, California (1962-63).  That's where I met Steve Soest (famous vintage guitar guy, famous guitar repair guy, great musician and still my best buddy)!  (Editor's Note: see http://www.jackaboutguitars.com/soest-guitar-celebrating-40-years)
I had a band, well at the time it was just myself and a drummer (my neighbor and fellow Warner Junior High schoolmate, Mike Milano).  Steve came along just in time to make us a trio – two guitars and drums.  On Saturday's our trio played at a local hamburger joint named Ray's Texas Belle for burgers, malts and a couple dollars – our first gig!
JAG:  Who were your influences in the beginning, – and later on?
HANSON:  In the beginning it was all about surf music, – Dick Dale, The Chanteys, and of course, The Ventures.  In our first band, Steve Soest and I were just crazy about all those great instrumental guitar records.  The great sound of a surf guitar still gets me – brings me back to Southern California and a really fantastic time in my life.
I should mention that Mick Mars of Motley Crue went to school with Steve and I – he was a talented and great guitar player even back then, (when he was still known as Bob Deal).
JAG:  I remember the name Bob Deal as a kid growing up.  I had no idea until now that Mick Mars and Bob Deal are one and the same.  Unbelievable.
HANSON:  The Beatles were the next influence on almost everyone, and for a kid learning guitar what was better than all those great songs and opening guitar licks. I remember going and listening to Bob Deal's band rehearse in their garage and Bob playing the solo to Nowhere Man–he had it down  perfect including the chime at the end – impressive way back then!
Once I got to high school I met a couple of other guys who where playing guitar, John Luzadder and Chuck Fraher.  They were listening to the Butterfield Blues Band with Paul Butterfield on harp and vocal and  Mike Bloomfield on guitar.
JAG:  It sounds very much like I traveled down a similar road also, just a few years younger than everyone else at the time.  I used to hide in the garage beforehand, waiting to hear my older brother Gerry and the band he was in,  The Knaves, rehearse.
I remember hearing them do songs such as Nowhere Man, Hang On Sloopy, Walk, Don't Run, and Pipeline.  It was always really great until "little brother" was discovered and then kicked out of the garage.
My older brothers Al & Gerry were also listening to Paul Butterfield and Taj Mahal way back then and that was my first taste of the blues at 12 years of age.  I haven't heard the names John Luzadder and Chuck Fraher for many years but they were names I remember hearing growing up as a couple of thee guitarists back in Orange County at the time!
HANSON:  It wasn't long before I was in a band with John called The Raque.  We started doing a lot of Butterfield songs with a lot of extended jamming and soon those jams turned into epic guitar battles with John and I trying to out-play each other.  It was a great time in life for me!
And if you think about it, what a wonderful learning tool to have friends pushing each other to improve.  I may have had some of the best blues jams in a garage in Westminster, CA.  That's what so fun about music – it's about the feeling that you get when you play, not about where you're playing.
All the great local Orange County musicians were a big part of my learning tools–the Rillera Brothers (Rick, Barry and Butch), Tony Bellamy, Johnny Lopez, Jose Silva, Dave Garland, Bill Baker, Don Hawkins, Virgil Beckham–bands like Fatback, The Fifth Calvary, Jamie and The Jury, The Youngmen (Bob Gulley, Bobby and Eddie Johnson) to name a few.
As far as other guitarists that influenced me (and still do) it would have to be Jeff Beck, Eric Clapton, Jimmy Hendrix, Larry Carlton, Lee Ritenour, George Benson, Barney Kessel, Joe Pass and of course Charlie Christian. It's hard to make a list of what influences us because it can be your friends or a guitar player that you go to see out in a club or a jazz great or just something that you hear on the radio.  Maybe that's what's so fun about playing the guitar – there's always something new and exciting to learn, there's always something cool to work on and that never gets old to me!
JAG:  Yeah, really good stuff.  Can you tell me some more about some of your first guitars?  The first one is always one that no one ever forgets.
HANSON:  I mentioned my first guitar, a Stella acoustic that was a gift from my Uncle Buster.  After a few weeks my Mom answered an ad in the Pennysaver and bought a blonde acoustic Silvertone Archtop.  It had a DeArmond Pickup installed and came with a little Wilson Amp – all for $50. For a few of our first band practices Steve Soest played my Stella with a microphone dropped inside the sound hole and I played the Silvertone with both of us plugged into the little Wilson amp.  Then Steve got a two pickup Kay Archtop and soon a very cool Silvertone Model 1482 Amp
 (single 12 inch tube amp with vibrato).  It wasn't long after that that I remember my Mom taking me to Sears in Buena Park, CA so I could get a Silvertone 1482 amp just like Steve's ($79 in early 1963).
Let me just say how much support I had from my Mom early on and how much that means to a kid starting out (and still does today).  As I get older and look back I really realize how much sacrifice budget wise it was for my parents to get those instruments – love you Mom and Dad!
After the Silvertone, I got a red Fender Mustang – of course Steve already had a white Mustang so I had to follow – there's another $179 that my folks had to dish out.
On a side note – in 1967 I sold my Silvertone guitar to a high school buddy (Robert Null).  Sometime in the 90's Steve Soest found Robert (who had kept the old Silvertone) and bought it back as a gift to me!  Only someone like Steve would do something so cool.  Not only does the guitar bring back the very best memories, but I have my very first electric guitar back.  Now it's become one of my favorite studio guitars!
JAG:   Tell me about some of the other bands that got you on your way as I'll bet they were some of your favorite bands that you've been in.
HANSON:  My first band was the small band I had with Steve Soest on guitar and Mike Milano on drums.  Then in high school I was in the Rhythm Addicts, The Raque, The Circus, The Human Zoo all of which included some of the same guys, John Luzadder, Roy Young, Bob Dalrymple, and myself.
Dalrymple and I played together in several bands as well as a folk duo, The Dalrymple Brothers.
Later John Luzadder and I joined a group called Rainbow.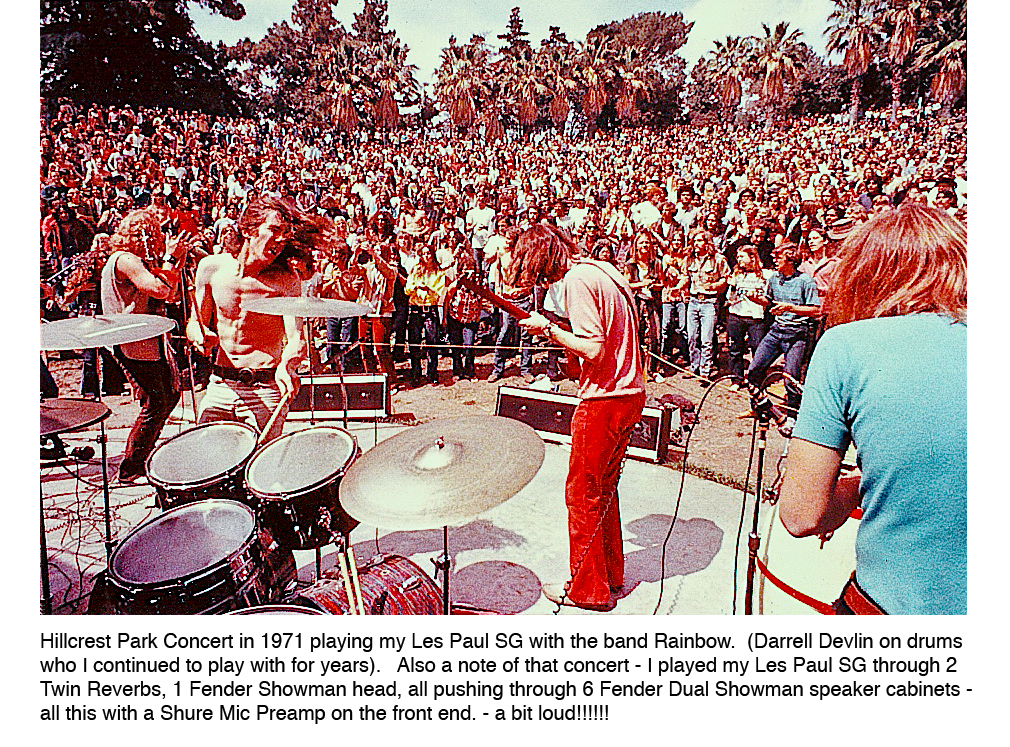 The members of Rainbow were Bob Gay, Darrell Devlin, Steve Hooks, Kurt Rasmussen and Al Vance, as well as John Luzadder and myself.  (Note that Kurt (on congas with his back in the picture of Rainbow playing at Hillcrest Park) and I played wedding bands for years as well as together in Bim Bam – Kurt has gone on to become a very well known percussionist.)
Rainbow's drummer, Darrell Devlin and I stayed working together in several bands for the next 10 years.
One of our bands was called Swiftkick and it was in that band I finally got to work with my high school buddy and guitar great, Chuck Fraher for a few years.
The members of Horse Feathers were Steve Hooks, Kurt Rasmussen, Darrell Devlin, Bob Gay and me (with my 61 Les Paul).
In the mid 70's I played with "Taxi Dancer"  a very cool band featuring Larry Dent, Bob Cruz, David Gore, Christina Dent and Susan Curley.  We played all the disco tunes as well as classic rock.  When their guitar player Patrick Bolin left the group to join Pure Prairie League, I got his spot with Taxi Dancer – another great gig and another wonderful learning tool.
All through the 70's and 80's I was in several bands with Bob Gulley, most likely one of Orange County's most talented singer/songwriter/guitar player etc. – the group was called Madness (and believe me it's madness working with Bob)!
In the early 80's I joined The Skylar Brothers, featuring Gary Roach on drums, Chris Gomez on vocals, Dave McCulloch on bass, and Richard Bredice on guitar.  Richard is still one of my favorite players – if you'd like a great guitar lesson go hear Richard play with The Missiles on any Sunday afternoon at the Marine Room in Laguna Beach.
http://www.missilesofoctober.com/theband.html
Another big influence for all of us musicians in Orange County were the Rillera Brothers, Barry, Butch and Rick. I got to work with Butch in a duo and then in great 13 piece horn R & B band called Bim Bam which also included guitar great Tony Bellamy from Redbone!
It was working with Bim Bam that I starting playing at Bill Medley's club appropriately called Medley's and later called The Hop.  While there I played in a few versions of the house band and eventually got a gig on the road playing keyboards for the Righteous Brothers.
JAG:  When did you know being a musician was going to be the path you would follow (your gig in life so to speak)?
HANSON:  Once I started playing guitar I don't think I ever thought about doing anything else.  It wasn't that I made a big decision either way, I just started playing guitar and that was it.
JAG:  Here's where I get to inject the "Age quod agis" (Do what you are doing).
HANSON:  I played trumpet from the 6th grade all the way through high school so music was already a big part of my life, but once I discovered the guitar it made music a lot more fun!  It just seemed like the thing to do – play guitar and be in a band – none of that has changed since hearing Uncle Buster play his Silvertone.
I hope the lesson learned for all of us is that we just never know what kind of influence we might have on a kid and what kind of path they may take given the chance – thank you Uncle Buster!
After high school I majored on trumpet in college playing both in the symphonic band and the jazz band.  I went to Santa Ana Junior College where we had a great musical director, Ben Glover.  Mr. Glover had a great jazz band program and through him I not only got to play trumpet but eventually guitar for several semesters in the Jazz Band.  After SAC I attended Cal State Fullerton where I still majored on trumpet in the day and played guitar at night – good times!
JAG:  Are there any particular styles of guitar (or types of music) that you prefer playing more than any others?
HANSON:  I love the blues, I love jazz, I love country and still love rock n' roll.  I loved the Butterfield style of Chicago blues as a kid.  I know that I spent a lot of time listening and learning from guys like Larry Carlton, Robben Ford and Lee Ritenour (check out Captain Fingers).
Seems funny as I get older how much more I appreciate all styles–lately bluegrass is just killing me. The great thing with music (and the guitar) is that all styles are good and that there's always something new to learn (doesn't really matter if it's jazz, rock n' roll, country or bluegrass).
I would have loved to have had You Tube when I first started playing, but that being said, it's sure great to it have now (check out Kenny Smith playing "Studebaker 1" and then check out Joe Pass or Carlton or Ford and the list just goes on)!
Gotta love You Tube – what a fantastic learning tool–sure beats trying to learn a song or guitar lick on an old 45 record!
JAG:  Tell us more about some of the people that you've played with along the way.
HANSON:  Well my early friends and learning companions were Steve Soest, John Luzadder, Chuck Frayer, Bob Dalrymple, Roy Young – then Darrell Devlin, Kurt Rasmussen, Bob Snider, Dusty Walseth, Ron Huntoon, Louie Castro, Tony Alverez, Mickey Hannigan and I'd hate not to mention Paul Bishop.  Paul and I played together all through High School, College and in most of the bands that I played with from Swift Kick to Madness to Bim Bam.  Same thing with Kurt Rasmussen–we started working together in Rainbow and graduated from wedding bands to Bim Bam years later.
Butch Rillera and Barry Rillera where both influential in my musical development.  Butch for pushing me to arrange horns for Bim Bam or just for turning me on to so many great players.  Barry for his guitar playing – he's still my favorite player and he still plays around Orange County – I go hear him every chance I get.  If you want to hear real blues from the real deal go see Barry!
Both Butch and Barry played for the Righteous Brothers, Fatback and White Trash.  Butch played drums for Redbone and brought Redbone guitarist Tony Bellamy to play guitar and sing with Bim Bam.
JAG:  I remember hearing quite a few of those names along the way growing up and was fortunate enough to be in bands with both Steve Soest and Paul Bishop.  Both of them were great players!
HANSON:  When I moved to Santa Ana High School for my junior year I met Bob Gulley who was singing and playing bass with The Youngmen (which included Bobby and Eddie Johnson – more of OC's talent).
Bob and I became lifelong friends and have been in and out of bands ever since – I currently work with Bob in Bill Medley's band, The 3 Bottle Band.  Besides all the years of fun music I don't think I could replace all the friends that I've found along the way.
Medley, Gulley, Grimm, Medley–3 Bottle Band – 2010
It was while I was working with Butch Rillera in the group Bim Bam at Medley's in Fountain Valley (later called The Hop) that I made my connection with Bill Medley.  That led to working with the Righteous Brothers from 1982 through 1986 as well as becoming Bill's bandleader for his band, The WT Band.  How great was it to be playing with my musical heroes, Barry Rillera, Jose Silva, Lee Farrell, David Bronson and Hal Ratliff in the Righteous Brother Band and then be playing with Bob Gulley, Bob Cruz, Tim Lee, David Bronson, John Mattick, Larry Miller and Virgil Beckham in Bill's Band!
From October of 1984 and for 10 months in 1985 Bill Medley opened over 100 shows for the country group Alabama.  This is where I made my connection with Alabama and eventually started playing guitar and sax for them in January 1987.  I played with Alabama from Jan 1987 until the final farewell concert in Oct 2004!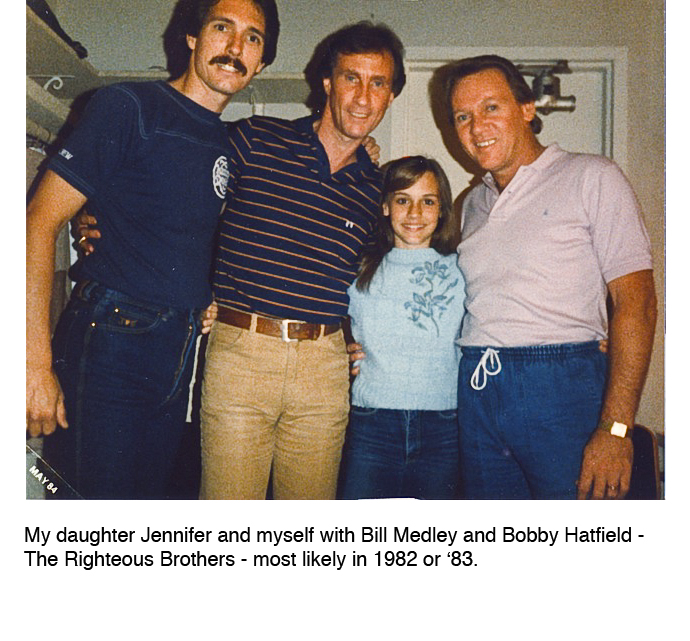 There were two bands, one for the Brothers and another for Bill Medley (who was working on a country album and a single release for RCA records).  I became Bill's musical director and was touring and playing for both the Righteous Brother's band as well as Bill's band.
Righteous Brothers 1986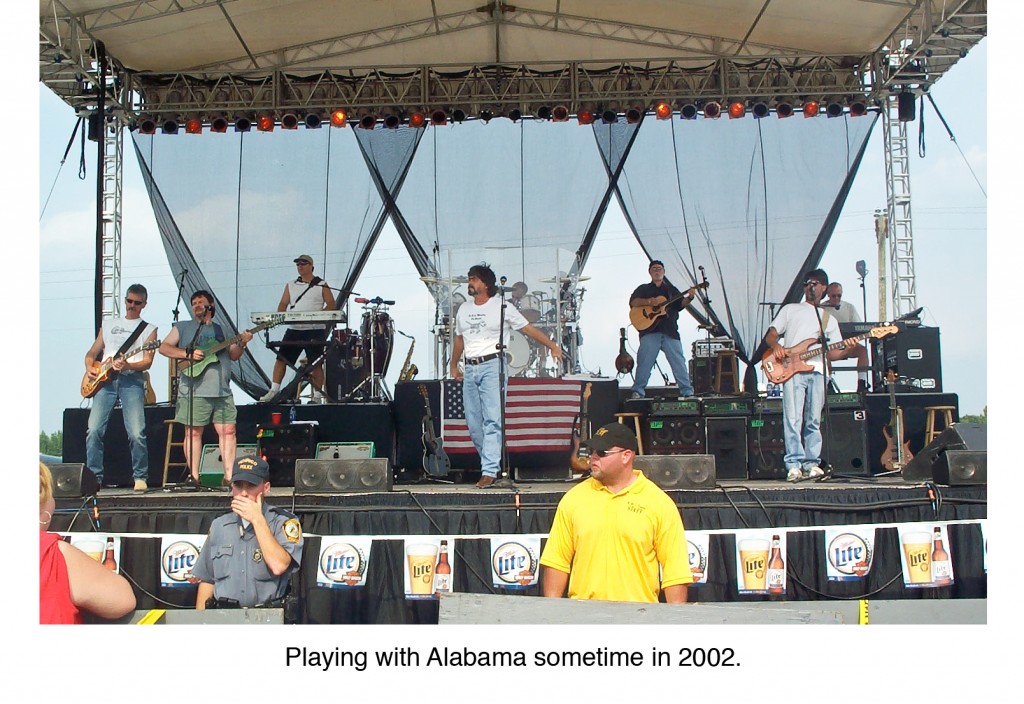 I stayed with Alabama until the end of the Farewell Tour in Oct 2004.
JAG:  Who are some of the people that you are playing with now?
HANSON:  After Alabama played their last show of the Farewell Tour in '04, I was able to go on the road with my daughter, Jennifer Hanson.  Jennifer has two CD's out in the country market and traveling with her was really a dream come true.
The last few years Jennifer has mainly been writing hit songs, "Country Strong" for Gwyneth Paltrow (from the movie of the same name), "Leave The Pieces" for the Wreckers", "Take Me Down Easy" for Billy Currington as well as "Breaking Your Own Heart" for Kelly Clarkson (just had to brag a little about Jennifer)!
Larry's talented daughter Jennifer Hanson with "73".  Notice that cool '61 Les Paul SG making another appearance.
HANSON:  Can I say just how personal Jennifer's song '73' is?   The song and the song's video are real moments from our life.  All the family pictures are of us and from those years.  It was a very emotional song for her to record and release and quite emotional for her Mom and I to hear.  Many families have gone through breakups, so I know that it's not just our story, but a story that so many others have shared (as you can see by the fact that it's had almost 300,000 YouTube views to date)!  It makes me so proud that Jennifer can craft a song from her heart and her life.
For the last three years I've been back working with Bill Medley.  It's really nice to be back with Bill after being gone for so many years – he's a living legend, a dear friend and really the main reason that I've had as much success as I've had.  Also, in Bill's band are two of my old friends, Tim Lee (Bill's musical director and keyboardist) and Bob Gulley.  We are currently called the 3 Bottle Band which includes a talented young drummer, Gabe Rabben as well as Bill's daughter, McKenna Medley (another incredible young singer/songwriter).
Here's a song called Movie Star by songwriter Tim Briggs with Larry on piano and Bob Gulley on vocals.
Larry played with Tim with Alabama for 8 years and Larry played on his debut CD that Teddy Gentry (Alabama Bassist/Vocalist) produced.  They recorded at Javalina Studio, Nashville, which was the former big room for RCA Studios – Larry notes," Tim's debut record was just wonderful as Tim's playing, singing and songwriting (and our friendship)!  I think that as of a few years ago Ben Folds bought that recording studio – some trivia."
I have also been doing shows with The Texas Tenors (of America's Got Talent fame) – talented singers with a show that's part opera, part country and part pop.  Their show is challenging musical, but a lot of fun – I get to play so many different styles of music as well as change instruments constantly during the show – perfect for what I love to do.
I am also still playing gigs with Alabama fiddle/guitarist Jeff Cook and his band The AGB.  Jeff currently does a few shows every month and has a Country/R&B/Soul band with horns – it's a very cool band and I always look forward to the Cook/AGB shows.
With Jeff Cook and The AGB
JAG:  You are one really busy player.  Is there a favorite project that you've worked on?
HANSON:  Any and every time I can get in the studio would be my favorite – always love working and creating in the studio.  I was especially proud of the Alabama Southern Star Album – I got to play in the studio with Eagle great, Bernie Leadon. Also on that project, one of my songs "The Borderline" became a duet for Teddy Gentry (Alabama bassist) and Charlie Daniels.  Charlie was co-billed with Alabama the entire following year so Teddy and Charlie did the song in the show every night!
Several years ago I had the honor to play on a Jim Nabors' double gospel CD.  You can imagine just how fun it was to spend a week in the studio with Jim – both musically and personally it was one of my favorites.
Dan Carlin, a dear friend and great guitar player, has had me play Hammond B3 on several of his CD's – always great music coming from Dan (another Orange County guitar great)!
Tim Briggs one of my bandmates with Alabama for several years had a critically acclaimed CD "The Tim Briggs Band" released country that I played keyboards and acoustic guitar on.  We recorded in the old RCA building in Nashville – so a double whammy – wonderful music and very cool studio.
I might mention that Nashville has some of the best studios and the greatest players in the world.  I've been living there since I started with Alabama in 1987 – I miss California, but if you gotta go somewhere, go where the music is!
Last year, we (The 3 Bottle Band) recorded McKenna Medley's (Bill's daughter) latest CD, "Help Me Make It Through The Night" – proud of that and so proud on McKenna.  There's a very cool version of McKenna and Michael Grimm singing "You Don't Know Me" on her "Help Me Make It Though The Night" CD.
There is also a live version of the same song on youtube with MeKenna and Michael.
Michael Grimm, McKenna Medley – You Don't Know Me
Michael was with Bill's band leading up to his audition for American's Got Talent so there should be several YouTube videos of us playing together with Bill's band (including Michael Grimm, Tim Lee, Bob Gulley, Gabe Rabben, myself and of course McKenna and Bill Medley).
JAG:  Very cool!  You've done a lot of great stuff!  What are some of the current projects that you have going on?
HANSON:  Last year The Texas Tenors came to Nashville and we did all the basic tracks for their current CD at my studio, Fatback Studio.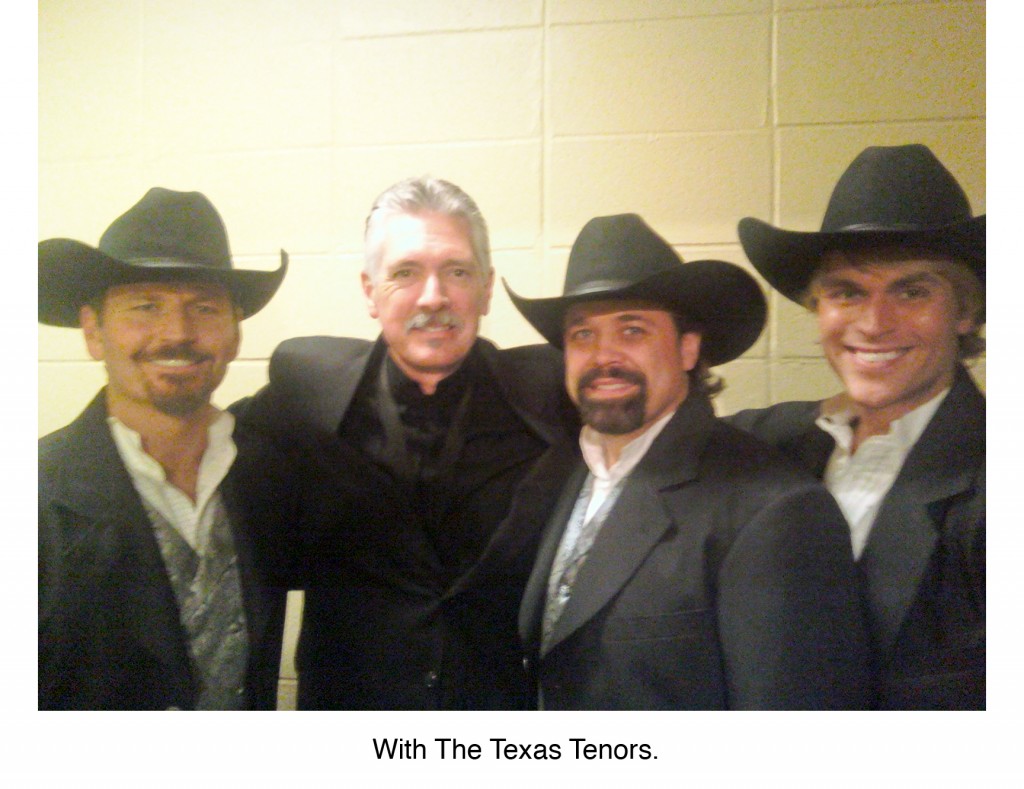 The 3 Bottle Band did all tracking and I'd say it was one of the most fun and as well as one of the most challenging projects that I've gotten to work on.
This year we've been back in Fatback Studio in Nashville with McKenna putting together a new CD for her.  She's writing all the material – so all great songs from such a wonderful young singer.
Also, on McKenna's upcoming CD "Silk Flowers" there is a duet with Michael Grimm (America's Got Talent) doing a very different version (think banjo) of "Time Of My Life".
Bill Medley has also been in my studio recording several of his songs.  It doesn't get much better than having a Rock n' Roll Hall Of Fame singer in the studio!
Most everyone knows that Phil Spector produced the Righteous Brothers' "You're Lost That Loving Feeling" with his 'wall of sound' recording and most everyone thinks that it was Spector who produced the follow up hits, "Unchained Melody" and "Soul And Inspiration" but it was really Bill Medley who produced those two #1 hits for the Righteous Brothers!
You can just imagine how great it is to have Bill Medley in my studio—it's a real lesson in rock and roll history, studio history and a lesson in how to make a great recording!  And then to top things off when we finished working with Bill my studio partner's night session had guitar legend James Burton (also in the Rock and Roll Hall of Fame) playing on a record for singer/songwriter Jim Lauderdale (and Jim was in the movie 'Country Strong' mentioned earlier for the title song that my daughter, Jennifer wrote)!
Of course Medley and Burton are old friends going back to Shindig as well as all the years that Elvis played the Hilton in Vegas (Medley played the Hilton same time as Elvis) – anyway what a treat to have two Rock n' Roll Hall of Famers in the studio at the same time!
JAG:  Wow.  Just the mention of James Burton.  Yeah.  He was one of THEE guys also (when I was very young).  I still remember that episode of Ozzie and Harriet and Rick Nelson was doing Travelin' Man.  James Burton is responsible for playing what I thought was one of the coolest solos of the time.  I was just a kid and the guitar was beginning to tug at me from several different places.  Some things you never forget.  I still love that solo.
Not only are you a well known and established guitarist, but as I remember, you are quite the sax player (and of course keyboard player also).  Are you doing much gigging also on sax and keyboards these days?
HANSON:  Sometimes I really think (and know) that I spread myself to thin playing other instruments but I just love trying new things as well as playing different instruments.  I majored on Trumpet in college but rarely get to play that instrument unless it's to put a few horn parts on tracking dates.
When I first started with the Righteous Brothers I was playing keyboards and with Bill Medley's band I switched to bass for a year then went to piano and sax. With Alabama I did guitars, sax, percussion and a tiny bit of trumpet.  Currently with Bill I'm playing guitar but also Hammond B3 and my new favorite, the mandolin.
With Jeff Cook I play saxophone, acoustic guitar and mandolin.  When I'm out with the Tenors on travel dates I'm doing guitars, mandolin and sax.  In the studio it seems that lately I've been doing more acoustic guitar or bass.  Like I said, I most likely spread myself a bit thin but it's never boring to switch up instruments and always a challenge to try to get in the mindset of playing a different instrument.
JAG:  Has your biggest thrill playing taken place in the studio, or during a live performance, and do you prefer one over the other regarding studio work and live performances?
HANSON:  The biggest thrill I can remember is playing with my daughter, Jennifer on the Grand Ole Opry right here in Nashville.  It's funny that for all my years I was with Alabama that the Opry was one show that we never played.  And then when Jennifer was promoting her first CD release she was invited to do several Opry shows (and she brought her old Dad along to play guitar)!  Most likely one of my most emotional nights on stage.
Year after year with Alabama we played so many live shows – nothing comes close to playing night after night for so many fans.  Also, years of award shows with Alabama, The People's Choice, ACM's or the CMA's – all this makes me remember playing live TV for a Bob Hope special (my first time playing sax on TV) or playing on Jay Leno – I guess I could go on, but I've been very fortunate and honored to have those memories.
And just a few weeks ago Paul Shaffer and Chevy Chase came to see Medley at one of our gigs in Connecticut.  Shaffer's a huge Righteous Brother fan so what a thrill to see him in the audience and even better to jam with us on stage!
As far as preferring live or studio, I think the answer is both – they're both so different but both so much fun.  Live music is always so magic and like I said before some of my greatest performances may have been in a garage just jamming with other musicians.
Big concert dates are exciting but depending on so many things, the soulful part of playing music can get lost.  Seems the bigger the show (or the bigger the room) the more you've got to just stay on your part and make sure everyone else plays their part so it all comes together out front.  I guess what I'm saying that in a big hall it's not easy to get those magic intimate moments that you get in a room where you can really hear and interact with the other players.
The same goes for the studio when you get those magic moments musically and it becomes a real performance – it really shows on tape (I still call it tape – sorry)!  Long answer but I prefer both, live playing and studio playing as long as I'm still playing music.
(Editor's note:  Here's some trivial coolness supplied by Larry concerning The Marcy Brothers:
The Marcy Brothers recorded and released "Achy Breaky Heart" before Billy Ray Cyrus had his career breaking hit with that song.  At the time, the song was called "Don't Tell My Heart".   It had much the same feel and vibe, but as Larry stated, "It just goes to show you how different the timing of a release, the record company behind the song as well as how radio receives the artist and the song, can be on everyone's success!
JAG:  As far as instruments are concerned, do you have any particular favorite guitars that you like to play?
HANSON:  As for live, the last few years I've been traveling with a Stratocaster – all around the best road guitar and most likely the guitar that I'd choose if I could only pick one.  In the studio, my old Silvertone – the one that Steve Soest bought back for me – is just incredible.  I have it strung with heavy flatwound strings and it just has the right sound and the right vibe.
The studio is always fun just because you can try out so many different guitars and look for so many different sounds. For acoustic I have several, but my favorite in the studio is a Martin 00028 – just put any mic in front of it and it sounds wonderful.
For live I've been using a Taylor for the last few years.  Also had a few years playing Guild and sometimes travel with a Martin.
JAG:  How about amps?  Any particular combination of guitar and amp that you like to use for whatever different types of playing?
HANSON:  With Alabama I played several different amps over the years – Mesa Boogies, Randalls, Musicman, Kitty Hawk, ART and Fender.  I always prefer tube amps, usually used two amps in stereo and always pointed them away from my ears (guitar players are just too loud).  For the Alabama Farewell Tour I used two Fender Tonemasters.
JAG:  Any favorite effects pedals that you'd like to share?
HANSON:  I had several versions of pedal boards with Alabama, usually all consisting of compressor, overdrive, reverb, delay, chorus or tremolo and volume pedal.  The last few years I've been using just one Vox AC30 with a Digitech multi effect pedal board for Bill's live shows.
I'm back to mono guitar and using the multi effect to work like a simple pedal board (overdrive, compressor, reverb, delay, tremolo and volume control) – that's all I need or want to think about.  The DigiTech RP500 works perfect and with so many fly dates with Medley and The Texas Tenors, I have to travel light, so the multi effect pedal works great for that.
I do like the Vox AC30 – it sounds fat, breaks up perfect and doesn't take much knob turning to dial up a good sound.  I'm also pointing my amps facing backwards – that way I don't blast the first few rows of fans as well as don't send our sound man too much amp out front.
In the studio I use several amps but usually settle in with my old 63 Fender Vibroverb (of course that's the very same amp my Mom bought for me in 1965 (used for $150) – thanks again Mom!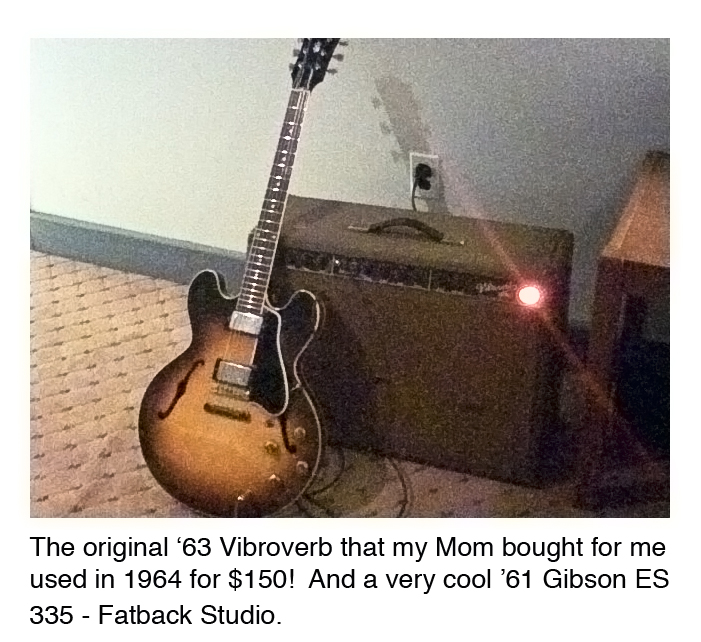 I also have an old piggy back Silvertone amp that kills in the studio as well as a bunch of fun amps (Vox, old Fenders, various speaker cabs and a Leslie). The studio can be so much fun experimenting with different guitars, amps, pedals, speakers – love it all.
JAG:  A lot of people like to talk about their collections – guitars and amps they've picked up over the years, or the ones they have sold along the way that they wish they still had.  Are there any other ones that you'd like to share about?
HANSON:  I keep mentioning my first electric, the Silvertone that Steve Soest bought back for me, and of course my Fender Vibroverb Amp that Mom bought for me in 1965.  Both are still used in the studio – amazing to still have both and still get the same joy from them that I got as a kid learning how to play.
I played a '61 Les Paul SG for years prior to playing a '61 Gibson ES 335. Anyway, the '61 SG was owned by Chuck Fraher back in high school, then my buddy John Luzadder bought it from Chuck, and then I bought it from John in 1969 along with his '66 Twin Reverb (still have the Twin in my studio). I sold the Les Paul SG in 1978 to a great young player and friend, Greg Henline.
I always regretted selling it and sometime in the 90's Greg was kind enough to sell it back to me.  So full circle and now my beloved SG resides in the studio and I play it every chance I get.  It makes an appearance in Jennifer Hanson's video "73".
I don't have all the vintage guitars that I could have–guess we all kick ourselves for not keeping a few of those gems (but we had no idea that an old Les Paul would be able to finance a house in the future)!
JAG:   Any projects that we can be looking forward to in the near future?
HANSON:  Well, I mentioned that McKenna Medley (Bill's daughter) just finished tracks at Fatback (my studio in Nashville) for her new CD.  Her CD is all songs that she's written and I'm very excited to be part of that. Also, that Bill Medley has been in Fatback to start work on a future recording of several of his songs. The Texas Tenor's upcoming CD should be out soon.
The 3 Bottle Band has several unfinished tracks that we hope get out soon featuring several Bob Gulley songs along with his great singing.
I also still write instrumental music for a music production company in Nashville, Crew 22.
Crew22, the company that I did all the songs that are on my sampler CD, consists of John Mattick (former Righteous Brother, Bill Medley, Alabama, John Michael Montgomery, Dirty Dancing Tour and everyone's favorite keyboard player) and Rodney Lawson (guitarist, vocalist and studio engineer great).  I have a standing writing time with them every week that I'm in town–always fun and always different.
Through them I've had a couple of my tunes included in TV shows like "Men of a Certain Age".  We're always trying to place songs so I'll hope to have a few tunes playing on TV as we continue recording and writing. I have yet to do a personal CD of my own material but saying that makes me realize that doing a project of my own needs to be part of my musical journey.
JAG:  I'm sure that when you do your own CD it will be nothing short of remarkable as your compilation here is absolutely fantastic!
HANSON:  When we had my 40th High School Reunion I was called and asked if I minded if they posted something for the reunion website.  Not minding if they did I'll share what they found and explain: I was sitting in with one of the guys that I play with in Jeff Cook and The AGB (Link Detten – yes another great Nashville player).  Well on that same night an Alabama fan and great friend, Mike Chicoine was there and being the great friend that he is, he filmed the moment and posted it on YouTube.  Well – we were having fun – so here's what got posted for my High School Reunion!
JAG:  It looks like way too much fun.  Larry, I just want to say thank you so much for taking time out of your busy schedule to share all of this wonderful information with Jackaboutguitars.
Podcast: Play in new window | Download